I've spent the last couple weeks writing about ancient Roman sites in the modern city of Rome, and then all about the Vatican. Now, I want to focus on Rome beyond those two subjects- the food, the other sites, and practical traveler information!
So yes, some of the major Roman sites are missing from this post, but check out the other two posts for places like the Colosseum and Vatican Museums.
Where to Stay?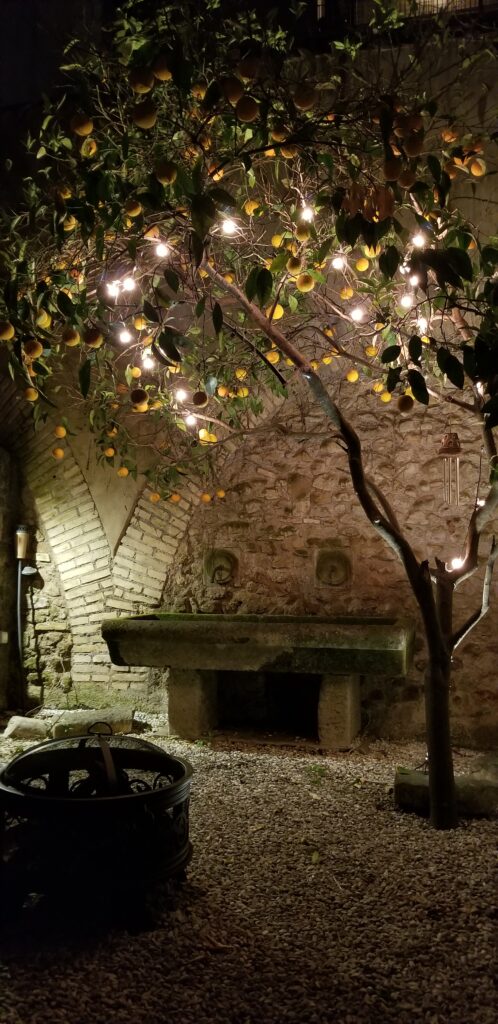 Like any major city, Rome offers countless neighborhoods and varying accommodations. I opted for the neighborhood of Trastevere, known for its local feel. The VRBO rental was very unique, complete with a private courtyard and its own ancient Roman fountain. It says it sleeps 6, but I would recommend no more than 4 people. The pull out sofa in the family room is right by the front door on a busy street, and the restaurant next door creates alot of noise until 1am. Those of us upstairs didn't hear anything, but those on the sofa never did get much sleep. We had a few issues with the rental (water heater trouble) but if you're looking for a cool building right in the heart of Trastevere, this is a great spot.
House or apartment rental on AirBnB or VRBO is a great way to explore Europe, while saving some money. You'll often get unique rentals, and feel more like a local.
Trastevere
Whether you're staying here or not, I recommend a visit to this neighborhood. It's centrally located, walking distance to all the major attractions, and has a tram stop. At times, it feels like a small village, and at others, the trendiest nightlife spot in the city. The piazzas come alive in the evening with fire dancers, musicians, magicians, artists and more.
With cobbled stone, flowers in every window, and laundry on the line over the narrow streets, this was how I imagined Italy. There's a mix of touristy shops and local delicatessens, plus the best food I had in Rome!
Restaurants
Here are a couple restaurant recommendations, plus a spot for the best cannoli! Remember, almost all restaurants have a cover charge, or coperto, added to your bill. Look for it on the bottom of menus, typically €1-2 per person.
Nannarella/Tonnarello
Piazza di S. Calisto, 5, 00153 Roma/Via della Paglia, 1, 00153 Roma
I read about Tonnarello before arriving, and had it on my 'must' list. As it turns out, Tonnarello is the same restaurant, different location, as Nannarella, which was half a block from our rental. Nannarella was my favorite restaurant in Rome, we ate here twice! Once, for takeout at midnight on Friday evening- it was crazy town! However, they were prompt and polite in taking our to-go order, gave us a €5 discount for takeaway, and even gave us two free shots while we waited. A few nights later, we had dinner at the restaurant. While we waited in line for a seat, they gave everyone a glass of wine. It seems like the tourists sat on the outdoor patio, while the locals sat inside. We took an inside seat only because it was quicker, but it was pretty neat as we made friends with the Roman ladies seated next to us (which means basically with us). They advised on the best food to order and gave us a short lesson in Italian! Everything we ate both nights was great, but I highly recommend the Pasta al Pesto.
Impiccetta
Via dei Fienaroli, 7, 00153 Roma
Delicioso! And so much food! The portions are incredible- even the 'small' is plenty to share! Great wine and the best carbonara. Roman artichoke is a common local appetizer, but they only serve it in season. That meant I didn't get any, but I was glad to know they keep the freshest, local ingredients. It's easy to miss this spot, down a side street with the sign covered in ivy, but don't pass it up.
Pasticceria Valzani
Via del Moro, 37a/b, 00153 Roma
Family run since 1925, this pastry shop is the 'real deal'. Away from the tourist shop and crowds, Valzani is down a quiet street, full of not tourists, but locals! We came across it, by chance, on our last day in Italy, when I had lost hope in a good cannoli, having been jaded by some mediocre examples in Venice. Then in walked Valzani with their Sicilian cannolis. Amazing! They also make fancy chocolates, and you may see the chocolate coffee pot in their window.
Scenes from Trastevere
Transportation
Rome is very walkable, but here are a few tips for getting around.
Tram System
The tram was useful to us, having a stop right in Trastevere on Line 8. It's clean, cheap and easy to use. There is a ticket scanner in each car, relying on the honor system. It can get crowded, but it's much better than the buses, which are often so packed you can't even get on.
The tram system is fairly limited, so the actual Metro system may serve you better. However, we never needed to use it.
Taxis
Taxis only pick up from designated Taxi Stands- don't try hailing one from any corner. It might sound counter intuitive, but don't ask how much a fare is, just make sure the meter is running. Asking about a fare clearly marks you as a tourist, and the taxis will make up whatever fare they want. For example, I paid less than €8 from Trastevere to St. Peter's. My family, unknowingly, asked the cabbies for a rate. The first one said €24, the next said €19.  Either way- way too much. Also, most taxis only will only take 4 people, even if more would seemingly fit. If you have 5+ be ready to take multiple cabs.
Transfer Service
Francesco and Davide, + 39 337 78 48 09. [email protected]
By chance, we saw a car service drop someone off in Trastevere, so we asked for a card. We called them for service to the airport, and were pleased. It's about a 40 minute drive to Leonardo da Vinci International Airport (FCO), they charged €55 for five people. The driver arrived early, but couldn't get down our street because it was blocked by a literal mob scene of new agers (hippies?) dancing and passing out flower wreaths… He parked, came and found us, and then helped us carry our bags to the van. I believe they also offer tour service around the city.
Free Walking Tour
Yes, it's actually free! New Rome- Free Tour group gives the walking tour daily. It's about two hours and covers a number of sites. You have to make a reservation, and you should tip your guide (the amount is at your discretion).  http://www.newromefreetour.com/free-tour/
It's a great way to get a feel for the city, and decide which sites you would like to return to later for a more detailed visit.
Or Do It On Your Own Time
If you're not up for the tour, or even if you are, there's plenty to explore beyond the sites they visit. I've covered many of them in my post strictly about ancient Rome, but outline some others here.
Piazza Venezia and Altare della Patria (Altar of the Fatherland)
If you visit Rome, this piazza and the Vittorio Emanuele II Monument, or Altar of the Fatherland, is hard to miss. The piazza is city center, and the meeting point of multiple major roads. You can see Trajan's Column to one side, with the Altar of the Fatherland being the most monumental structure.
King Vittorio Emanuele III opened the grand monument on the 50th anniversary of the unification of Italy, and dedicated it to Vittorio Emanuele II, the first king of unified Italy. In 1921, the Tomb of the Unknown Solider was added. An eternal flame burns at the tomb, always guarded by two soldiers.
Inside the building is the Risorgimento, a museum showcasing Italian unification and independence.
Campo de'Fiori
The oldest open air market in Rome runs Monday-Saturday, beginning about 7am, taking up the entire square. The various vendors offer fresh produce, meat, cooking oils, pasta, homegoods, clothing, and of course, flowers. It's a good spot to pickup dinner groceries, or a souvenir to take home. I received an education on balsamic vinegar from a kind stall keeper, who was also offering samples of the vinegar and oils.
As you're browsing the goods on a sunny Roman day, note the statue in the center of the square, a friar with his hood pulled up. It's a bit eerie, and for good reason. This is Giordano Bruno, a theological and cosmological theorist. He was a contemporary of Galileo, and expounded a number of controversial theories. During the Roman Inquisition, he was charged with heresy, and burned alive in the Campo de'Fiori in 1600. The statue looks toward the Vatican, accusatory, I think.
Campo de'Fiori is a lively evening spot as well, with a number of restaurants and bars. It's just a short walk to the Palazzo Farnese, home of the French Embassy. The interior is amazing, but tours are currently only offered in English at 5pm on Wednesdays. Also nearby is the Piazza Navona.
Piazza Navona
The piazza is one of the centers of nightlife in Rome, but it is also home to so much history! I discussed it from the Ancient Roman perspective here, but wanted to also cover it again in this post.
It sits atop Domitian's Stadium, and you can view the ruins at the Piazza Navona Underground. Otherwise, it's a wonderful spot to have an outdoor dinner, people watch, or eat tartufo. Tre Scalini claims to be the home of the original tartufo, so this is the spot to try the Italian dessert.
The piazza boats three fountains, two smaller on each ends, with the masterpiece in the center. Fontana die Quattro Fiumi (fountain of the four rivers) was designed in Bernini in 1651 for the Pope. Four river gods are depicted, and the fountain is crowned by an ancient Roman obelisk.
Take your pick of any number of restaurants, but we were craving something other than Italian. Tora Sushi is a great Japanese restaurant just off the piazza!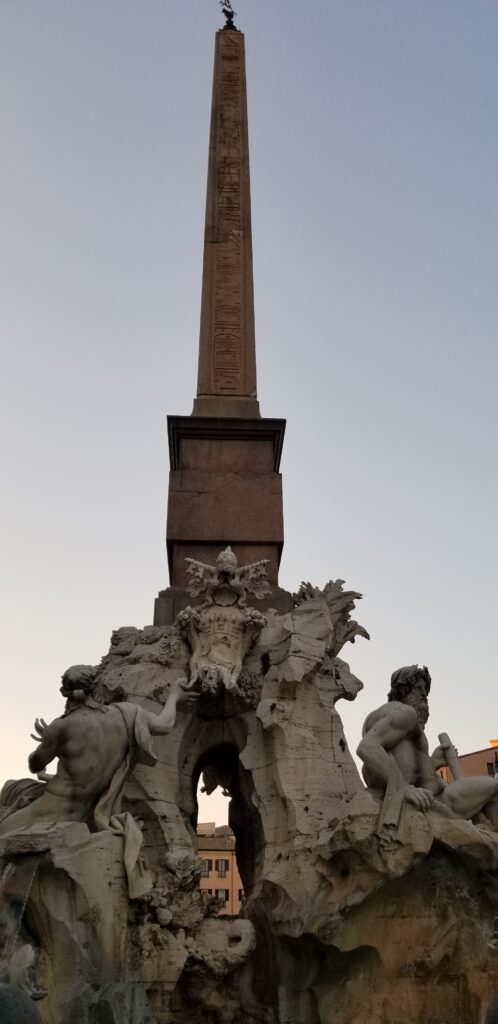 Trevi Fountain
Speaking of fountains, the Trevi is the most famous! Movies don't do it justice, although it's been featured in many. It was the most magical spot I visited in Rome, comparable to the awe I felt at the Eiffel Tower.
Completed in 1762, the modern fountain is 85 feet tall and 65 feet wide, and it sits atop a much older water source. During Roman times, the aqueducts converged at this point, creating a public fountain. Today, do not drink the recycled fountain water!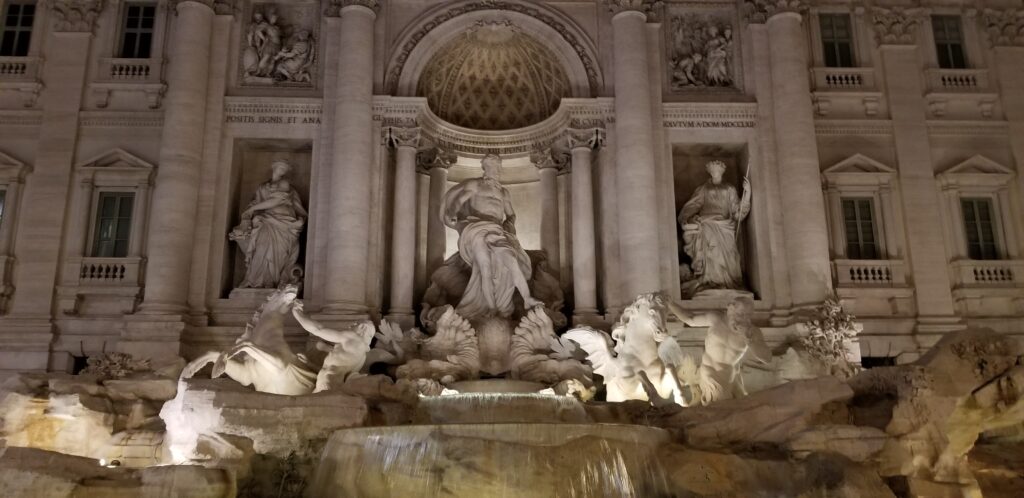 Throw your coin in the fountain to guarantee a return visit to Rome, and you'll not only be doing yourself a favor, but contributing to charity. The coins are collected and given to a local charity that provides groceries to the city's needy.
The fountain can be insanely crowded, so be prepared. As with all touristy spots, keep your purse or wallet close and be aware of pickpockets. Both times I visited, armed police were present keeping on eye on things.
Spanish Steps
Like the Trevi, the Spanish Steps are one of the most iconic sites in Rome. Climb the 138 steps to the top for a beautiful view below, and view the Roman obelisk sitting in front of Trinita dei Monti church.
The history behind the steps, and the church, is quite interesting. If you walked to the steps from the Trevi, you likely passed the Spanish Embassy. The steps were built in 1725 by the French to link the French church at the top to the plaza below, which belonged to the Spanish embassy. The stairs represented the good will and peace between the France and Spain.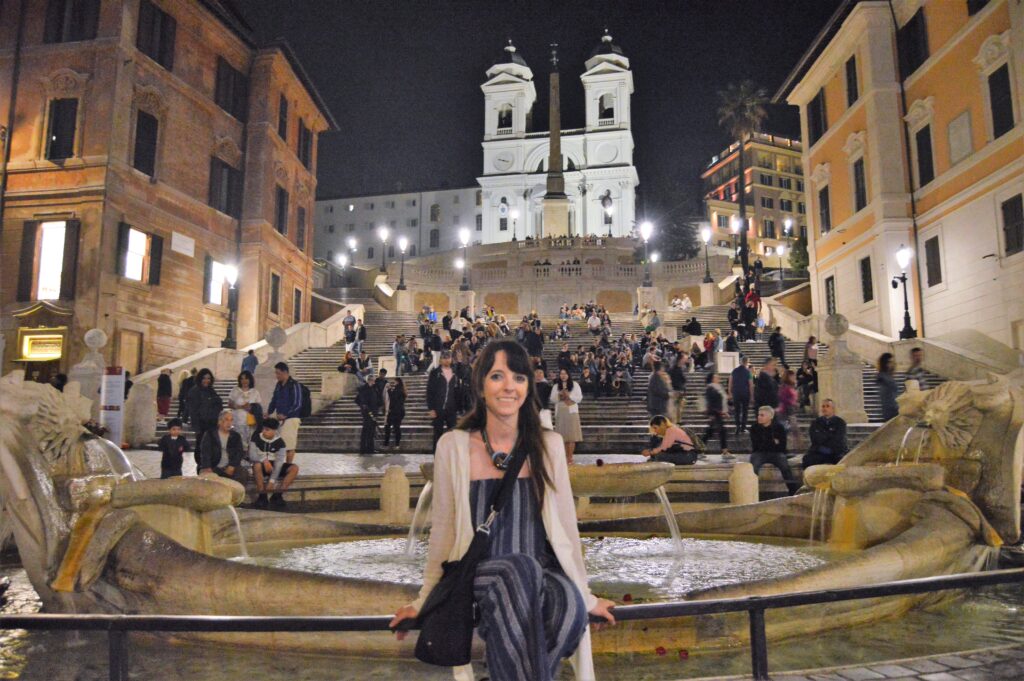 As of August 2019, you are no longer allowed to sit on the steps, so forget what you saw in Roman Holiday. In an effort to preserve them, the city banned sitting on the steps, which can now incur a fine up to €400! You likely won't be licking gelato either, as the shop seen in the old movie is long gone. Nowadays, the area surrounding the Spanish Steps is a designer shopping district, home to Gucci, Prada and more.
Mouth of Truth
The Mouth of Truth leans against a wall in the portico of the Santa Maria in Cosmedin church.  It's nicely situation between Trastevere and the Roman Forum, easy walking distance from both. The face, carved into a stone disc, entices visitors to make a statement, and then stick their hand into it's mouth. Truthful? You'll be fine. Lying? Legend says it will bite your hand off! The carving dates to Roman times, but the truth or dare legend likely dates to the Middle Ages, when an axeman would stand behind the carving and dismember the unlucky person who was declared guilty of a crime.
Today, visit the Mouth of Truth every day of week, between 9:30 am and 5:50 pm. Yes, they close at 5:50, not 5:45, not 6:00. Arrive at 5:51 and the gate will be locked tight. During opening hours, you can expect a line, one that often spills out of the church onto the sidewalk.
The church itself is worth a visit too. It houses the skull of St. Valentine, patron of love, who was killed on- you guessed it- February 14. Isn't that romantic? There is also a 12th century bell tower over the church, which will make it easier to spot as you walk towards it.
Chiesa di Sant'Ignazio di Loyola
I know I said this article was beyond Vatican history, and it is, but I had to include two amazing churches on this list of spots to see as you wander Rome.
The Church of Saint Ignatius of Loyola was dedicated in 1722, although the amazing art inside dates to 1685. Generally speaking, it's past my historical era of interest, but this was my favorite church I visited in Italy (aside from the Pantheon!). I'm sure I'll offend both the art lovers and the Church pious, but personally I enjoyed this art more even than the Sistine Chapel. I'm not saying it's better, just that I had a better time viewing this. Maybe I was too hangry and tired at the Vatican, or just sick of people, but I was distinctly more wowed by this.
Andrea Pozzo designed the fake dome in the church, and painted the vault and presbytery. The dome is an optical illusion, giving the visual effect of a dome, while actually being flat. The art is also so three dimensional, seeming to leap from the ceiling.
To the right of the altar is the Ludovisi Chapel, mausoleum of the Ludovisi family who built the church. I was so excited when I realized the drapes are actually marble carvings.
During our visit, the church was holding a free concert in the piazza one evening, from the International Flute Orchestra.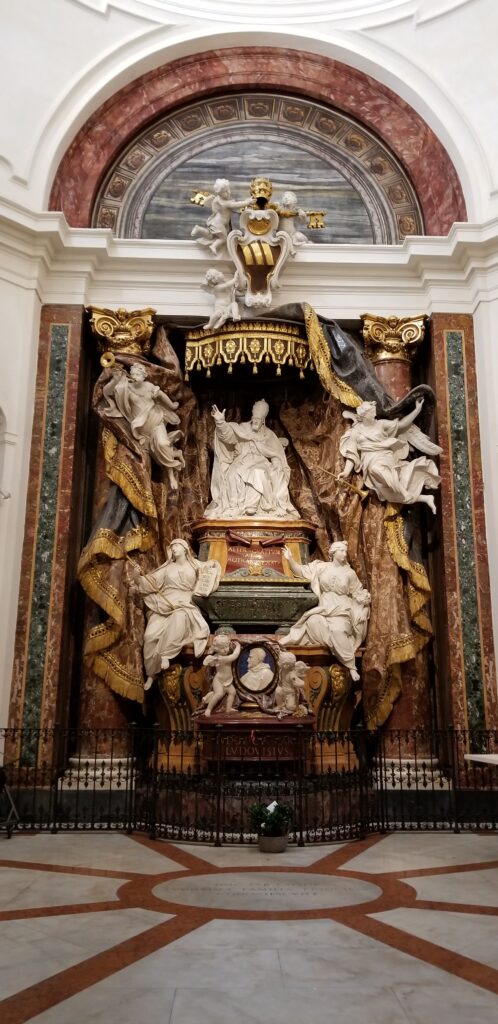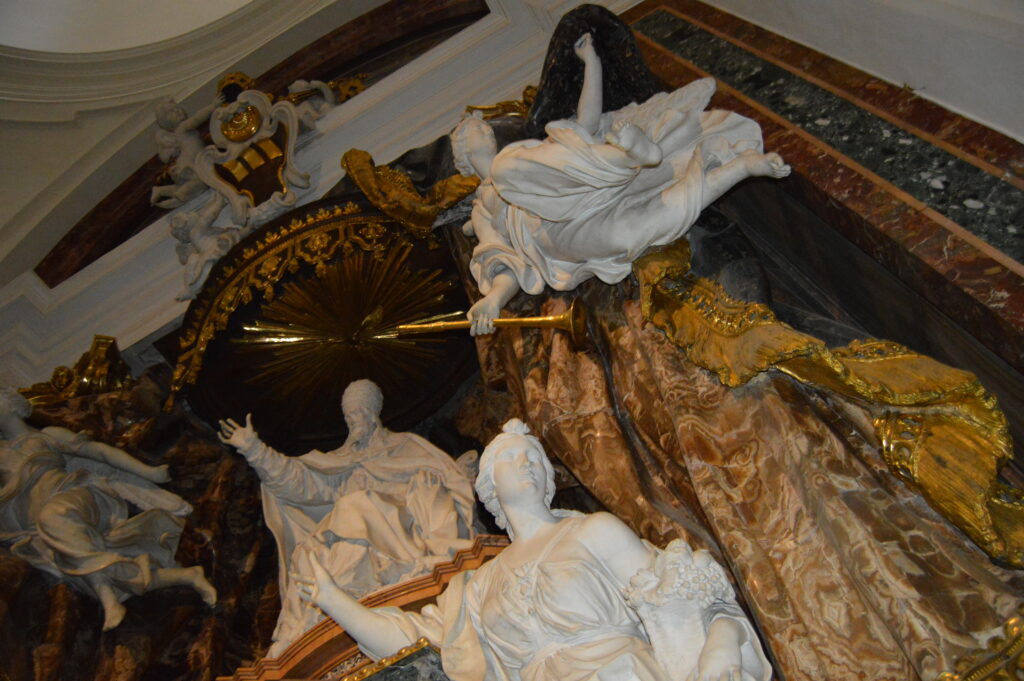 Chiesa di San Marcello al Corso
A church has stood here since the 4th century, although the original was destroyed by fire in the 1500s. The current structure was then built, and contains many noteworthy art pieces. Perhaps it's greatest relic in the crucifix from the original church. It was the only thing to survive the 16th century fire, and has since been venerated.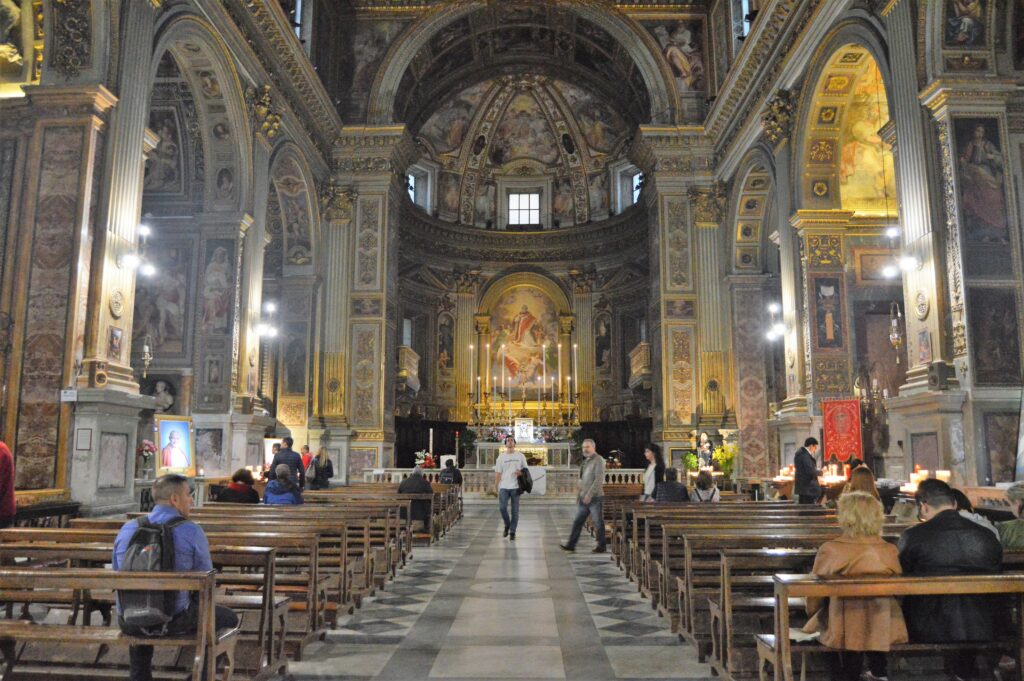 We happened into the church by chance, during an evening stroll, just in time for a free concert. Beautiful vocals resonated through the church. Ave Maria, of course, was performed, along with a number of other pieces by Handel, Bach and Mozart.
You'll find numerous free classical concerts throughout the city, often given by various churches. Just look for the brochures, often hung about, or on the information desk within churches.
Love Locks
It's done in Paris and cities around the world, but what better place to declare your undying love than in the Eternal City?  Couples attach locks to bridges across the city, and throw away the key, to symbolize their love. It's such a romantic gesture, and at least in Italy gained popularity thanks to Ho Voglia di Te (I Want You), a novel in which two young lovers attach their lock to the Milvian Bridge.
It's been tolerated for years, although the locks were periodically removed to prevent damage to the structures. However, in June 2019, along with a slue of other legislation, Rome banned the locks. Attaching one can now carry a several hundred Euro fine. With views like this though, it's hard not to feel whimsically romantic!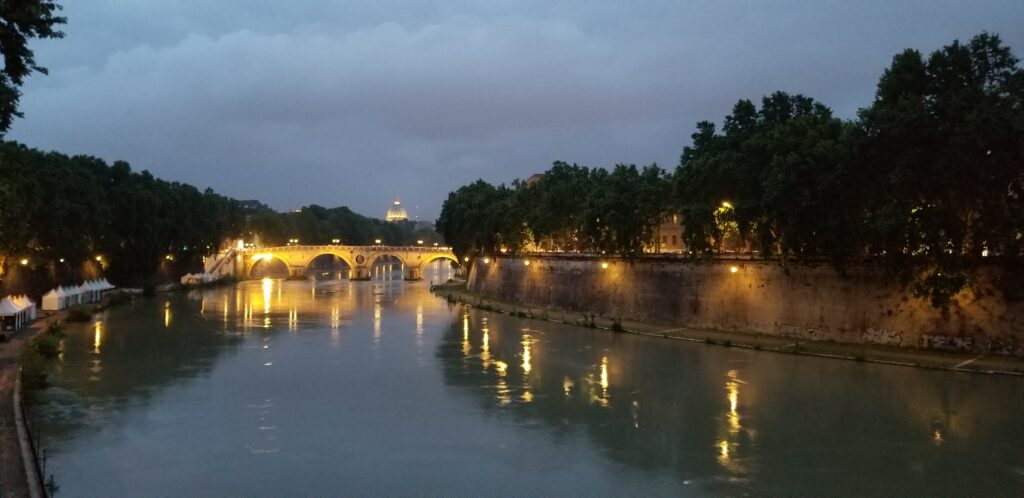 Whatever route you take, just enjoy the city. It's an incredible place, bursting with history, culture, amazing food and wine. I threw my coin in the Trevi Fountain, so I'm just biding my time until my next trip to Roma!