Everyone has heard of Sicily, but Sardinia is often overlooked. Roughly the same size as Sicily, Sardinia is within sight of Corsica and is about as close to Africa as it is to mainland Italy. It has a vivid history, sitting at the crossroads between Italy and the West, its culture and food often as Spanish as it is Italian. Italian is the official language of the island, but Catalan is common too, and in some regions you may even find pockets of Arabic.
Occupied since prehistoric times, the island has changed hands a dozen times over the centuries. From Roman province, to a Spanish conquest, to a Moorish occupation, to a very brief stint as an Austrian territory and finally joining a unified Italy in 1861, the island is as culturally rich as possible!
Today, it boasts the some of the best beaches in the Mediterranean, delicious food and wine, and of course, plenty of historical sites to visit!
Getting There- and Then What?
There are major airports in Olbia, Cagliari and Alghero.  It's an easy hour flight from Rome, through which you will likely connect if you're flying from the United States. We flew in and out of Alghero with Alitalia. It's a small but nice airport, very easy to navigate.
The airport has car rental agencies, but we were looking for lazy relaxation and were a bit timid about driving with everything we had read and heard (and seen in Rome!), so we arranged a transfer service to our hotel in the Costa Smeraldo. From the airport to Baja Sardinia, it's about 2 hours and 15 minutes. Why not fly into Olbia, you're likely wondering, looking at the map? There were more flight options into Alghero, and we wanted to explore both sides of the island. Flying into Olbia and out of Alghero didn't fit our budget either, so we just made the roundtrip journey to Alghero.
Train service in Sardinia is very limited, and not really practical for much exploration. There is a fairly extensive bus network, but again, we were looking for relaxation and didn't want to bother.
Costa Smeraldo
Beautiful! Breathtaking! Amazing! Yes, I loved it! It can be the priciest area of the island, visited by the George Clooneys of the world, but there is plenty to do that won't break the bank.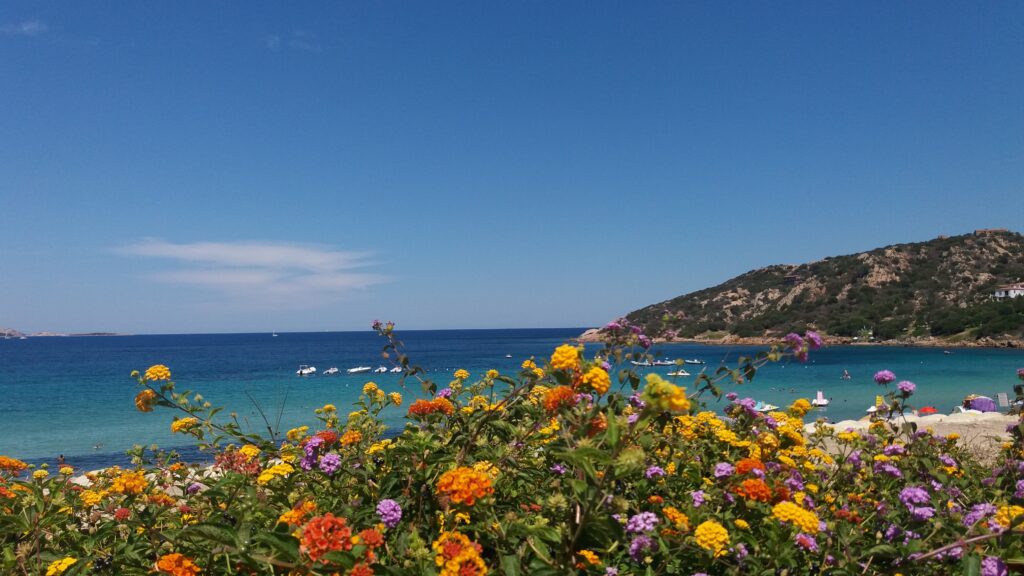 Grand Hotel Smeraldo Beach
We spent five days here, after I labored over the many hotels options ad nauseum. It's not a budget option for sure, but it's one of the less expensive 4 star beachfront hotels in the area. With half board (breakfast and dinner) for two people in the high season of July, it was about $400 USD a night.  It has its own private beach, several pools and beautiful views. Quite a few of the other hotels in the Costa Smeraldo were either more expensive or had limited beach access. Several are walking distance or a shuttle ride away from a beach.
The hotel's main beach isn't huge, but it never felt crowded. Trails lead through the massive rocks to small, private beach outcroppings, perfect for two.
Dinner is served each night in the indoor restaurant, the menu changing nightly. Three to four courses are served, and everything was delicious!
Breakfast on the other hand, is a bit chaotic. Served in the indoor/outdoor upper level restaurant in a buffet style, it often felt like a race to grab food and find a seat. Not really 4-star, $400 a night standard, but oh well. While everything was clean, food amazing, and service unbeatable, there were a few things that just didn't fit the stars or price tag. For example, you only get 1 beach towel and are charged €3 for additional, and the hot water tended to run out if showering around 5pm.
Baja Sardinia
Just a 4-5 minute walk from the hotel entrance is the town of Baja Sardinia. It's a great little town with a nice public beach and a selection of restaurants, bars and shops.  In the evening, vendors setup in the piazza with various handicrafts, jewelry and such.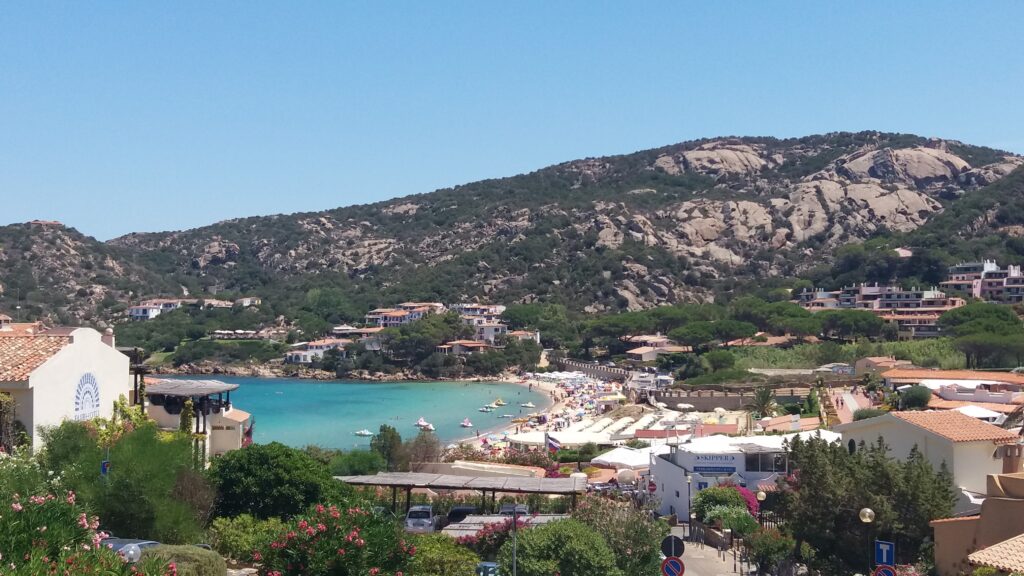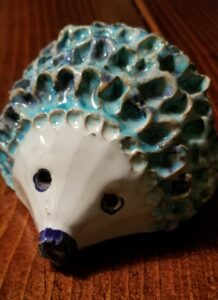 Sardinian pottery is unique, and there's a neat shop not far off the piazza selling only locally made pieces. Animals are common in Sardinian designs, like this little hedgehog I picked up, with a rough or rustic look. The color of the landscapes, notably the ocean blue, is found throughout the island's pottery.
Dining
Most of the restaurants in town face the water, although the waterfront access is occupied by the public beach and hotels. The restaurants range from very pricey to totally reasonable.  Sole Mare has amazing pizza, cooked in their wood fired oven. Reasonably priced too, the pizzeria has nice outdoor seating. Skipper is a trendy sort of cocktail bar with outdoor seating and nice views, serving seafood and other Italian specialties. It's definitely a touristy sort of place, but I had some delicious squid ink pasta here.
A note about restaurants in Sardinia- don't compare them to the mainland! You will read over and over again how a restaurant with an English menu is a tourist trap. This can often be true in places like Venice, but forget that mentality in Sardinia. Literally every restaurant we ate in had an English menu, and I have nothing but praise for the food I had! With a few exceptions, I was much more impressed with the cuisine in Sardinia than in Venice or Rome (Naples hold its own though!).
Maddalena Archipelago National Park
The highlight of the Costa Smeraldo, this collection of islands is comprised of seven main islands, with dozens of tiny uninhabited others. Don't miss a boat trip through the archipelago if you're in the area! There are many boat tours, charters, and rentals all along the coast, so take your pick.
For bit of Italian history, stop on Caprera and visit the former home, now museum, of Italian hero Giuseppe Garibaldi. A general who led an exciting life, he is most often recognized for his key involvement in the unification of Italy during the 19th century. For a some random historical trivia- did you know Abraham Lincoln and his administration invited Garibaldi to serve as a Union general during the American Civil War? Multiple conversations took place, but Garibaldi did not come to America, partly because he felt the war was not meant to abolish slavery, partly because he wanted full control of Union forces, and partly because he was still tied up in Italian unification efforts.
We opted for a trip on an old school wooden boat, with only 10 passengers. It picked us up on the beach of our hotel and spent the day cruising through various islands. On the way to the national park, they pointed out the Rock of a Bear, a bizarre rock formation that looks just like a bear, overlooking the ocean. Along the way, we also passed the Dilbar, a superyacht, 4th largest in the world, owned by Russian business tycoon, Alisher Usmanov. That's just the norm around the Costa Smeraldo, making us feel a bit out of place!
Of course, July and August are the busiest times in Sardinia, so even some of the remote, tiny islands were crowded with boats and sunbathers, so our crew cruised around finding three less busy stops for us. While we swam, they cooked us a delicious lunch with fresh fish, pasta, and of course, plenty of wine! They cruised to the top of the archipelago, within site of Corsica, and then turned back towards Baja. The entire day trip was only €100 a person, well worth it in my opinion.
Around the Area
There is plenty more to see and do around the Costa Smeraldo, but beaching it up is the highlight.
For an up close and personal look at the rich and famous, visit Porto Cervo. Only a 10 minute drive from Baja Sardinia, it's boutique designer shops, docking place for the superyachts, and home of the €20 birra…. not really my style.
A 20-30 minute drive inland, and you'll find a cluster of wineries, including Capichera and Vigne Surrau. There is also a well preserved nuraghe, the ruins left by Sardinia's prehistoric dwellers.
Alghero
After five days of lazing on beaches, drinking vino and eating far too much pasta, we took a car charter back to Alghero. Driving in Alghero can be challenging, in part because of the limited traffic zones. These areas are only open to traffic during certain times, while others they are pedestrian only. The only notice to drivers are small road signs, in Italian of course. Driving in these zones during restricted times carries high fines. This was part of our hesitation to drive, and I'm glad we had a driver in the city! Even he threw up his hands and cursed at the traffic, trying to get to our rental in the old town area.
Where to Stay? Old Town!
Alghero is both a modern thriving city, and a historic beauty. Most everything a tourist will want to see is within Old Town or the Harbor. We spent four days staying in Old Town at a lovely rental. Perfect for two people, it's small but bursting with character, and the water is right out the front door. The host, Franco, is so kind and friendly! He even picked us up at 4am to drive us to the airport! I highly recommend the unit, bookable here.
Savoring the City
Just walking the medieval streets is fun! Enjoy the sites and sounds of Alghero, where you'll stumble upon small piazzas, flower lined streets and of course, plenty of shopping.
The area isn't called the Coral Riviera without reason, and you'll find plenty of coral shops. The iconic red Mediterranean coral grows extensively around Alghero and is crafted into jewelry, most commonly. There is plenty of cheap, fake coral, so be aware you most likely are getting what you pay for!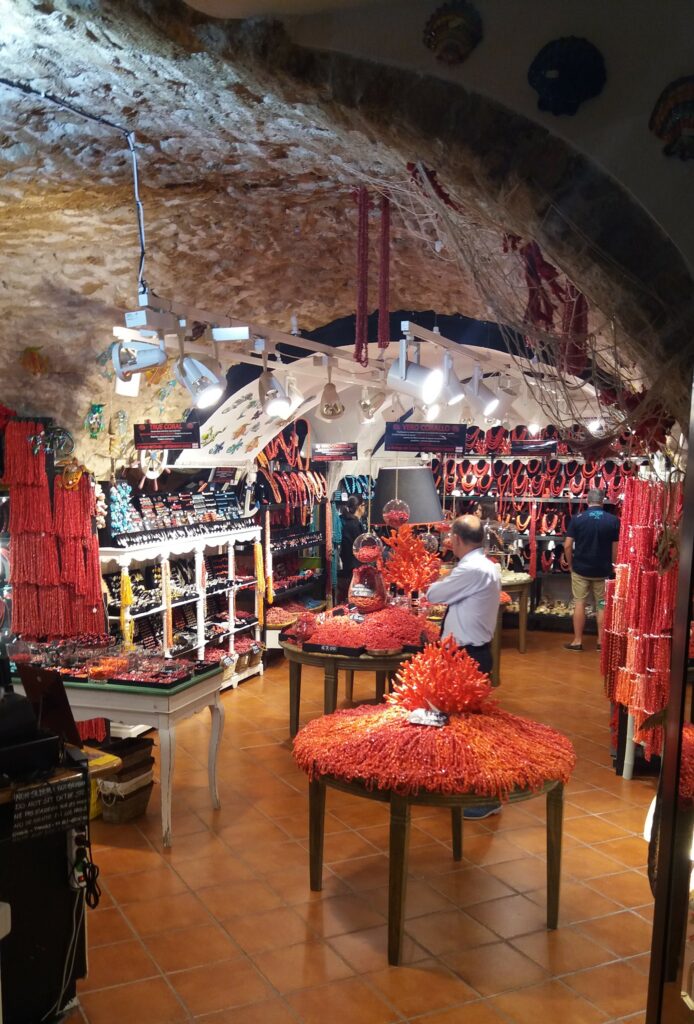 You will find lots of cork souvenirs as well, being one of the islands' exports. While of course used in wine bottling, cork trinkets, bowls, and more are sold throughout the island. The coral, cork, and pottery are some of the most Sardinian souvenirs, leaving aside anything gastronomic.
Walking the Medieval Bastions and Towers
The old city is encircled by the medieval defensive walls and towers. It would be hard to visit and miss them! Dotted with palm trees, cannons and other siege engines, the old military structures now offer a lovely waterfront stroll. The Bastioni Marco Polo is lined with nice restaurants, while most of the bastions have various shops and bars.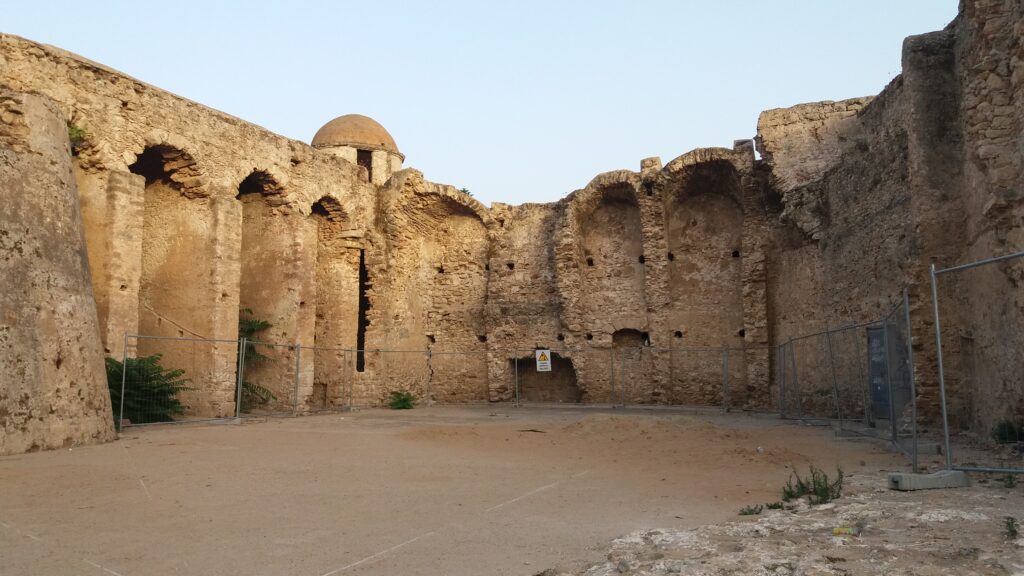 The towers are generally closed to the public, but occasionally opened for special events. The Sulis Tower was hosting a university art exhibition one night during our visit. It was interesting to see the modern art against the medieval tower backdrop.
Along the walls are multiple stairs down to water level. Near the harbor, there is a path among the rocks where I found quite a bit of sea glass. You can see the city walls stretching along the coastline.
Churches
What visit to Italy is complete without a visit to some church? Alghero's are small compared to the grandiose variety of the mainland's major cities, but worth a look as you wander the old streets.
Alghero Cathedral, or the Cathedral of St. Mary the Immaculate, was begun in the the late 16th century and has undergone a number of modifications and restorations since. It's bell tower rises over the old buildings, and you can may come to its now blocked off old entrance, but the modern entrance faces the Piazza Duomo.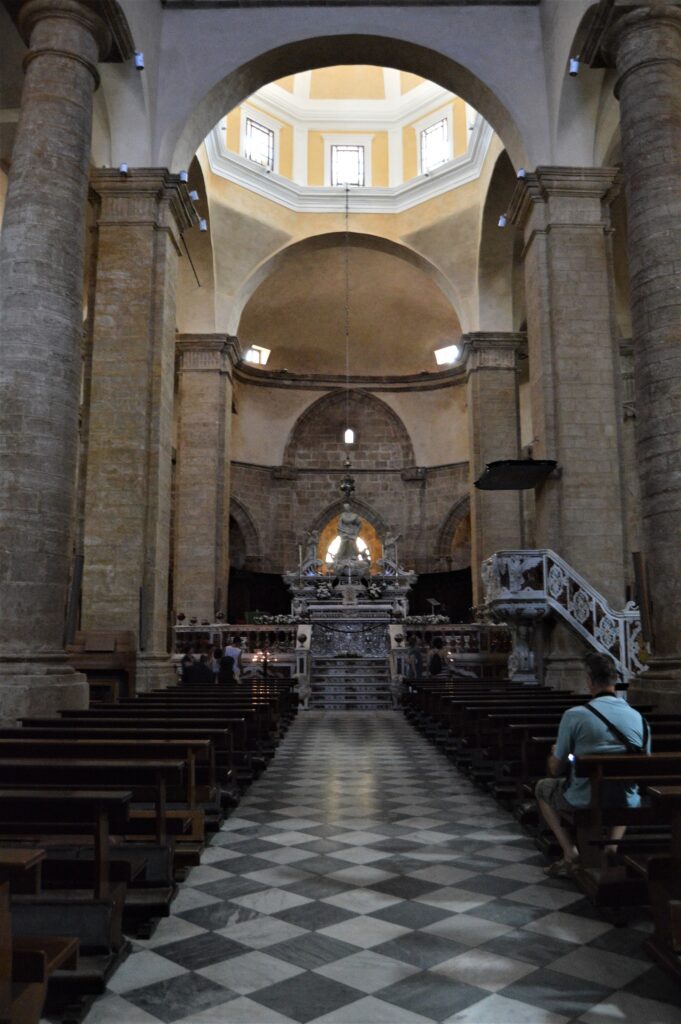 Attached to the cathedral is the Diocesan Museum of Sacred Art, which contains historic church art from around the area, as well as rotating cultural exhibits.  For €4 browse the small museum, which is set in the ancient church Madonna del Rosario.
The beautiful tiled dome of Chiesa di San Michele is eye catching, and the most iconic representation of this relatively small church. Just a few minutes walk from the cathedral, this church was built in the 17th century, although there are mentions of a church at this spot from centuries earlier.
Interestingly, both the dome and the cathedral's bell tower are the center of old town's sky line.
Piazza Civica
This lively square is the heart of the old town, especially at night. Strung with lights, its a romantic and picturesque spot, lined with shops and restaurants. It can get quite crowded, but honestly, even in the middle of high season Alghero never felt cramped or overrun.
An Amusement Park?
Strange, but yes. Located at the port on the way to the Alghero beach, Matherland sets up July-September. Complete with roller coasters, bumper cars, and plenty of carnival games, we randomly happened upon it during an evening stroll. It's free to enter, just purchase game or ride tickets. My husband won a prize at the shooting game, overseen by a Yorkie dog with a bow in its hair!
Dining
Away from a hotel, in a rental, we quickly discovered breakfast is not big. Plenty of places serve coffee, but they wouldn't have any breakfast. We found a bakery eventually, and then saw a couple places stating they served "English breakfast".
Meanwhile, there are countless bars and restaurants, many situated along the old city walls, with beautiful sunset views. I would be a bit careful in selecting one of the waterfront restaurants, some are a bit touristy, but can highly recommend at least one.
The Kings
Via Cavour 123, Bastioni Marco Polo 5, Alghero
Approach from the medieval streets behind, and you won't even realize this restaurant has outdoor dining along the city walls on the other side. We managed to get a seat without a reservation, but I highly recommend one. The food and service was outstanding. Hands down, this was my best meal in all of Italy! The highlight was the Ravioli al Brasat di Pecora, or Braised Sheep Ravioli. It was, so far, the only time I've eaten sheep, but it's fairly common in Sardinian cuisine.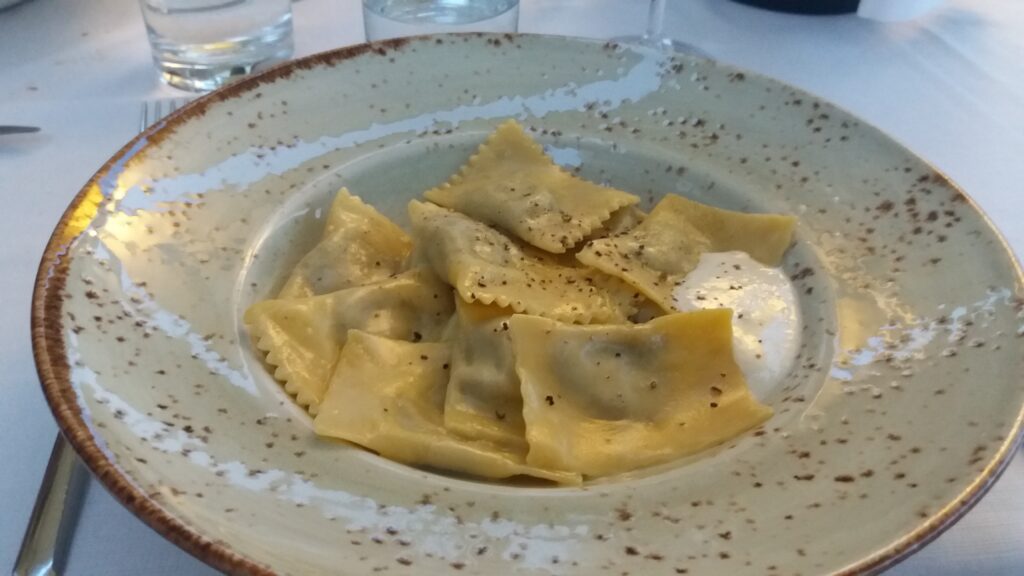 Trattoria Marco Polo
Via Camillo Benso Conte di Cavour, 46, 07041 Alghero
Recommended by our rental host, this trattoria is easily missed down a side street. More reasonable than The Kings, it has delicious food and a unique atmosphere with vaulted stone ceilings. One of the few places where English was limited, it is definitely more of a local, Italian spot than the tourist centered places on the seafront.
Blau Skybar
Via Catalogna, 22, 07041 Alghero
Situated at the top of the Hotel Catalunya, this is a great spot for drinks with sweeping views of the waterfront and old city. The bar has fairly reasonably priced drinks, snacks and offers light lunches. Enjoy a sunset from up here!
Neptune's Grotto
When in Alghero, don't miss a trip to Neptune's Grotto, or Grotta di Nettuno! You can drive to the entrance and descend the cliffside stairs (656 to be exact!) to the cave's entrance, or just take a boat from the Alghero harbor.
There are a couple tours which run out of the harbor, and we took Frecce delle Grotte aboard Attilio Regolo. They leave throughout the day, beginning at 8am. The trip is €15, plus cave admission of €13. The boat departs from the harbor at Garibaldi Dock, and is easy to find. They served snacks and wine on the return trip. The journey itself is about 40 minutes round trip, during which you'll enjoy the clear waters and may even see a dolphin or two!
The caves are pretty amazing. The boat will slide into a small cutout in the rock wall, allowing access to the cave entrance. Immediately upon entry, you'll see the large lake, filled by sea water. It never really feels claustrophobic, like some caves, but is often open and airy. The guide will lead you along the path for about 45 minutes, before returning you to the boat.
Sella e Mosca Winery
Just a 15 minute drive from old town in Alghero, Sella e Mosca Winery is the 2nd largest winery in Italy, and among the largest wineries in the world. They produce a variety of wines, including my personal favorite, Vermentino. English tours are offered free of charge at 4:30 p.m., but confirm with the winery on the day you intend to visit. Our tour guide was very kind and provided so much history and information on the wine making process. The tour includes the underground cellar, full of enormous wine barrels, and the historical buildings on the grounds, such as the chapel and school. When the vineyard began in 1899 the workers lived on the grounds, complete with its own small community.
The tour concludes at the tasting room, where you can select your wine choices and pay by the tasting, or have a glass or two. The staff were all very nice, and phoned our taxi driver when we were ready.
That is a story unto itself! Still carless, we took a cab from old town. Our driver was an older lady who didn't speak any English, but Google Translate came to the rescue! We told her our plan to visit the winery and then walk to the prehistoric necropolis, about 10 minutes away. She told us to call her when we were done at the winery and she would take us to the necropolis. I'm glad we did, because although it's only a 10 minute walk, it's down a busy highway, with no sidewalk or real shoulder.
Necropolis of Anghelu Ruju
The necropolis was discovered in 1903, on the grounds of Sella e Mosca during a building project. It was halted, and the area became a archaeological excavation.  The artificial cave complex housed dozens of graves dating  from 4200 to 1800 BC, perhaps used by the Nuragic civilization whose nuraghe structures dot the island.
Entry is €5, with audio guides available for €3. Visiting the site on our last day, we were flat out of cash, and quickly discovered the historical site only accepts cash. Our ever kind cab driver paid our entry and waited for us while we toured the grounds. She didn't even charge us for the wait, and took us to an ATM on the way back so we could refund her for our entrance fee.
The necropolis is an interesting stop, and it doesn't have restricted, roped off sections on the ruins. So feel free to, respectfully, climb through the rooms and tunnels. These were, after all, peoples' tombs.

A few things…
We spent 9 days in Sardinia, and could easily spend another month! Sardinia's culture is so unique, Italian but not. The food was amazing, and the people so friendly and welcoming. Our cab driver is just one example of the kindness we encountered along the way.
Italy is known for its late dinners, but Sardinia takes it to a new level. Just about everywhere closed between lunch and 7pm. 7pm is meant for aperitivos, or the "early bird" (i.e. American) diner. Eating so early let's you dine without a reservation generally, while the majority dine from 8pm onward. Things really pick up at night, while it can feel sleepy during the afternoon, almost like a Spanish siesta. In Alghero we retired between 12am-1am on Friday and Saturday and the streets were still alive, bars full  and the clubs just beginning to open their doors.
This just a taste of Sardinia. The island offers so much more, so get out there and explore!