My bachelor's degree is in History, focused on medieval Europe, but ancient Rome was a close runner up. I love the history of Rome! So, I write this with great glee as visiting these sites was like living history to me. This is certainly not a comprehensive list of ancient Roman sites in the modern city of Rome, but I hope it will shed some light on a number of them, as well as provide some practical tips as you hop from site to site.
Domus Aurea
Perhaps one of the most notorious Roman emperors, Nero is said to have fiddled (well, actually played the lyre) while the city burned during the Great Fire of Rome in 64 AD. In reality, Nero may not have even been in the city during the fire, but he wasted no time taking advantage of the disaster. With so much of the city crumbling, he confiscated the land and rather than rebuild the homes, businesses and civic offices destroyed, he built a Golden Palace, or Domus Aurea. The magnitude of this palace cannot be overemphasized- it encompassed hundreds of acres, including most of the Palatine Hill, and all of the land surrounding the Colosseum. It had hundreds of rooms, private gardens, including an artificial lake, and a 100 foot statue of Nero as a god. The walls were covered in marble and frescoes, rooms filled with lavish décor.
When Nero committed suicide, damnatio memoriae was issued. In other words, his memory was damned. For the Romans, this meant wiping away all traces of that person's existence. Emperor Vespasian drained the artificial lake and began construction of the Colosseum. Others would strip the wealth from the palace for various purposes, and eventually, Trajan built his baths here, filling the palace's rooms with construction dirt until it was completely buried.
Interestingly, it was rediscovered around 1480. Adventurers dug through the ceiling and were able to drop down into the space between the domed ceiling and the dirt below. Soon, artists were coming down too, viewing the artwork by torchlight. They copied the designs all over Renaissance art, in a style that became known as "grotesque", for its origins in the 'grottoes'. You can still see ceiling holes dug by the 15th century adventurists.
But, back to the modern day, you can purchase Domus Aurea tickets through COOP Culture, on the same site as the Colosseum tickets. Give yourself some extra time to find the entrance, because Google Maps walking directions sends you the wrong way (as of May 2019 anyway). The entrance is up the hill into the park off the busy intersection of Via Labicana and Via Nicola Salvi, behind the Colosseum.
Entry is only available Saturday and Sunday as a guided tour, as this is still an active archaeological dig, and groups are limited to 25. You will be required to wear a hard hat, and they do provide hair nets for sanity purposes (I sprayed my hat with antibacterial spray anyway!). Tours are about an hour, during which time you will do a fair amount of walking. It's very cold, so bring a jacket!
Aside from its history, and the coolness of being an active archaeological site, one of Domus Aurea's unique features is its virtual reality session. Part way through the tour, everyone sits down with an Oculus Rift and is taken through a VR recreation of what the palace might have looked like in its heyday. It's a really great way to bring the ruins to life, and something I hope more historical sites will begin to do.
Colosseum
The Colosseum, also known as the Flavian Amphitheater, is only a short walk from the Domus Aurea, and can actually be seen as you come out on top of the hill.
Begun by Emperor Vespasian, it opened under his son, Emperor Titus, in 80 AD with 100 days of games. Within the Colosseum there are some interesting exhibits on its history, gladiatorial fights, and a rotating exhibit which during our visit focused on the Severan Dynasty.
Tickets & Tours
The first and most important advice I can give you on the Colosseum is to book your entrance and/or tour as far in advance as possible.
COOP Culture is the official ticket company and offers simple entrance tickets, plus a variety of tours. Of course, numerous other companies offer Colosseum tours, but they often carry a hefty price tag.
Your Colosseum ticket also includes entrance to the Palatine Hill and Roman Forum, within 48 hours of your Colosseum entrance. Don't let a tour guide trick you into thinking you need an additional ticket, but do know there is an additional Super Ticket available (€6 add-on to existing Colosseum ticket, or €16 as a standalone ticket) that allows entrance to the Palatine Hill Museum, plus seven other Roman sites (Neronian Cryptoporticus, Aula Isiaca, Loggia Mattei, House of Augustus, House of Livia, Temple of Romulus, Santa Maria Antiqua).
Through COOP Culture, you can book a Colosseum Underground Tour (access where the gladiators would have been held), or a Panoramic (Belvedere) Tour onto the uppermost level. The English Underground Tours were sold out almost two months in advance, so I booked the Belvedere Tour.
About 3 weeks before our scheduled arrival, COOP emailed me that all Belvedere Tours through May 31st were cancelled for repair work. That was a bummer, and there wasn't any clarification on whether that also cancelled my entrance ticket. COOP never responded to my emails, and they weren't much help on the phone line, other than to confirm my entrance was still valid.
I arrived onsite hours early to see about sorting out the ticket situation, and was surprised how simple everything was! I was issued a refund for the tour cost, but still allowed to enter at the Stern Entrance, in front of Via Labicana. COOP tours all enter here, and that alone is reason to book a tour! The main entrance is insanely crowded, with a twisting line. At the Stern Entrance, they just checked our ID and we walked in- no line!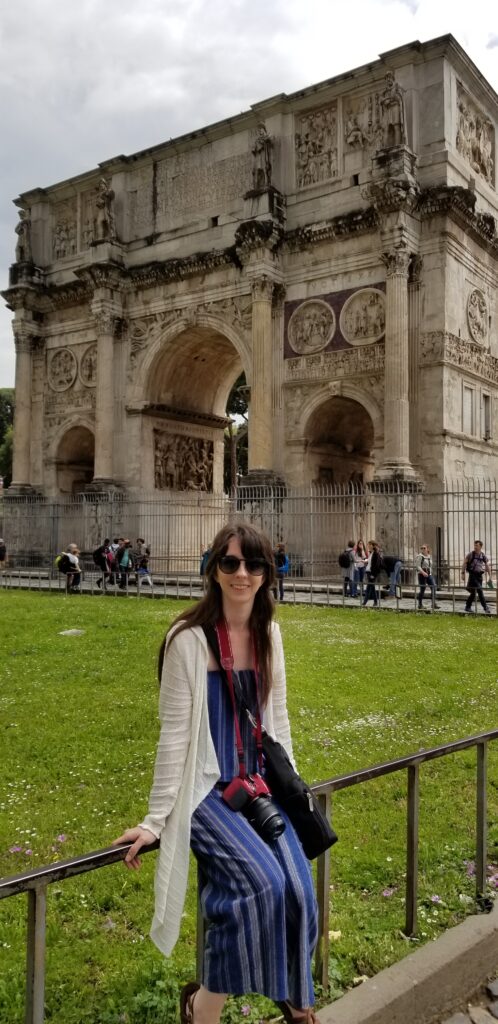 Arch of Constantine
Just outside the Colosseum sits the Arch of Constantine, the largest surviving triumphal arch. Dedicated in 315 AD, following Constantine's famous victory at the Milvian Bridge, it's an impressive site.
If it looks familiar, it's because so many other monuments have been modeled after it, perhaps most notably the Arch de Triomphe in Paris.
Be sure to stop by during your Colosseum visit.
Dining
There are no food sales within the Colosseum, and we were repeatedly told to avoid dining in the surrounding area as it's overpriced and too touristy. As such, I was afraid to eat lunch, but was bordering on a hangry breakdown, so we walked about 2 blocks away to Naumachia Ristorante and Pizzeria (7 Via Celimontana). Italians were dining there, and it had 4.3 stars on Google, so we decided to venture in.
I don't know if we just got lucky, or if the hype about the area is just that- hype, because our lunch was great. I wouldn't dine at a restaurant facing the Colosseum, but a few blocks away this restaurant had tasty food, great service and fair prices.
Palatine Hill and Roman Forum
The two sites are within one park, but have dedicated entrances. The Palatine entrance is a short walk from the Colosseum down Via di San Gregorio, while the Forum entrance is short walk the other direction down Via dei Fori Imperiali.
According to legend, Rome's founder, Romulus, lived in a hut on the Palatine Hill, and Augustus built his palace here too.
The Domus Flavia and Domus Augustana, Palatine Museum and Severan Stadium are a few of the sites you'll see. The Severan Arches lead to the Stadium and the Room of the Capitals, which contain some amazingly preserved stucco artwork on the ceiling, as well as a number of Severan age capitals (the decorated tops of columns).
As you wind your way up past the Palatine Museum, at the top of the hill sits the Farnese Gardens, a seemingly out of place 16th century creation of Cardinal Alessandro Farnese. Its a great view, particularly as you descend the stairs in the front, of the Roman Forum in one direction, and the Arch of Titus and the Colosseum in the other.
Make your way to what is, in my opinion, the main attraction- the Roman Forum. For me, this is where things leapt to life. Here, you'll see the iconic standing columns, remnants from the Temple of Castor and Pollux and Temple of Saturn. Visit the Temple of Vesta, where the Vestal Virgins kept the sacred fire burning, or view the supposed remains of the altar to Julius Caesar, dedicated after his death. To this day, people leave coins and flowers to his memory.
In addition to the ancient Roman relics, there are number of late Roman buildings, such as the Santa Maria Antiqua from the 6th century (entrance included with Super Ticket), and the Mamertine-Tullian Prison. The prison was built sometime in the 7th century, but contains a much older chamber from the 2nd century BC. Legend tells us, within this interior room, St. Peter made water gush forth from the stone to baptize prison guards.
Grab a guide or a guide book for the fullest Forum experience.
Circus Maximus
The ancient chariot racing stadium is mostly a park now, with a small section of ruins remaining. It's about a block past the Palatine Hill entrance, and is worth a glimpse. You can see what remains of a portion of the seating, but that's about it. What would have been the track is now a dirt walking path, so it's interesting to see how expansive the stadium would have been. Just watch Ben Hur for a glimpse at the drama, and danger, of chariot racing, and as you stand overlooking the path, imagine the thrill of chariots charging around the bend, the crowds roaring.
I searched for a recreation or demonstration of modern chariot racing, after all there is Gladiator School, but found absolutely nothing. I was really hoping to get a chariot ride in! If someone knows of a spot, please comment below.
Trajan's Column
I acted like a fangirl on her way to meet Justin Beiber when I headed to Trajan's Column. I guess that makes me a history nerd, but it's hard to explain. Emperor Trajan has always interested me, and the column is not only his greatest work to survive, but also his burial place.
Trajan's Column was built in 113 AD to commemorate Rome's victory during the Dacian Wars, in what is now Romania. One hundred and fifty friezes wrap up the column, telling a story of Trajan's time. Of course, there is much debate as to how historically accurate the stories are, versus how much they are Roman propaganda. In addition, without text to decipher the images, much is open to interpretation.
Originally, a statue of Trajan crowned the column, but it was replaced with one of St. Peter during the Renaissance. A spiral staircase within allows access to the balcony, although that has long since been closed. Evidently, it was still accessible in the 1700s though.
Largo di Torre Argentina
Torre Argentina is one of my favorite spots in Rome! It combines my love of history and cats- what could be better? Well, maybe if they sold wine too…just saying. Regardless, this is no ordinary cat rescue.
Around 1930, three Roman temple ruins and the famous Portico of Pompey were found during one of Mussolini's excavations. The Portico, part of Pompey's Theater, is the alleged spot where Julius Caesar was murdered in 44 BC.
The ruins are surrounded by busy streets, so you could walk right by, never knowing the historical significance, or about the current residents. The cat sanctuary was founded in 1990 and houses around 150 cats, many of whom have disabilities. From street level, look down some twenty feet on the ruins and you will spot cats bounding along and lounging beside two thousand year old walls. Visitors cannot access the ruins, but you can descend to their level and enter the cat sanctuary. Open from 12pm-6pm each day, the rescue is run by a group of ladies who will tell you about the various cats. They sell souvenirs, and you can even sponsor or adopt a cat. All proceeds go back to the cats for food, medical care etc.
My personal favorite was Zenone. This spunky cat evidently dislikes men, but seemed to love my sister and I. He's so energetic, I didn't immediately realize he only has three legs, which only endeared him to me further. Visit the sanctuary's website for details and some amusing cat stories: https://www.gattidiroma.net/web/en/.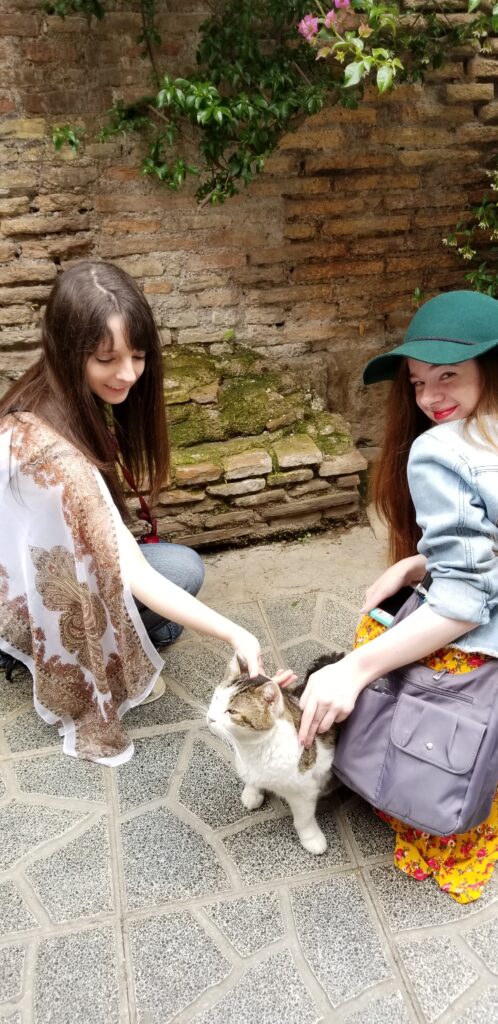 Pantheon
Now, the Pantheon is not exclusively a Roman site, but I couldn't write about ancient Rome sites in Rome without including it!
The original Pantheon was built around 25 BC by Marcus Agrippa, the friend and son-in-law of Julius Caesar, hence the inscription over the portico "Marcus Agrippa, son of Lucius, three-time consul, made this". Now, without getting too off track, who was Marcus Agrippa? He is an interesting figure because he stood by Octavian, future Augustus, for years, perhaps even since childhood, always supporting his cause, always backing him up. Augustus was the shrewd political mind, while Agrippa was his military man. Agrippa can be credited with the victory over Marc Anthony and naval victories over Pompeius, to name a few. Agrippa and Augustus seem, as best as can be deciphered two thousand years later, to have genuinely been friends, in part illustrated by Agrippa's unwavering support of, yet subordinate role to, Augustus. Some years ago, a snippet of text was discovered from Augustus' funeral oratory for Agrippa, his final farewell to a lifelong friend.
So, back to the Pantheon! Agrippa built it, but was destroyed in 80 AD. Rebuilt by Domitian, his version burned down in 110 AD. Finally, the Pantheon standing today was built by Hadrian around 125 AD. It was sacked during the Gothic invasion in 410, and fell into disrepair for centuries, before it was converted into a Christian church in 608 AD. It was renamed St. Mary of the Martyrs, so it's interesting that today it's still known by the pagan Roman name.
It's free to enter, but expect a line. It moved quickly for us, and once you're inside people tend to disperse. They offer a free app called A Bit of the Pantheon, but beware, all of the good content, including the audio guide, costs extra.
The two coolest aspects to me were the oculus in the ceiling, letting in the ray of sunshine, but also the rain. The floor is slightly concave in the center, with tiny drainage holes all around. The second is the tomb of Raphael, the great artist, who is buried here with his fiancé.
If you don't mind spending some extra euros, grab a seat at one of the restaurants outside the Pantheon and sip your wine while gazing at this ancient masterpiece.
Obelisk(s)
There are five total Roman models and eight actual Egyptian obelisks in Rome, more than anywhere else in the world.
You'll notice the obelisk outside the Pantheon, atop the fountain. This one dates to possibly 1400 BC, coming from the Temple of Isis in Egypt. It was brought to Rome and lost until the 14th century when it was discovered and remounted atop the fountain. Another obelisk sits atop the Spanish Steps, although it is a Roman copy of an Egyptian original, and of course the one in the Piazza Navona, discussed below.
Piazza Navona
Well, in truth, the Piazza Navona Underground is really what I mean, but the actual Piazza Navona is built upon the Stadium of Domitian, a 1st century sports complex which gives the piazza it's oblong shape, and contains the Agonalis Obelisk, or Domitian's Obelisk. So, whether you're interested in dining, the Renaissance fountains, or the Roman history, this is a great spot.
Piazza Navona & Emperor Domitian
Piazza Navona Underground is a little gem easily overlooked, but is an UNESCO World Heritage Site. Discovered in  1936, it opened to the public in 2014. The main entrance is actually off Via di Tor Sanguigna, but there is small entrance directly off the Piazza next to Bernini Restaurant, which may or may not be open. We chanced through the open wrought iron gate out of curiosity and discovered the underground.
Entry is euro 8.5 and includes an audioguide. Descend about 15 feet underground, where you will find a variety of displays, excavated walls, columns and more. The space is quite small, but the history is fascinating. Emperor Domitian was the last of the Flavian Dynasty and is a vilified emperor for his cruelty and violence, reigning from 81 to 96 AD. The athletics stadium was built during his reign, and the Piazza Navona Underground is only small part of the entire site.
For a sneak peek, you can view a bit of it from street level just past the ticket office on Via di Tor Sanguigna. A cut out, surrounded by a railing, allows a brief glimpse.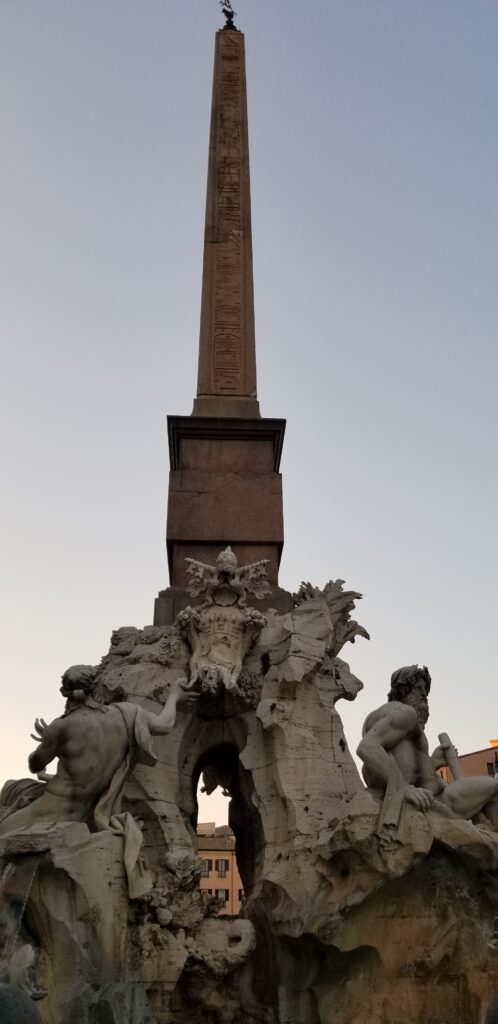 Back on the surface,Domitian's Obelisk stands atop the Bernini's Fontana dei Quattro Fiumi in the center of Piazza Navona. A Roman copy of an Egyptian obelisk, it was constructed sometime during Domitian's reign, mentioning both his father and brother, Emperors Vespasian and Titus. Over the centuries, it was buried and cracked into multiple pieces. However, it was eventually restored and set atop the fountain in the 16th century.
The Original Tartufo
After you've had your fill of Roman history, head over to Tre Scalini for a bit of gastronomic history.
Just off the piazza, this cafe claims to have made the original tartufo, a now classic Italian dessert, in 1946. A chocolate ice cream ball with various fillings in the center, tartufo is available throughout Rome, but it's fun to grab one to go at Tre Scalini and sit in the piazza listening to the musicians.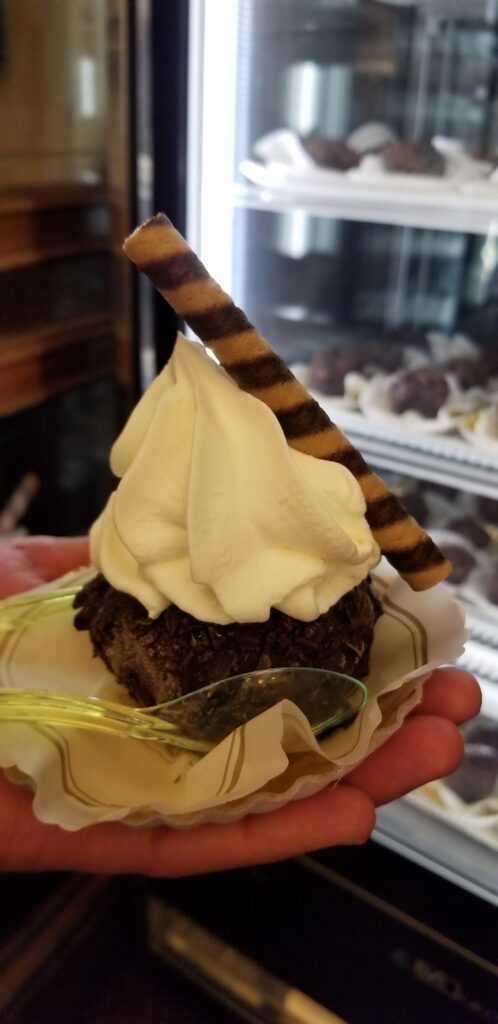 Column of Marcus Aurelius
Modeled on Trajan's Column, this less famous piece is still noteworthy. Built sometime in the late 100's, it depicts the emperor's triumphs against the Danube tribes in the 170s. Like Trajan's, Aurelius' statue was removed during the 1500s and replaced with one of St. Paul.
Venchi
Just around the corner sits Venchi Chocolate and Gelato. They are open late, and evidently it's the spot to be, because the line went out the door and down the block. Well, after a full day touring Roman ruins, gelato sounded like a great idea so we jumped in line.
Founded in 1878, this traditional company makes its' gelato fresh every day, and is famous for its hazelnut chocolates. There have many locations in Italy, as well as international stores in London and New York, but there's just something magical about eating famous Italian gelato as you stroll the evening streets of Rome.
Castel Sant'Angelo (aka Hadrian's Mausoleum)
Emperor Hadrian built a mausoleum for himself and his family, sometime around 135 AD. He was buried here, although the structure at his time was likely totally different. During the Gothic sack of 410 AD, the mausoleum was plundered, and many of the burial urns destroyed. Whether any of the imperial ashes remained is unknown.
In 590 AD, during a great plague outbreak, the Pope had a dream whereby archangel Michael sheaved his sword over the building. Taking this to mean the end of the plague, pope renamed the mausoleum Castel Sant'Angelo and the angel statues were thus added. Over the centuries it was used as a fortress for the Vatican, connected by secret tunnels, and served as a military installation until 1901, after which it became a national museum.
The castle is the furthest Roman site on my list, across the Tiber from the others, so I will end here. However, it's just a couple blocks from the Vatican, and easily reachable from the rest of the city. There are many more Roman sites to visit, such as the Baths of Caracalla, the Baths of Diocletian, the Appian Way, and the Catacombs of Priscilla, which contains some notable early Christian art, but those will have to wait until my next visit to the Eternal City.