Florida is famous for it's touristy beaches and theme parks, but what about before its commercialization? It's been a popular tourist destination since well before interstates and Disney. Old Florida is that southern charm, the Spanish moss covered live oaks, the quiet towns, the natural beauty, the roadside attractions. Sure, we visited theme parks, but its old Florida that I love, the Florida I grew up exploring. After spending the last winter here, I was thrilled to rediscover some of these areas with my husband. So I thought why not write about finding old Florida near Tampa Bay, one of the state's most popular destinations?
Weeki Wachee Springs State Park
6131 Commercial Way, Spring Hill, FL
One of Florida's most notable roadside attractions began in 1947, when a WW2 Navy veteran who trained divers opened the Weeki Wachee Mermaid Show. An underwater theater was built, allowing guests to view the synchronized ballet show within the clear spring waters. It gained world wide recognition in the 1950s, and eventually became a state park.
Mermaids still perform daily, with various shows and themes. The talented women breathe underwater through hoses, almost convincing you they really are mermaids!
While you're there, take the Wilderness River Cruise for a tour of the Weeki Wachee River, flowing out of the spring. The spring pumps 117 million gallons of water daily, and is the deepest fresh water cave in the US.
For something a little more active, rent a kayak from the park and paddle the river. The water is gorgeous, and often only a few feet deep. You'll likely encounter manatees along the way too! The current is steady enough you hardly even need to paddle, so just float and enjoy the scenery. It's one of my favorite paddles in Florida.
Spook Hill
5th Street, Lake Wales, FL
Want to roll backwards in your parked car? Check out this roadside attraction in Lake Wales, that's been pulling in drivers for decades. It's a gravity hill, but according to legend, it's haunted by a Native American chief and the giant gator he killed. It was added to the National Register of Historical Places in 2019, and whether or not you think its haunted, it's amusing to turn off the car and watch it move on its own!
Bok Tower
1151 Tower Blvd, Lake Wales
Just down the street from Spook Hill, visit Bok Tower Gardens. Opened in 1929, the gardens have a variety of beautiful plants and trees, most notably their azaleas which bloom January to March. The park's centerpiece is the 205 foot tall carillon tower. This carillon has 60 bells, and is one of only 185 carillons in North America. It plays, or is played, every 30 minutes briefly, with full concerts at 1pm and 3pm.
The gardens also have a nice restaurant with an outdoor patio and a great little plant shop. Check their calendar, they host events throughout the year, from yoga to music under the stars.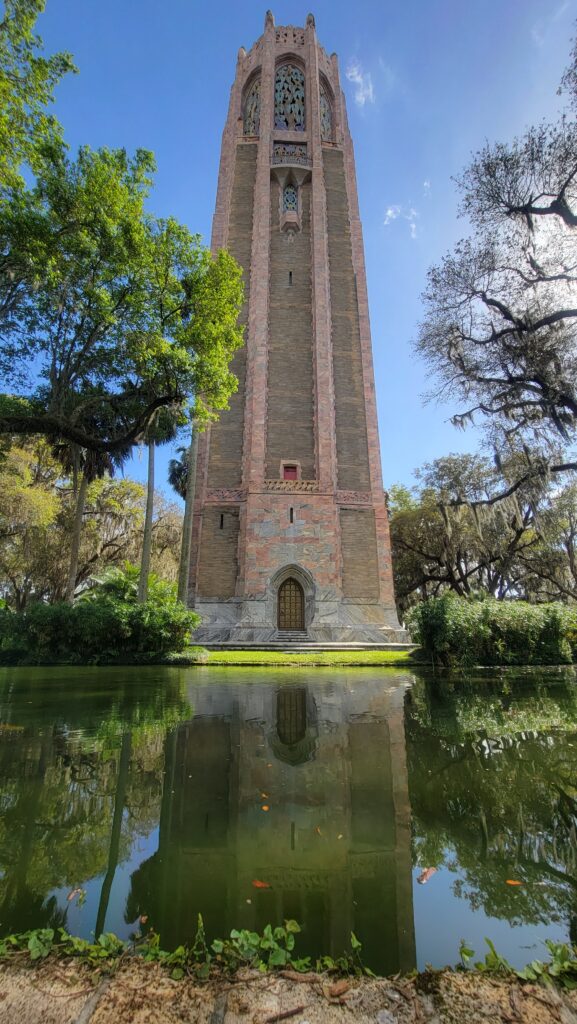 Henry B. Plant Museum
401 W. Kennedy Blvd, Tampa, FL
Located at the University of Tampa, the museum commemorates a bit of Tampa's history. The university and museum were originally built by Henry B. Plant in the late 1800s as a luxury hotel. Located on the Hillsborough River, the hotel had a wraparound veranda, lawn games, extensive gardens, balls, a casino, and much more. It was the first hotel in Florida with full electricity. Today, you can get a feel for the grandeur of a bygone era at the museum, and on the university grounds.
The museum is especially popular over the holidays, when it hosts a Victorian Christmas Stroll. It's decked out for a historical Christmas, with hot cider and cookies on the veranda.
View this post on Instagram
Sunken Gardens
1825 4th St. N, St. Petersburg, FL
Another roadside attraction begun in the 1930s, Sunken Gardens is a tropical paradise. It was started by a farmer who drained a lake, and begin gardening in the rich soil. Hence, sunken gardens. Wander the trails past huge palms, orchids, bromeliads, a waterfall, all feeling more like Central America than central Florida.
Located in the heart of busy St. Petersburg, it's a quiet retreat, hidden behind a Carrabba's. Popular for weddings and photoshoots, it's a must whether you're admiring the unique plants, or posing for Instagram shots!
Silver Springs State Park
5656 E. Silver Springs Blvd, Silver Springs, FL 
Silver Springs was popular with tourists by the 1820s, and by the 1870s, the springs had their first glass bottom boat! Today, the glass bottom boat tours attract visitors from around the world. They're offered daily and should be reserved in advance, to guarantee a seat. Kayak and canoe rentals are also available. On the first Sunday of every month, the park offers the Florida Safari Ecosystem Tour via a tram through the forest.
There are numerous hiking trails in the park, plus some nice camping spots for both tents and RVs.
Lettuce Lake Conservation Park
6920 E. Fletcher Ave., Tampa, FL 
Lettuce Lake is actually in Tampa, a slice of Old Florida preserved by the park system. It's just a $2 entry fee, and you could easily spend all day. The park is beautifully maintained with clean, modern bathrooms, nice picnic areas, and plenty of trails.
My favorite is the boardwalk through the swampland and along the Hillsborough River. It's probably the best spot in Tampa for wildlife viewing. From alligators to night herons, there's always something to see . The observation tower is along here. There's also a 1.25 mile paved loop, great for biking. The park offers very reasonable canoe and kayak rentals, for paddling the river.
Homosassa Springs State Wildlife Park
4150 S. Suncoast Blvd., Homosassa, FL
Homosassa Springs is a unique state park. It's home to dozens of native Florida wildlife, including alligators, panthers, a black bear, and many more, who can no longer survive in the wild. The park houses those who have been injured, along with some former pets that could not be released (like the two panthers!). The Wildlife Walk Trail takes visitors past these creatures.
In addition, the park sits on its namesake, Homosassa Springs. Manatees love this spring, you're sure to see one whether, it's a resident or visitor. The underwater viewing room is up close to the thousands of fish who congregate here, along with the string rays and crabs. The spring water is clear enough, though, you can see them just as well above water as below.
You can park at the visitor center off Suncoast Boulevard and take a tram, or in non-manatee season, a boat, to the park entrance. There's also a short trail, for those who prefer to walk. Alternatively, park at the entrance, off Fishbowl Drive. You can purchase tickets here and avoid the line at the visitor center.
Parkesdale Market
 3702 W. Baker St., Plant City, FL
Opened in 1969, Parkesdale Market grows strawberries, for which Plant City is famous! During strawberry season (roughly December to March), the farm offers strawberries by the pound, along with fresh strawberry shortcake, ice cream and other treats. Toward the end of the season, they also allow u-pick.
They sell all kinds of fresh produce year round, at incredibly low prices. I purchased the freshest, most beautiful romaine lettuce and strawberries here!
Plant City is home to some national berry producers, but I like Parkesdale for its charm and family atmosphere. Besides, where else can you be strawberry king or queen for the day?
Tarpon Springs Sponge Docks
 735 Dodecanese Blvd., Tarpon Springs, FL
Tarpon Springs is famous for its Greek restaurants, and its sponge docks. The two really go hand in hand, both related to the town's Greek heritage. In 1890, the sponge industry began in Tarpon Springs, and the companies started hiring divers from Greece. Today, the town is still a top producer of natural sponges, and you can take a boat tour to see how the divers do it, watch the weekly sponge auctions at the docks, and finally, buy some in the shops around town.
While there, don't miss the amazing Greek food! Everyone has their favorite restaurant, and Hellas is mine! Whether you're looking for baklava in the bakery, or spanakopita and seared octopus in the dining room, they have it all.
Cedar Key
Cedar Key is everything that embodies Old Florida in one place, and also the furthest destination from Tampa on this list. It's a quirky town full of local shops and fresh seafood restaurants. It's a fisherman's paradise. Kayaking and hiking options abound, and nature is everywhere. For the full experience, plan for an overnight trip from Tampa, or even a long weekend. Cedar Key has enough charm to put Hallmark to shame! There's history on every corner, and on all the smaller, surrounding keys. To fully experience Cedar Key, you have to get out on the water! Read more about where to stay, eat, and what to do, here.
---
Pin It for Later!