Cedar Key sits off Florida's Nature Coast, about an hour west of Gainesville or two hours north of Tampa. It, and its neighboring islands, are Florida's 'other keys'. This is not Key West! Or, as one of the locals warned us, 'This certainly is not Daytona!', and I couldn't be happier about that! Discovering Cedar Key, I fell in love with it.
Cedar Key is a perfect piece of Old Florida, a place time and the troubles of today seem to have passed by. It's the sort of place the locals speak to you, and know you by day three, a place where they still say 'yes ma'am' and 'no sir', and a place you'll need cash at some local shops and restaurants. Yet, it has its share of boutique shops, a trendy art gallery co-op, and hoppin' bars a plenty! Its also home to a national wildlife refuge and plenty of nature.
We've spent weeks here, and talked about someday living on Cedar Key. I'm almost afraid to write about this hidden gem, lest it be overrun like the rest of coastal Florida!
Where To Stay
There are a surprising number of accommodations, for an island with a population of just 700. From a hotel on the National Register of Historic Places, to waterfront suites, camping, and quirky fishing cottages, there's a style for all. I was torn between the options, but loving b&bs, I booked the Cedar Key Bed and Breakfast our first visit, while return visits had us at an RV park.
Cedar Key Bed and Breakfast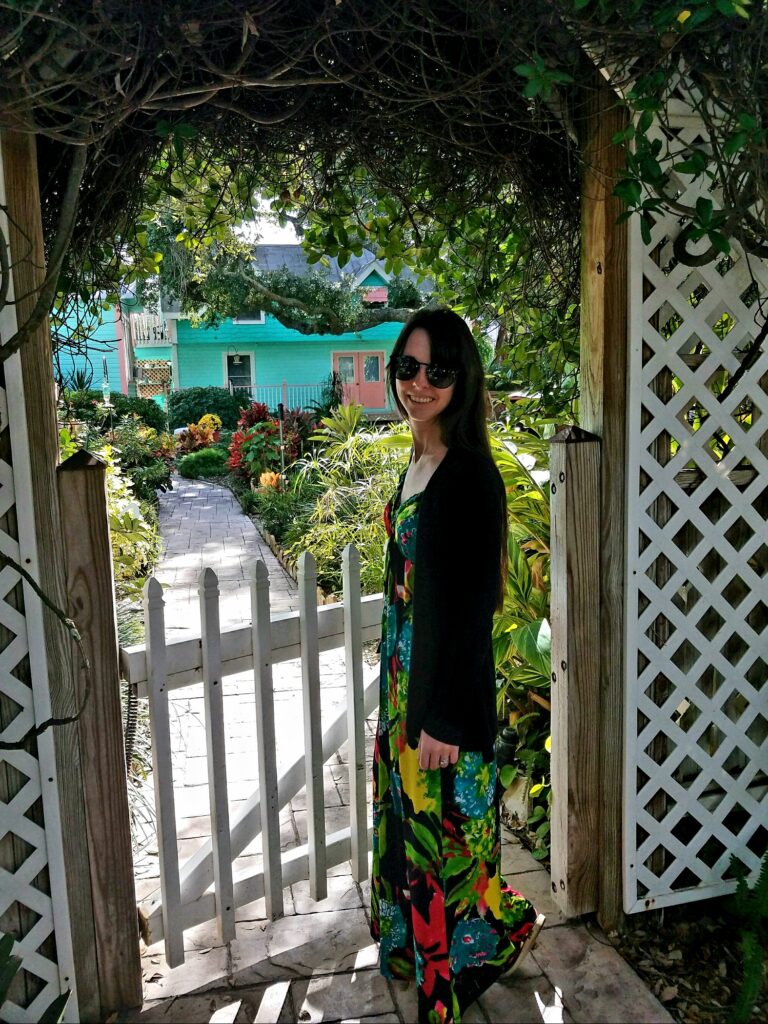 The Cedar Key Bed and Breakfast is a historic house, built in 1880 for the superintendent of the Eagle Pencil Mill, which used to sit across the street. Today, it welcomes guests into its unique rooms and beautiful gardens. The house was reconfigured over the last 130 years, so rooms are located in various locations. I booked the Girls' Room, with a private balcony, and it's the only room on the second floor (from that side of the house). Meanwhile, on the covered back porch a spiral staircase leads up to Jack's Room. Rooms are scattered about the house in such a fashion, each with its own character.
The b&b has lovely outdoor space, with porch and deck seating, a swing under the 700 year old live oak, and scattered about the lawn. While not waterfront, you can still see the gulf from the house and its just a few steps away. They also have bicycles for guests (including a tandem!), and golf carts for rent.
Cedar Key RV Resort
The Cedar Key RV Resort is 7 miles off the actual key, but it's a spacious, welcoming park. With large, concrete sites, a pool, and clubhouse, it has the most amentities of any RV park within 30 miles. The monthly rates are very reasonable, especially by Florida winter standards.
The park hosts events throughout the season, from chili cookoffs to group workout sessions. While it isn't waterfront, it makes up for it with its quiet surroudings and its many offerings.
What to Do
Explore the Surrounding Keys
Cedar Key is surrounded by numerous other keys, 13 of which make up the Cedar Keys National Wildlife Refuge. When visiting, you must explore by water! Whether it's renting a kayak, or booking a boat tour, there are several options.
Tidewater Tours came highly recommended, and I will second that! They offer a variety of tours- history, ecological- around the keys, and almost always sight dolphins. Tidewater also offers a drop off and pick up from Atsena Otie. It's just a short 5 minute ride from the Cedar Key Harbor to the drop off point on Atsena Otie. It felt a bit like an episode of Survivor as we stood alone, watching the boat depart! No worries, Capt. Tom picked us up at the exact spot two hours later!
Alternatively, rent a kayak or SUP and paddle to the keys yourself. At a decent speed in good weather, it's only about 20 minutes from the Cedar Key Beach to Atsena Otie. Full day rentals are available from Cedar Key Paddling. If you're looking to explore on your time frame, it's a great option.
Atsena Otie
Bursting with history and wildlife, Atsena Otie is the best key to visit if you only have time for one. It was the original Cedar Key, home to the Faber Mill Pencil Factory and a decent sized port. However, the #4 hurricane of 1896 decimated the island. In fact, you can still see the pencil mill ruins along the beach by the old pier. It looks like the hurricane just passed through. Bricks are scattered across the beach and broken pottery lies just below the sand. It's a ghost town, a 100 year old scene still intact.
We encountered a local scouring the beach. He showed us a bottle he had just unearthed, and said he has even found unopened beer bottles from the 19th century. I was utterly fascinated. I've found sea pottery- shards- in Ireland, but never encountered anything quite like this in the US.
There are several trails on the island, but only one is clear. Take the boardwalk to the cemetery path. It leads past relics of the island's history- an old water cistern, a defunct windmill, and finally, the cemetery founded in 1877.
The path continues just past the cemetery, where the mangroves open to a salt marsh. You may find seabirds- we scared a flock of egrets off with our approach. Also, remember this is a wildlife refuge- there are lots of snakes, big ones! Gators aren't too common, but they do swim the brackish water to reach the outlying keys. Just be cautious. Mosquitos can be terrible, but thanks to the cool winter weather, we've never had any issues.
Bicycle the Island
It's so easy and pleasant to bike around the island! There's so little traffic, and half of that is golf carts. We borrowed bikes from the B&B, and later brought our own, to ride along the waterfront, through neighborhoods, and just get lost. It's a small island, so even if you do get lost, you don't have far to go.
If you don't have your own bicycle, Cedar Key Adventures rents them. They also rent kayaks and golf carts.
Cemetery Point
Cemetery Point is a great spot to bike to, its only 1.3 miles from town, and it's en route to the Cedar Key Museum State Park. Follow the 1200 foot boardwalk through prime birdwatching territory, before you come to the disc golf course.
If disc golf isn't for you, no worries! There's a small beach, perfect for fishing or just peace and quiet. The park also has exercise equipment scattered about, with lovely views of the water. One thing I loved about the island is how clean and well maintained everything is- this being a prime example. The outdoor equipment- from cycles to a type of elliptical- are a nice, unique touch, clean and in great condition.
Cedar Key Railroad Trestle Nature Trail
A short 0.6 roundtrip trail that follows a portion of the old Florida Railroad, it's peaceful and quiet. It ends by the water, where a few of the railroad's trestles can still be seen.
Lower Suwannee National Wildlife Refuge
The large natural area is a paddler's playground, with plenty to explore. It's also home to several nice hiking trails, a few miles from Cedar Key. To reach it, take SR 24 off the key and turn left on CR 347. Follow the signs to the Shell Mound.
The Shell Mound is a Native American ceremonial site, began around 400 AD. Today, it's covered in brush, barely recognizable as a shell mound. The Archeological Trail is a 0.6 mile loop, offering sweeping views of the other keys. There's also a fishing pier and boat launch.
Near the trailhead, find another path to the Dennis Creek Trail, a 1 mile loop through tidelands and forest.
Cedar Key Beach
The island's public beach is small, but well maintained. During your stay, you'll notice the tide times posted around town. I soon discovered why. Cedar Key's tides are substantial! When they're out, boats can't even get out of the harbor, and the beach triples in size, exposing oyster beds.
I headed down one morning during low tide to scour the freshly exposed beach with my metal detector. I discovered its a very clean beach! Sadly, no treasures were found.
The city park backs up to the beach, with a playground and clean public restrooms. In December, the park is also the site of the nautical themed Christmas tree!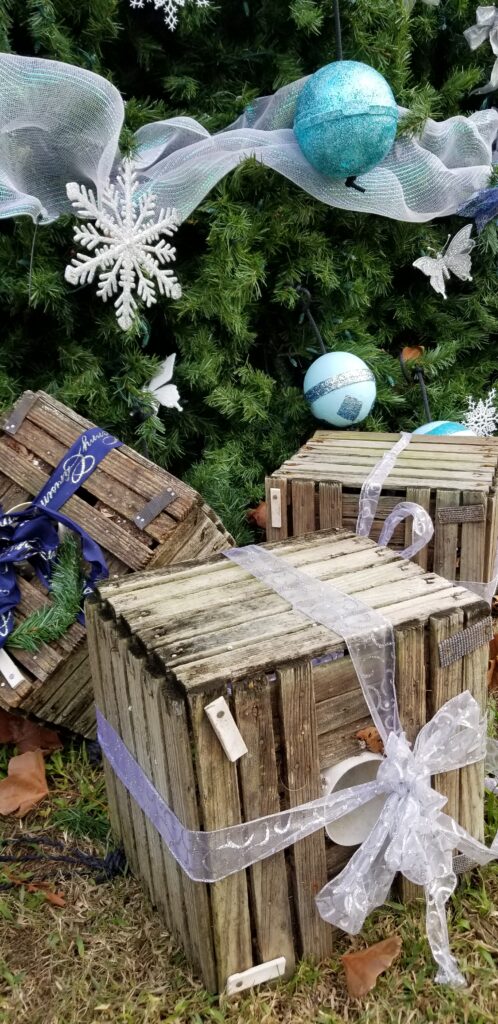 Browse the Local Shops
Cedar Key has two shopping streets, 2nd Street and Dock Street. You'll find a more local feel on 2nd Street, with boutique shops, the Cedar Key Historical Society and Museum, the community garden, and more. Dock Street is waterfront, and not to be missing, but it has a more touristy feel with the nicer restaurants and souvenir shops.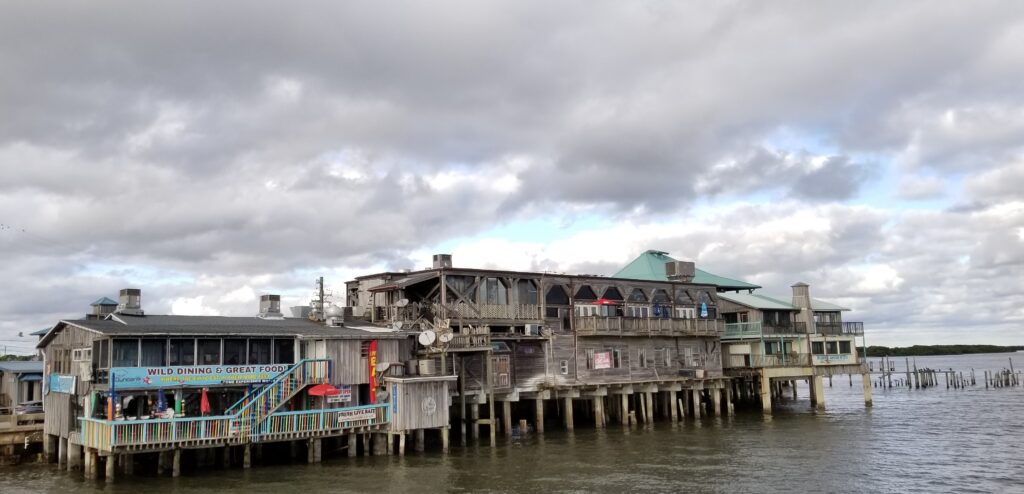 Cedar Keyhole Artist Co-op sells locally made artisans wares, from pottery, to photography and paintings, tie die products and much more. Upstairs, they offer art classes throughout the winter season. Next door, find the Cedar Key mural.
A few steps down the street, the Community Garden is so cute! Each garden block belongs to a local company or group. That small town feel again- the garden offers free seed and a living room you're invited to 'lettuce relax in'!
Take time to explore the nooks and crannies of the town. Everything moves on island time, and so should you!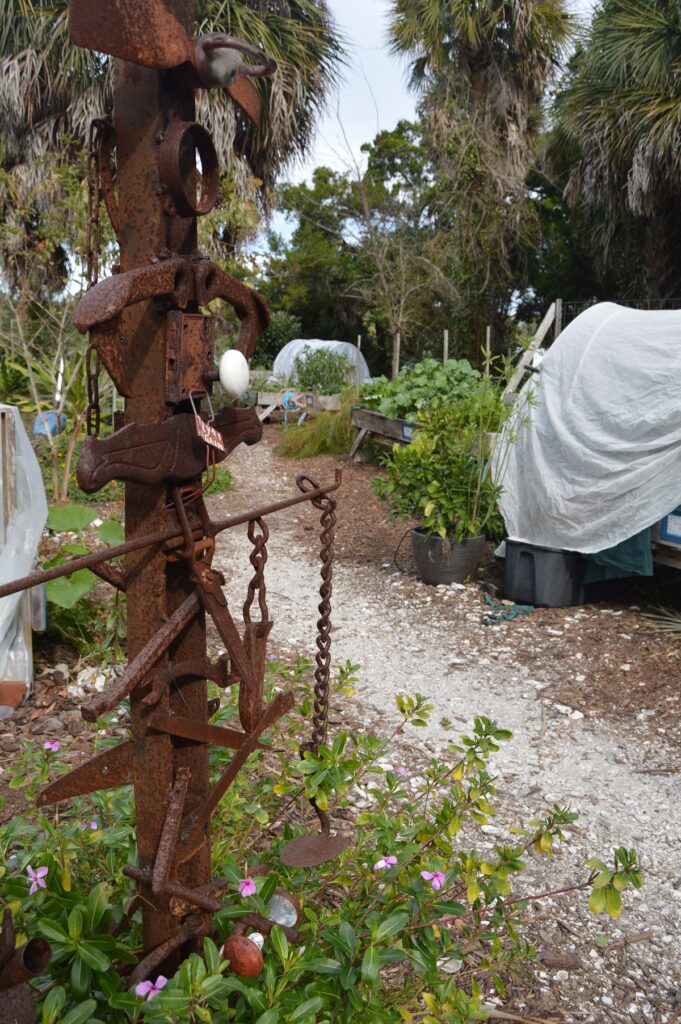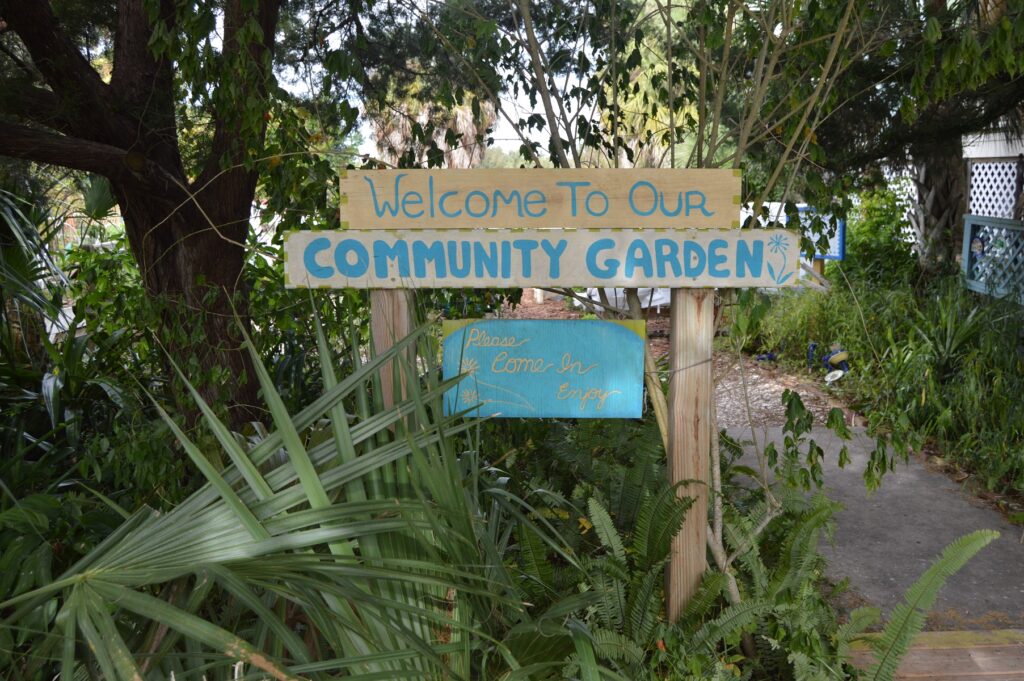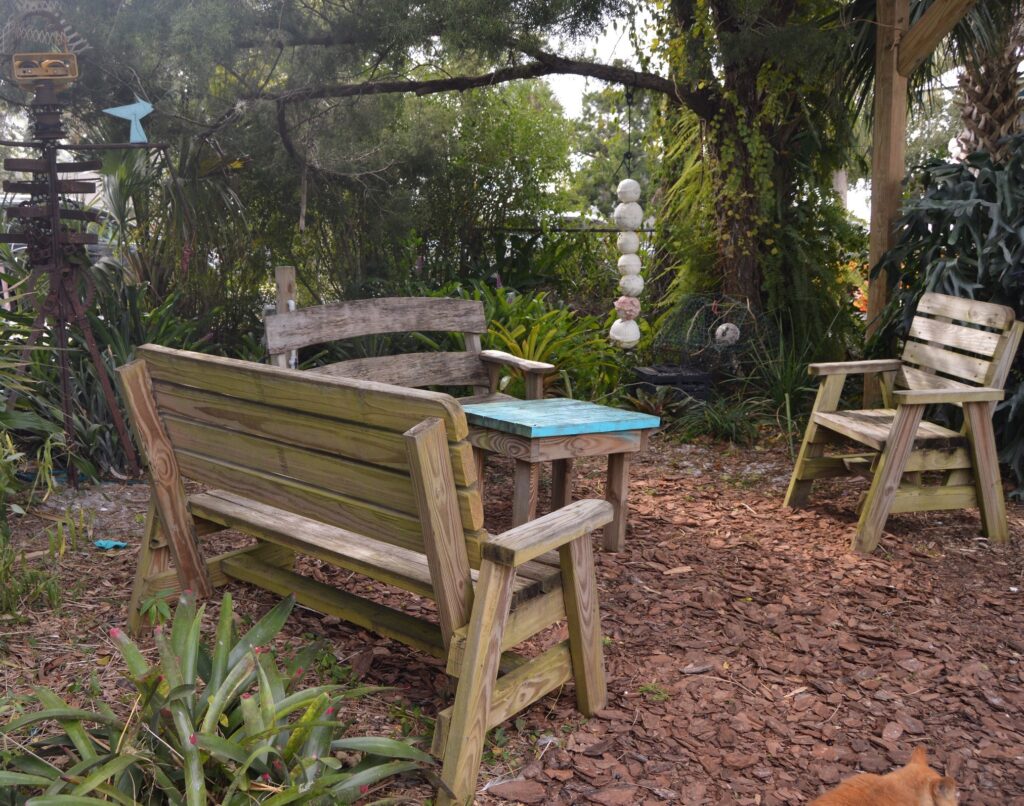 Coming into town on SR 24, stop by Cedar Key Canvas. It's easy to miss, but is located shortly after Annie's Cafe, on the left side. They handmake canvas bags, purses and more. If you can't find a design and fabric you like already on the shelf, they will custom make a bag for you and ship it out (it generally takes a few weeks). It's such a unqiue, handmade item that makes a perfect souvenir or gift!
Catch the Sunset
Stellar gulf sunsets, always a pleasure! My two recommendations on the best spots to catch it. There's a small stretch of beach at the intersection of 3rd Street and G Street. It's a perfect view, without the people! Otherwise, it's just as good from the Cedar Key Fishing Pier on Dock Street, with the people. You won't catch the full effect from the Dock Street restaurants, but if you're dining outside at Duncan's you'll get a glimpse at least.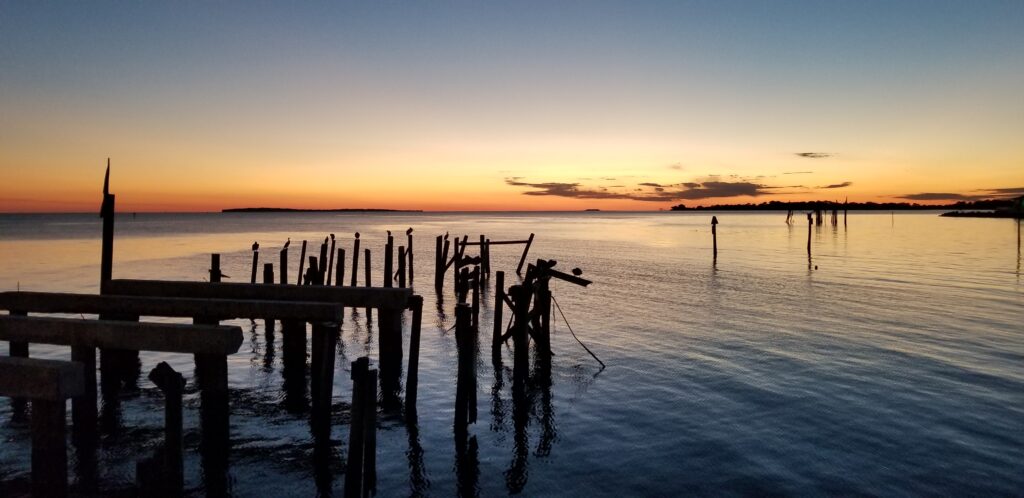 Fishing
Lastly, I'd be remiss to not mention fishing as an activity. It's one of the most popular things to do on Cedar Key, so much so Bobby first obtained a fishing license here! On the weekends, people will come from miles around. Even during chilly winter days, fishermen are everywhere! Redfish are among the most popular, along with snook, tarpon, king mackerel and more. I was regaled with stories of prize redfish by some of the local fishermen, and locals are more than willing to provide fishing tips. After a night fishing trip, Bobby had our freezer stocked with fresh mullet fillets! And they saw dolphins at sunset, lucky guys!
Where to Eat
Cedar Key is famous for its local clams and oysters. You'll find them on menus across Florida. The shallow water surrounding the key is ideal harvesting the shellfish, and its an integral part of the local economy. Stop by the Nature Coast Biological Station, run by the University of Florida, for a small aquarium and great information on local clams and oysters.
83° West and 29° North
Our top pick for fresh oysters! A split level restaurant, 83° West is downstairs, a relaxed bar with pool tables. Upstairs, 29° North is a beautiful restaurant and fresh oyster bar. The upstairs is almost entirely windowed, offering great views on the Gulf. Try your oysters fresh or baked. Bobby is a fresh fan, while I'm all about the baked, cheesy, garlic goodness!
Steamers
Our first meal on the island was at Steamers, and we went back a second time! They specialize in seafood, but have some other options too. It's a laid back, beachy sort of place. They have a full bar, and to my delight, several cider options. They also serve local beers you might not have had before.
The seafood was delicious! We ordered a blue crab legs appetizer, only to be told they had just 8 legs left, while they usually serve 12-14, so it was on the house! Alot of places wouldn't do that, I really appreciated it. It also shows how fresh the seafood really is!
Tony's Restaurant
Three time world champion clam chowder- yes please! Tony's is a simple restaurant on 2nd Street, but they serve up some of the best clam chowder you'll ever eat. They won the world championship so many times they can no longer enter! Evidently, a chowder can only win 3 times before the recipe must be changed.
During peak season or on the weekends, there can be a line for a table. Luckily, midweek we were able to walk right in. They have a full menu, but we were there for the chowder! They have it to-go in the refrigerator by the cashier, and you can actually find the canned soup in a few grocery stores. However, nothing beats the fresh stuff!
Duncan's on the Gulf
Duncan's is another upscale, waterfront dining option. They have indoor seating, plus a screened porch over the water. The food is excellent- fried shrimp, grilled Mahi, and their famous shrimp pie- everything we had was top notch. They too specialize in seafood, but also offer some chicken and beef menu items. I'll put a plug in for the mixed drinks too- they were strong, no skimping happening there!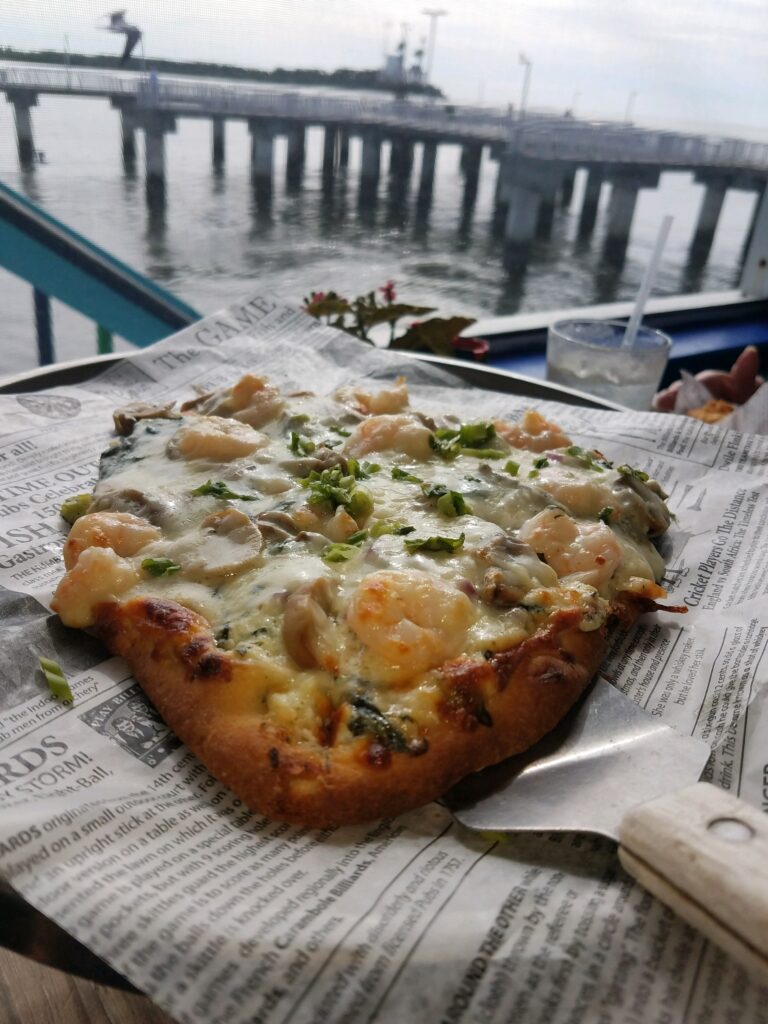 Annie's Cafe
Now, Annie's is a true Old Florida spot. It's easy to miss as you drive onto the key, but don't overlook it. With outdoor seating on the bayou, they serve breakfast and lunch southern style. It's a cash only spot, and they don't have a website. But they do have mullet, fried okra, lima beans and other things that took me right back home.
On top of that, they sell locally made flower pots. You'll notice them around Cedar Key, they're unique and eye catching with unusual shapes and bright colors. I had to have one! The artist makes them from recycled cloth, coats them in a protective layering, and paints them with island scenes.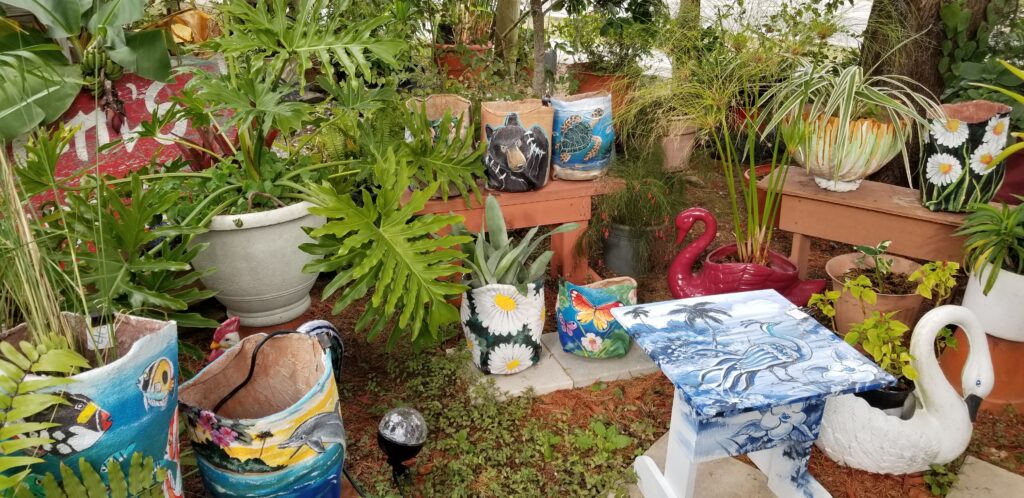 1842 Daily Grind and Mercantile
A coffee shop worthy of a Hallmark movie, the Daily Grind offers a unique menu with an organic, healthy focus. Serving breakfast and lunch, they have both indoor and outdoor seating. The mercantile portion of the shop sells small goods as well.
Prickly Palm
The Prickly Palm is probably the cutest restaurant or cafe in Cedar Key! A restored old house, painted pink, it serves acai bowls, great pressed sandwiches, smoothies and more. I love that such a small town still has a healthy focused cafe. It's a graet spot to pick up a picnic before paddling to the surrouding islands.
View this post on Instagram
Bonish Studio- To Drink!
If you're strolling on 2nd Street, you can't miss Bonish Studios. The outdoor patio has wine bottle decor, swings, Marine memorabilia, and a historic cistern like we saw on Atsena Otie! We stopped in for a drink, and had such a great experience! It's a locals bar, and they welcomed us in like long lost friends. The bartender, aka owner, brought me a refill on my boozy tropical drink- that's unheard of! We left tipsy and with new buddies!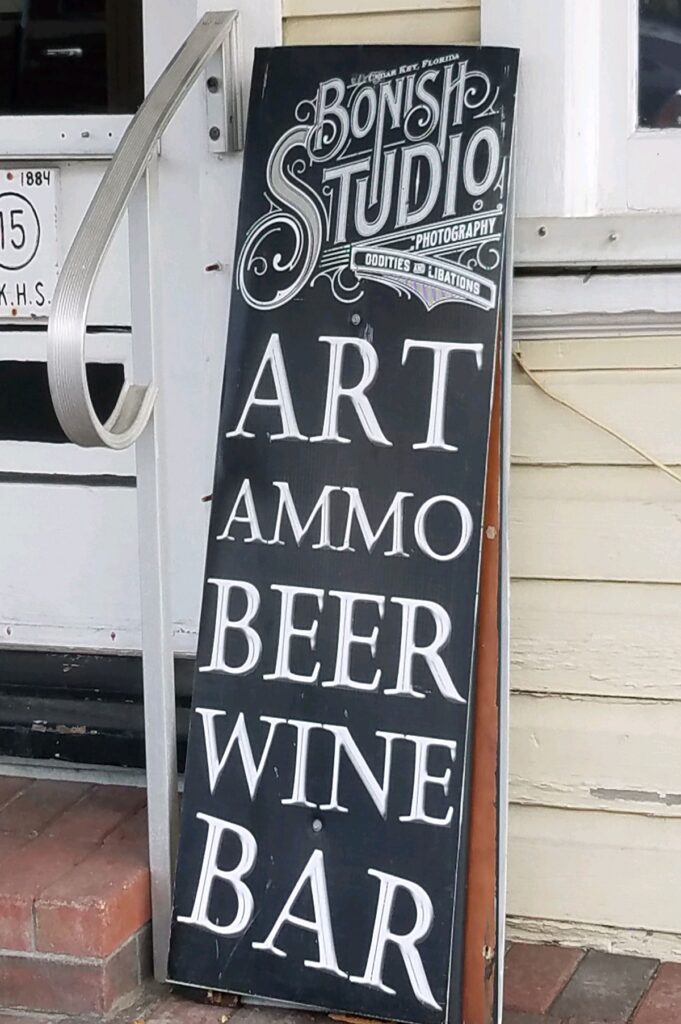 "Today I reached the sea…emerging from a multitude of tropical plants, I beheld the Gulf of Mexico stretching away unbounded, except by the sky."

John Muir on Cedar Key ~ A Thousand-Mile Walk to the Gulf
A bit like John Muir, I was captivated by Cedar Key. I imagine its quite changed from what he saw in 1867, but I think he would be pleased to see its developed, while preserving its natural beauty and heritage.
---
Pin It for Later!