Badlands National Park is a must in South Dakota. The park is fairly remote, several hours from any city, but there is so much to do in and around the park. It's one of the most unique landscapes you'll ever see! For the best of the Badlands, read on!
Weather
The park's name should tell you something about the weather here. Allegedly both the Lakota and the French explorers dubbed the area the 'bad lands', thanks to the extreme temperatures and lack of water.
During our week in May, weather ranged from sunny and 90 degrees to 60 mph winds that shook the RV, to rain and 35 degrees. High winds are very common around the Badlands, so be prepared if you're camping (stake that tent and don't use the RV awning!). Check the weather daily, and pack layers.
Pass Info
There is a flat rate of $30 for a week's entry. However, if you're visiting a few national parks in a year, I always recommend an America the Beautiful Pass. At $80, it's the best bargain.
If you're a veteran, active military, or a 4th grade student, you qualify for a free annual pass. Veterans and military actually now qualify for a lifetime pass, no renewal necessary.
Where to Stay
The Badlands Interior Hotel has rooms, full RV hookups and tent camping, and it's only 1 mile from the park's Interior entrance. We had a nice RV stay, with a view of the Badlands from our windows. It's the closest accommodation, other than the park's own lodge and campground.
We opted for this, over the park campground, for full hookup, laundry and internet.
RV or Camper Note: I'd recommend provisioning before you arrive. There's a very small grocery in Interior, with the next closest in Wall. Prices are high and selection is pretty limited.
In the Park
Badlands National Park isn't as expansive as some national parks, and you can see alot of it driving through. We spent 6 days here, although 2-3 would be enough for just the park itself.
Trails
We hit each of the park's trails, which vary from 0.25 to 10 miles long, covering prairie land to canyons.
Door Trail
Follow the boardwalk to its end and proceed to the trail that's offtrail. It's about 1 mile round-trip across otherworldly terrain, a trail that would be undetectable without the yellow pole markers. I thought it looked like Mars, another hiker called it Tatooine, Star Wars style. Either way, it's amazing!
Window Trail
A short boardwalk leads to beautiful views of the Badlands formations. It's a must for the view, and it's accessible to anyone. We met a lady on this trail in a boot, with a broken foot! She was determined to see the park and was thankful so many aspects of it could be seen by people in just about any shape!
Notch Trail
The most famous trail in the park, its quite unique. At 1.5 miles round-trip, it winds through the canyon before reaching a ladder. At the top, traverse a narrow cliffside side not for the faint of heart. The view is beautiful, but if you have to choose, my vote is for Saddle Pass.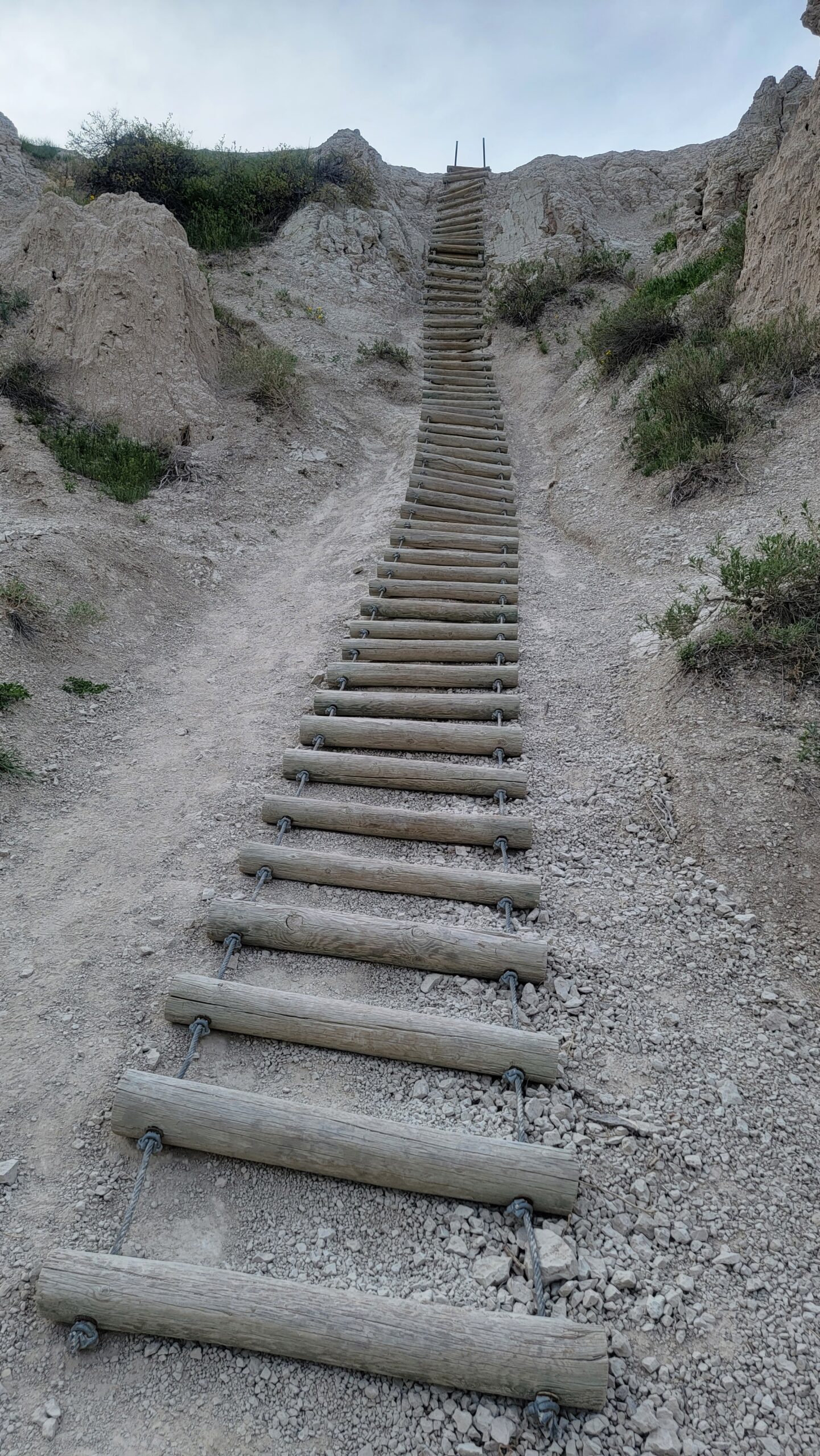 Fossil Exhibits Trail
This .5 boardwalk loop has fossil replica exhibits, showing some of the common fossils found in the Badlands. It's one of the easiest trails in the park and great for kids.
Cliff Shelf
Lots of stairs! Follow the path uphill for great views in both directions. It's a short trail too, but a decent workout. We did it at sunset for some beautiful colors.
Saddle Pass Trail
At less than half a mile, you might dismiss it, but this trail has the biggest bang for its buck. My favorite in the park, it's a strenuous uphill climb over boulders, loose gravel and steep dropoffs. Don't try it in the rain or snow! Follow the blue posts to stay on the trail and reach the summit for stunning views over the valley. You can continue through the prairie via Medicine Root Loop, or carefully make your way back down!
Medicine Root Loop
This loop connects from the end of Saddle Pass and travels across the prairie. It's flat and quite easy at 4.5 miles round-trip. Look out for snakes along this route!
Castle Trail
Its the longest trail in the park at 10 miles, but it can easily be done in sections. One trailhead begins across from Fossil Exhibits Trail, making it an easy, beautiful hike across some rock formations and canyons. You can start at the other end, across from the Notch Trail parking lot, for prairie views. Most of the trail is prairie rather than canyon, so take your pick.
Scenic Drives
Don't miss these two drives! They are a huge part of the park, providing amazing views and wildlife encounters
Badlands Loop Road
If you enter the park at all, you'll end up on some part of this road. Drive the whole thing to really get a feel of the park! Most of the trails are clustered near the visitor center, but driving this route brings dramatic scenery, sweeping views, and a good chance to see bighorn sheep.
Sage Creek Rim Road
If you want to see bison and prairie dogs, don't miss this drive! It connects SD 44 near Scenic, SD and the Badlands Loop Road at the Pinnacles park entrance. It's the only place in the Badlands we saw bison. The dirt road has some scenic viewpoints, with all the exciting parts within the national park. The section past Sage Creek Campground isn't park land, but if you continue to SD 44, you can see Scenic, a ghost town with a gas station pumping $7 a gallon gas!
Beyond the Park
Buffalo Gap National Grasslands
The Badlands are bordered by the national grasslands. Most of it is undeveloped prairie, but there are a few accessible points. Baja Offroading is about 6 miles west of Interior on SD 44. It's open to motorized vehicles and offers some fun offroad adventures. It's also a great spot for rockhounding! Look for agates, fossils, quartz and more.
Wall Drug Store
The billboards for Wall Drug Store start nearly 300 miles away in Sioux Falls! This iconic store began as a drug store offering free water and 5 cent coffee to travelers in 1931. Today it spans nearly a block, with everything from cowboy boots to paintings. There's a soda fountain serving homemade ice cream and a restaurant famous for its donuts. Check out the Wall Back Yard for photo opportunities aplenty!
Badlands Ranch Store
An absolute must! The store has shirts, knickknacks, postcards and so on, but most importantly they sell peanuts! Why? To feed the prairie dogs in the colony next door! These little guys are adorable and friendly. They'll eat right from your hand! This was a highlight of our time in the Badlands.
Be sure to see the wild prairie dog colonies off Sage Creek Rim Road first, else that will seem mundane after being up close and personal with these!
Minuteman Missile National Historic Site
During the Cold Wars, thousands of missiles were hidden here, and today you can visit the missile silo and mission control. A cell phone tour is available through the National Park Service.
Oglala Lakota Living History Village
The living history museum is only open during the summer, but is a great chance to experience some native culture. It's right off I-90, heading towards the Badlands Northeast Entrance. Offering demonstrations, dances, horse performances and more, the village schedule changes regularly. Call or check their website before visiting.
The Pine Ridge Reservation is home to The Heritage Center, if you're looking for more in depth Lakota history and information, as well as the Wounded Knee Massacre Site. However, it's a bit of a drive from the Badlands.
---
Pin It for Later!