Our guest room is lake themed, with a mostly blue and white pallet (some red thrown in for a patriotic feel). I needed something small for extra storage and didn't want to spend a ton of money on a secondary piece of furniture. So when I found a French provincial dresser for $30 online, I grabbed it!
My grandparents had identical furniture in their guestroom when I was growing up, the remnants of my mom's childhood bedroom set. I felt some attachment to this old dresser, but figured it could use a decent makeover. I love all things French, but in this project, lakehouse took over the French provincial style! And honestly, I never have seen this style in France!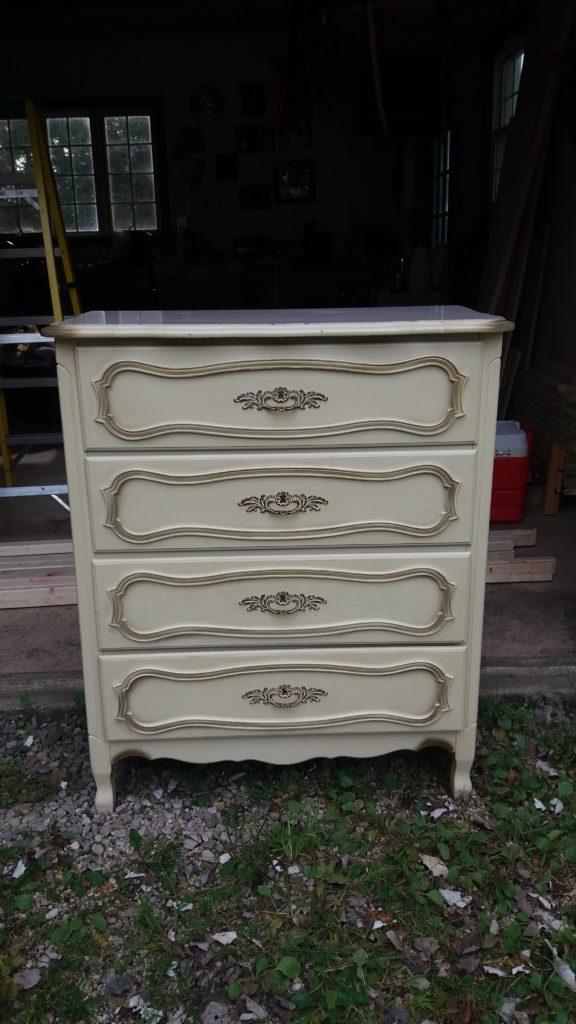 Supplies
Sand paper (150 and 220 grit)
White paint
Blue paint
Wood filler
Handles from Hobby Lobby
Chalk paint versus flat latex paint- does it matter? I wanted to use chalk paint, but the price is crazy when compared to regular paint. I was prepared to create my own chalk paint or just get a gallon of flat, but found a gallon of exterior stain enamel paint at Home Depot on the bargain shelf, in the exact color I wanted. It was such a good deal, plus the stain-blocking affect seemed to work in my favor with such an old dresser.
I removed the gold handles and sold them online for $8, which paid for my can of blue paint! I opted for a single knob versus a handle, so I filled the original screw holes with wood filler. It took a couple applications to fully cover the holes, as well as sanding for smoothness. Alternatively, these DIY handles are really cool, jive with the nautical theme and don't require the extra work. I love them, but liked the compass knobs better.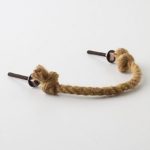 These are from Anthropologie, but see 4 the Love of Wood for a similar tutorial. You can also thread the rope through the holes and knot or glue it inside the drawer, to avoid resizing the original screw holes.
I recommend lightly sanding the surface with fine grit paper and a palm sander, but you could do it by hand. Clean the surface with a tack cloth before applying paint.
The dresser had a bit of an old, musty smell, so I removed the drawers and set everything in the sun for a day. I also painted the insides of the drawers, and that took care of the issue.
I was so pleased with the final product!