Just in time for Valentine's Day, let's discuss a fantastic getaway, Couples Resorts Tower Isle in Ocho Rios, Jamaica.
Romantic? Check! Sunny, warm and beautiful? Check! All inclusive? Check!
Now, I'm a make-a-schedule, see everything I can, driven traveler. So, Couples Resorts was a total change of pace for me. My husband absolutely loved it- no schedules (well, I did get to make a few), no city jumping, no maniac site seeing. Instead, we had an actual romantic getaway, an island escape, complete with tropical drinks and little umbrellas on top!
Transportation to Ocho Rios
Fly into Montego Bay, Jamaica for the easiest transportation. Most flights land here anyway, though there are some into Kingston too. While the capital, it's on the opposite side of the island.
Couples Resorts will pick you up at Montego Bay in a shuttle bus. This transportation is part of your all inclusive package with the resort. The drive is about an hour and 45 minutes, during which you will see shanty villages and some poverty stricken areas. I've seen worse elsewhere, but it could be shocking to some. A young, newlywed couple on the shuttle with us were from Iowa, had never been outside the USA, and were appalled by some of the sites we passed.
While you are vacationing in a developing country, at least you're staying at a mindful hotel. Couples Resorts is a Jamaican  family owned company, and they started the Issa Foundation in 2005. Issa is dedicated to philanthropic missions across the island, from medical care to education. In addition, during a Couples stay, visitors can sign up for a giving back program. This includes delivering supplies to local elementary schools, among other things. 
Couples Resorts- Tower Isle
There are four Couples Resorts from Negril to Ocho Rios. They're all inclusive, adults only resorts. Their website provides an excellent comparison between the resorts, so I won't get into that. Suffice to say, Tower Isle won me over thanks to its private, au naturel island.  Sign up for their Romance Rewards before you arrive, and you'll receive a Trading Places pass. It can be used one time during each visit, and it allows guests to access one of the other three resorts during day hours. 
Nightly rates vary depending on the season. I found a good deal in August- i.e. hurricane season. Rates are definitely cheaper in that window, but it's worth the gamble in my opinion. We had nothing but sunshine!
I booked a basic garden view room, which was perfectly fine. However, within a few hours of our arrival, the A/C unit had flooded the walk-in closet. The hotel was so gracious and apologetic, moving us to an upgraded ocean view room at no charge.  Their action was representative of the service and excellence we encountered the remainder of the trip.
Dining
The resort offers six restaurants. Some of these are closed select days, so here's where the planning comes in! Head to the concierge to reserve your dinner reservations. Don't miss the Bayside or Eight Rivers for dinner! Bayside is so romantic! You'll approach down a vine covered boardwalk, into the over the water bungalow restaurant. Eight Rivers is indoors and less picturesque, but has amazing food! I had delicious lionfish for the first time.
Regardless though, there is always somewhere to eat at the resort! Quite honestly, everything we had was great. I wasn't sure what to expect- quantity over quality scenario- but never fear, it isn't so! From the veggie cafe, to the buffets, or the fine dining, all the food was tasty and well prepared. They also offered gluten free options, and honored other dietary restrictions. 
The booze flows freely too! Mixed drinks are available pretty much anytime, don't worry if it's noon or not. Wine is not included though, so expect to pay extra if you must have it with your dinner. The rooms are stocked with a bar… a mini bar just doesn't do it justice.
The Resort Amenities
The beach is small, but perfectly accommodating for the size of the resort. Plus, it's a private beach so there aren't any hawkers. Hop on the boat and head out to the private island for a bit more adventure. The island has a pool, bar and pretty awesome stone tower. The island is clothing optional, but there are private waterfront spots to chill without an audience. 
Back at the resort, there are no lack of activities! Kayaks, SUPs, hobie cat sailboats and more are available. We had the best time sailing the hobie cat! One of the staff members, who went by Beetlejuice, took us out and gave us basic lessons and then let us have a free hand at it. He sure was brave! Luckily, we didn't get lost at sea or turn the boat over, so I guess it was a success. 
There are also catamaran cruises, snorkeling and/or SCUBA trips and glass bottom boat tours leaving from the beach. We took the snorkel trip twice, each time to a different location. I loved the relaxed atmosphere. The captain asked us what we'd like to see, gave us a couple options, and then took us there. The first trip was in a relatively shallow area, full of fish and sea urchins. The second trip took us to a shipwreck, at least 25 feet deep. We saw a sea turtle, a sea snake, and tons of colorful fish. Sadly, I don't have any decent photos to share of the shipwreck… I used a Pentax adventure camera with  underwater capabilities, but it couldn't handle the depth and shadows of the wreck. 
The whole experience reminded me of a Caribbean cruise, in a sense, but better. All the activities are included and there's no day at sea. Resort-wise, Tower Isle is smaller than some of the major all inclusives, but that gives it an intimate, more personable feel. 
Dunn's River Falls
Dunn's River Falls is probably the most iconic Jamaican destination. If you visit when a cruise is in port, forget about it! Lucky for us, Couples Resorts arranges pre-opening visits. We arrived before the park opened to the public, so there were only about 20 or so people.  No matter when or how you go, you must have a guide. The park entrance fee includes one. 
Enjoy a hike through lush tropical vegetation, before coming to the beach. The river actually ends here at the beach, where you will begin your climb up the falls.  It's a tiered climb, with plenty of foot and hand holds. For those unable to make the climb there is a boardwalk on one side, following the falls upward. 
Bring water shoes! They'll save you from a stubbed toe, and protect you when you step into lagoons where you can't see what's at the bottom!
It was so much fun! The guides will direct you and point out any spots to avoid. During our climb, they had us go around a particular hole, evidently home to something. I couldn't tell you if it was a snake or just a large fish, but it was some creature to avoid. It's not just a climb though! Along the way, you'll go down rock slides and pose for photos by the guides. Enjoy the surrounding beauty!
Exiting the falls, visitors pass through a craft market. Be prepared for pushy vendors. There are several shticks they'll try. If they ask your name, don't give it unless you want it written on a sea shell. I read many unhappy, dramatic reviews about the market, but honestly, it's not as bad as the cruise ports in Mexico.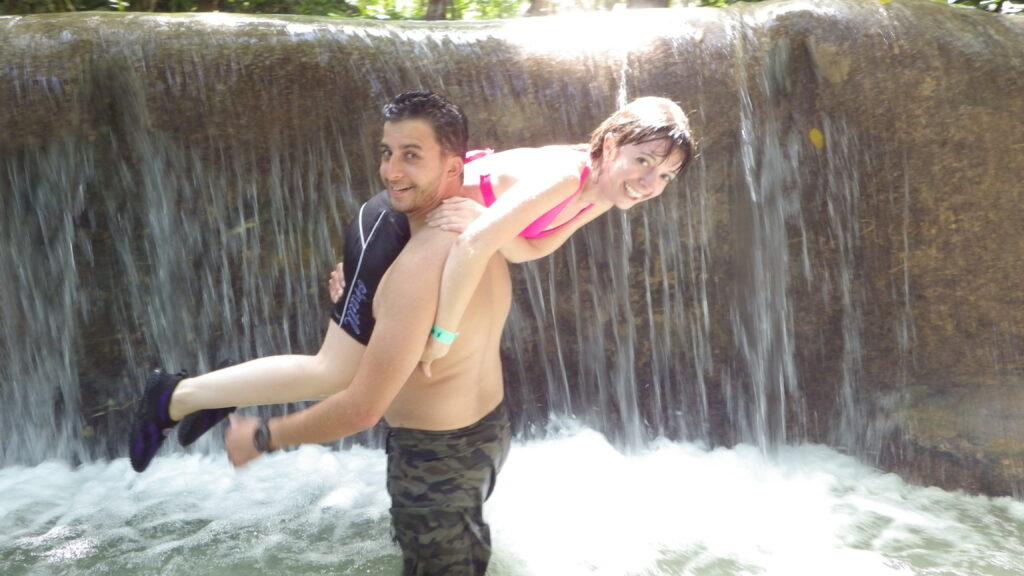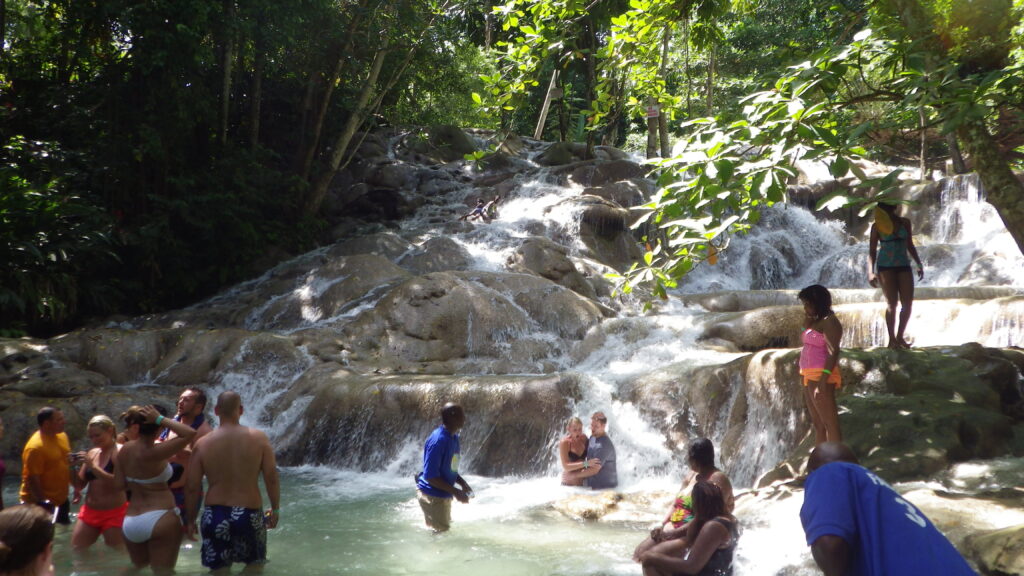 Other Excursions
The resort also offers shopping trips into Ocho Rios and trips to Margaritaville. I hate shopping, and why would I pay for margaritas when there's more free alcohol on the resort beach than I could drink in a year? But, that's just my opinion. Whatever your fancy, all the trips are included in your package.
There are a number of other sites to visit that aren't included, but the hotel will arrange tours for you. Rafting at Martha Brae River is highly promoted. For me, I already have a highlight for my next visit to Jamaica- the Rastafarian Village. Outside of Montego Bay, the village is a true community of Rastafarians, growing their own food, living their rustic lifestyle. Visitors are welcomed, encouraged. Plenty of tours are available, or you can arrange your own transportation. I can't wait to go back to visit!
So What's Included?
In summary, what's really included in this all inclusive resort? Just about everything: all the food, all the mixed drinks (no wine or beer), all onsite water activities, many other onsite activities (like golf) and others in limited quantity (one free tennis lesson), transportation to and from Montego Bay airport, transportation and entrance into Dunn's River Falls, and transportation only to Ocho Rios for shopping and Margararitaville. What isn't included in the general booking (excluding specialty wedding packages etc.)? Spa and salon services, special private dining opportunities (candlelit table for two on the beach) and gift shop purchases. 
Finally…the Ganja… Weed… Pot… Marijuana…
Yes, Jamaica is often synonymous with pot, and a key point for many visitors. With the growing legalization in the US, this may wane. However, I'm addressing it because if you visit Jamaica (Rasta village or no), you'll encounter it. Locals offered to sell us some on multiple occasions. Technically, as of 2015, anyone can possess up to 2 oz. and only be fined roughly $5 USD if they're caught. Anyone with a medical marijuana prescription, from anywhere, can purchase it legally. In fact, there is a major medical marijuana farm in St. Ann , near Tower Isle. They offer tours and have a pizza shop and cafe. 
And on that note, happy and safe travels!