I'm sitting on a plane en route to San Antonio, Texas as I finish up this article on Costa Rica. I feel pretty darn blessed to travel so much! Anyway, I spent five days in Costa Rica, and it was one of my best trips yet. Most visitors to Costa Rica spend a couple days at one location, before heading to the next. I spent the entire five days in La Fortuna.
So, is there enough to do in La Fortuna to justify 5 days? That and more! I'm glad I took a slower pace and savored the destination rather than racing between several. Too often that's my style, and many visitors to La Fortuna spend 1-2 days just to see the Arenal Volcano.
Arrival and Accommodations
Most flights arrive in San Jose, Costa Rican capital. Its roughly 2.5 hours to La Fortuna. Our hotel provided transportation for $186 (for up to 4 people). Our driver collected us at the door. It was pouring rain and the twisting mountainous road became a bit nail biting when we passed an overturned fruit truck! Luckily, we arrived in La Fortuna and our hotel to a sunny day.
Mountain Paradise Hotel is amazing! We were greeted with tropical rum punch and cool cloths upon arrival. The staff are some of the friendliest and most helpful I've encountered anywhere (more on that!), and the hotel itself is very unique. The rooms are scattered through the property, in small groupings. Every room has either a private hot tub or pool on its patio, plus a waterfall shower. Now, this is no Kohler shower head. No, it's literally a cascading waterfall, complete with live ferns growing in the walls! There is so much water, it tends to run cold fairly quickly. However, there is a regular shower too, which has no hot water issue.
The hotel grounds are lovely, and the restaurants serve delicious food. Everything is open air, so you can see the volcano from almost anywhere at the hotel. The hotel offers quite a few tours, which are reasonably priced.
I had a lovely massage at the hotel spa. I laid in the open air bungalow, listening to the jungle sounds. It's the only massage I've had where I could hear monkeys in the distance!
The only downside, if you don't have a car, is the hotel location. It's too far to walk into La Fortuna. However, taxis are readily available. They're quite reasonable and the drivers friendly.
Things to Do in La Fortuna
The Volcano!
Arenal Volcano is still active, and is the major draw in this area. During it's infamous 1968 eruption, it destroyed several towns. La Fortuna earned its name thanks to its seeming good fortune, escaping the cataclysmic eruption.
Arenal National Park encompasses the volcano and much of the surrounding rainforest. We booked a hiking tour to the volcano with La Fortuna Tours, through the hotel. The owner and guide, Christian Vega Solis, leads all his tours. He is absolutely amazing, and I can't recommend him enough. Contact him here or at [email protected].
We arrived to the trailhead in a thunderous storm, but that didn't stop us. It is the rainforest, after all. Donning ponchos, we began the climb. Luckily, the storm passed after 20 minutes or so. The clouds broke for views of Arenal's summit, and Lake Arenal in the distance. Christian provided great info on the volcano, its eruption history, and details on the local fauna and creatures. He found a beautiful (non-poisonous) frog among the leaves, and pointed out edible plants.
Hot Springs
Arenal Volcano is surrounded by natural hot springs in every direction. There are several hot spring resorts which offer visitor day passes. We booked an evening at Tabacon, complete with a dinner buffet. It was $70 USD pp.
The springs are, quite frankly, how I imagine the Garden of Eden! A slice of paradise, you bet. I recommend a night visit, it's dimly lit, steam covered, sparsely populated, and one of the most romantic evenings I've ever had. I'd love to share photos, but didn't take my DSLR for security reasons. While the springs are romantic, all that steam and dim light ruined my cheapo camera photos.
On the flipside, there is also free access to the natural hot springs! We spent a day with our taxi driver, who took us all the place. After he picked us up at the La Fortuna waterfall, he suggested we visit the hot springs. Ok sure! So we parked on the roadside just past Tabacon Resort, climbed through a chain link fence, and under a graffiti covered overpass. Not sketchy at all… Well, this is the local thing to do, and it's worth it! The hot springs flow through the area, before entering the resort grounds. In other words, it's the exact same water we paid $70 to swim in, the night prior. Now, of course, the natural access is not manicured or sculpted. I wouldn't call it the Garden of Eden. It is, though, incredibly cool! Locals lounged about on the rocks, including our driver who joined us in the river. He pointed out the rock walls, scattered with candles. It's a favorite night spot for locals, who know the secret.
La Fortuna Waterfall
Located within the national park, the waterfall was one of my favorite stops on the trip. I wish we had allotted more time here, rather than the 90 minutes we had given the taxi for pickup. Bring your swimsuit! 
Be prepared to climb 500+ steps to the waterfall's base. They're steep, slick and uneven. Climbing back up to exit, I seriously wondered if I'd have a heart attack, meanwhile kids were running up them…
The waterfall is 230 feet high, crashing into the pool below. Swim at your own risk. Otherwise, swim in the peaceful river and admire the rainforest canopy overhead.
Mistico Hanging Bridges
We visited the park on a private tour with Christian. Don't visit the park without a guide! Unless you're a naturalist yourself, you'll miss the many unique creatures hiding along the way!
The park includes 15 bridges, high into the trees. You'll have great views at the height to see what's in the trees- sloths, monkeys and so on.
We saw several spider monkeys, although they were high above at that point. Christian told us of one visit where a large howler monkey sat on a the bridge railing, almost daring him to pass.
Aside from a plethora of lizards, frogs and birds we saw leaf cutter ants and a pit viper, hiding off the trail.
Proyecto Asis Animal Rescue
Get up close and personal with Costa Rica's wildlife at this refuge. Book a couple hours tour, or a half, full or multi-day volunteer opportunity. Proyecto Asis is home to dozens of rescue animals, monkeys, snakes, sloths and more.
It's a short cab ride from downtown La Fortuna. We hugged some monkeys, including a baby Capuchin that peed on my husband, held a python, and fed a toucan. It was so much fun! It's also a great way to support the center and its rescue mission. They rehabilitate and house animal rescues, while also running educational programs for locals and tourists alike, teaching eco principles and Spanish language.
La Fortuna
The town is clean, safe and offers plenty of shopping and dining options. There are a few tourist shops, plus tour companies. Restaurants range from walk up counters to fine dining.
There's also some fun, unique shopping to be done. Now, I hate shopping, unless it's for something unusual. I've included two recommendations in the La Fortuna area, that even the most vehement antishopper should find worthwhile.
Local Art Studios
There are several art studios scattered around La Fortuna, outside of downtown. Here you'll find Boruca masks. A traditional artform of the Borucan people, the masks generally include multiple animalistic and jungle elements. There are knock offs all over the place, but be sure to purchase one from an actual indigenous artist. It's their tradition, so buy one from the source! The Borucan Village is actually open to visitors, but it's located far south, almost to the border with Panama.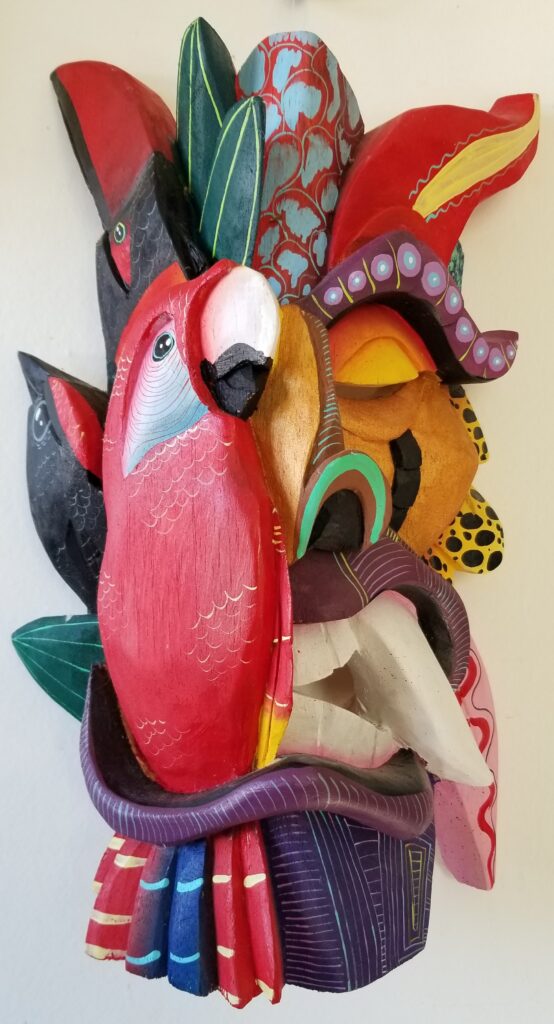 Fortuna Farmers Market
Outside of a tropical destination, a farmers market might be boring. La Fortuna's is not! It's open every Friday til 5pm, where locals bring their produce products. You'll find exotic fruits you've never seen, plus they'll be as fresh as they come, vegetables, fresh meat, and hot foods such as tamales.
I've always said I love passion fruit, from passion fruit rum to teas and ice creams, but in honesty, I'd never had the      actual fruit. So, we found fresh ones at the market. The locals told us to shake them, the rattlers are ripe. Back at the hotel, I cut the fruit open and almost dropped it in shock. It's full of spider eggs! Well, actually, that's the fruit. Surprise!
Another funny story, the marketeers showed us manzana de agua (water apples). I'd never heard of them, and haven't seen them since. My husband really wanted to try them, but we decided we would get some later. Well, come the end of the trip, we ran out of cash. We were walking down the side of the road, and here comes an older lady selling manzana de agua and of course, we couldn't buy any! So now, for my husband this fruit is the one that got away!
Pure Vida Vibes
Pure Vida, the pure life, is Costa Rica's national slogan and the people I encountered exemplify it. They're genuinely kind and helpful. I mentioned previously how helpful the hotel staff were, even when they didn't have to be. From simple things like escorting us to our room with an umbrella during a downpour, to hospitality away from the hotel. We stupidly left our passports at the hotel, so we couldn't exchange our US dollars at the bank. One of the hotel clerks, off duty, encountered us as he headed into the bank. He greeted us and asked if we were ok, so we told him our mistake. He exchanged the cash for us, under his bank account, and wouldn't even take any for his trouble!
A bartender we got to know invited us on our final night to go salsa dancing with him and his girlfriend.
The taxi driver we spent a day with was great! He drove us all over, showed us the hidden hot springs, took us to his aunt's restaurant and so on. Final price? 60 USD!
And of course, Christian, tour guide extraordinaire. He's great at what he does, but he is running a business. Yet, when we saw him in town, he walked us the spot we couldn't find. He didn't have to do that!
Take time to visit Costa Rica, not just to see the sites, but also to meet the locals!