Puerto Rico offers much to see, and allows for a quick and easy Caribbean getaway. For US citizens, there is no passport control, and it's just a couple hour flight from Florida. A weekend in Puerto Rico is perfect!
My friend and I planned a weekend girls getaway to San Juan, heading out on a 5am Friday flight, and departing late afternoon on Sunday. We were looking for sun, adventure and some high life luxury.
The San Juan airport is very close to the city, and was less than a 10 minute drive to our hotel. We took a cab, although there is also bus service. From past experiences, I felt the bus system was less than adequate and not for those on a tight schedule.
We stayed at the Intercontinental San Juan, on Isla Verde beach. It was either that, or the Ritz Carlton down the street. Once we arrived, I was glad we chose the Intercontinental, even though I expected the Ritz to be nicer. We walked down to check it out, and the pool and outdoor area was much plainer than at the Intercontinental.
Beachfront hotels are limited in San Juan, and nonexistent in Old San Juan. There are a few closer to Old San Juan than we stayed, such as the Hilton Condado and Condado Vanderbuilt, but they were a bit too pricey and had limited availability during our February visit.
The Intercontinental has a gorgeous pool, with lots of lounge spots and a fancy tropical bar. The beach itself is decent, but definitely not on par with other Caribbean beaches I've visited. There is a lot of seaweed, and the water is not clear enough to snorkel. We hit the pool bar as soon as we checked in. A couple appetizers and two mojitos later, we were $75 in the hole. Oh well, it's nice to not care what things cost once in awhile.
A Party Evening in San Juan
We spent the rest of Friday beach bumming. We grabbed dinner at a Cuban restaurant across the street called Metropol. It was good food with decent prices ($14-30 for entrees). My husband's half brother's cousin (!) lives in San Juan and picked us up after dinner to experience "real" San Juan partying. I've been fortunate in my travels to either find some distant connection or meet locals who inevitably show you a side of life usually missed by tourists.
My cousin-in-law and her friend took us to a salsa bar for some quick dance lessons and a shot of pitorro. I'm not entirely sure what was said, but she talked to the bar tender and next thing we had shots of what's basically Puerto Rican moonshine.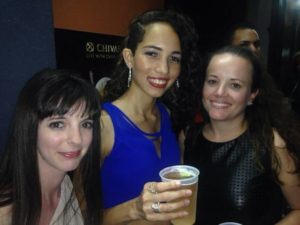 We then headed to La Placita de Santurce. By day, there is a large produce market here; by night, live music and dancing in the streets, drinks aplenty and lots of local food. This was my favorite experience on the trip! Sure, there are clubs and bars you can head to, but why bother when there is a party in the street? Musicians setup outside and play conga drums and any kind of rhythmic Caribbean style jam, while people dance and enjoy the gorgeous warm night. I'm sure it gets crazy later in the evening, but we were there until about midnight and nothing was out of control.
El Yunque National Forest- Day 2
Saturday we rolled out of bed, rented a car at the hotel's Avis location and headed for El Yunque National Rainforest. It's only about a 40 minute drive to the visitor center. It's an easy drive from the hotel- route 26 to 3, and then a turn off on 191 into the rainforest. As an aside, we had breakfast at the Burger King across from the hotel. The Intercontinental serves breakfast, and has a coffee shop, but a coffee alone was close to $8.
Our first stop was at La Coca Waterfall, which can be seen from the road. Parking is very limited and it was crowded, so we only stopped for a couple photos before continuing.
Yokahu Tower is just up the road. With plenty of parking, it's an easy stop. Climb to the top of the tower for beautiful, sweeping views of the rainforest. While the tower looks quite old, it was only built in the 1960s as an observation point.
Continue up the winding road and you'll come to Juan Diego Falls. Keep going to the Palo Colorado Information Center, where the trail begins to La Mina Falls. There are restrooms and a gift shop.
We hiked the trail in intermittent rain, stopping for many photos, in about 35 minutes. La Mina is the only waterfall in El Yunque where you can (legally) swim. The force of the falls and depth of the pool varies by season, and it looked fairly unadvisable in February.
You can take 191 all the way across the park, but we were returning to San Juan, so we backtracked the way we came in. There is a small restaurant past La Coca Waterfall where we ate, La Muralla. It doesn't look like much, but we had some great empanadas while sitting on the patio. They also serve full meals and beer.
Originally, we had planned to leave El Yunque and continue east to Fajardo for a nighttime kayak trip through the bioluminescent bay. There are a number of kayak tour companies who specialize in visits through the glowing waters. However, we opted to instead spend the evening back in San Juan, after reading somewhat mixed reviews on the bioluminescence, and hesitation to travel at night, two gals by ourselves, from Fajardo to San Juan. However, if you're braver than us or with a group, this is a doable itinerary, allowing you to see both El Yunque and the Laguna Grande bio bay in Fajardo within a day.
Returning to the hotel, we took a cab to Old San Juan. We had dinner at La Princesa Gastropub and I cannot recommend it enough! It looks like something from a fairytale, backed against the old city wall, under tall trees and twinkling lights. The food was delicious, the live band was great, and the service couldn't be beat.
Old San Juan- Day 3
On our 3rd and final day, we headed back to Old San Juan in the morning.
There are two Spanish forts in the old city, and one ticket will give access to both. I'm an avid history lover, but my friend is not. I was thrilled to see both forts, but she said she could've done with only one. The newer, Castillo San Cristobal, was built in the late 1700s. It's interesting, with some World War II information and fortifications. However, my personal favorite, and recommendation if you must choose only one to visit, is Castillo San Felipe del Morro. It has been standing, in progressing levels of construction, since 1539. You can easily picture pirates and buccaneers assailing the fort, as you stand on the top, looking out at the Caribbean. El Morro, as it's commonly called, offers beautiful views of the coastline.
Approaching the fort from the street, you'll walk through the surrounding grounds, which have become a picnic and kite flying spot. As you reach the fort, look for the resident iguanas on the walls.
If you didn't pack a picnic, head over to the Cinema Bar. Across the street from El Morro, you can sit outside with views of the fort and ocean.
We spent the remainder of the day strolling through Old San Juan. An interesting stop included the Parque Las Palomas, or the Pigeon Park. If you have ornithophobia, steer clear! Otherwise, it's an amusing stop. The birds nest within cut outs in the old wall, and congregate en masse. They have absolutely no fear of people, and are used to being fed. They'll gladly sit on your arm, or land on your head.
Continue through the old city streets, and you'll see plenty of tourist shops selling the usual, but there are also unique stores. From hand rolled cigars to carnivale masks, called vejigante, San Juan has plenty of Puerto Rican specialties.
San Juan Bautista Cathedral is also a great spot for history buffs. An accidental find for us, we wandered in out of curiosity and discovered Spanish explorer Ponce de Leon is buried inside! I was ridiculously excited, in a way only history gets me. I grew up visiting St. Augustine, Florida, full of stories about Ponce de Leon and his famous Fountain of Youth.
With that, we cabbed to the airport. San Juan was a great weekend getaway, full of history, culture, culinary excellence and general fun in the sun.