Jumping between countries and cities throughout Europe is so easy, with navigable trains and cheap airfare. My first time in Paris was a 3-day jaunt from Ireland. It was amazing, inspiring, jammed packed and for a bit, downright frightening, but I'm so happy to have made it! I was never one of those Parisian lovers with Eiffel Tower memorabilia and a beret, but I was interested to visit it as a famous city full of history and culture. However, I have been converted! Full disclosure, I have become that starry-eyed Francophile. Paris, by far, ranks as my favorite city. Forget the people who tell you it's a dirty place full of rude people; instead, prepare to meet a Paris that rightfully earned the names city of lights and love, full of charm, kind people, delicious food and famous sites.
Following is an itinerary for a short stay in Paris. If you have the opportunity to visit, don't pass it up. For a fuller itinerary or more options, click here.
Day 1
Many budget airlines fly into Paris-Beauvais Airport, about an hour outside of the city. The Beauvais shuttle service, right out front of the terminal, runs to and from Paris, with departures multiple times a day. Round trip tickets (as of 2018) are 29 Euros for adults, or 15.9 one way.
The shuttle bus drops off at Porte Maillot, in the city center. The bus terminal is across the street from the Metro station, so we just ran across and jumped on the line towards Odeon station, St. Germain des Pres (no direct line, you make a connection).
We rented a cute little AirBnB apartment in the St. Germain des Pres area, right off of Rue de L'ancienne Comédie. (We stayed here again in 2017, but unfortunately it's no longer available, as the owners sold it and moved to the UK.) I highly recommend this area, and there are a number of other AirBnB rentals, which are vastly cheaper than hotels. The Metro is only a 5 minute walk, depending where you stay, and there are countless restaurants to choose from, as well as bakeries and grocery stores. It's an easy walk to a number of attractions including Notre Dame and Luxemburg Gardens.
After arriving to your accommodations, head out to explore! We walked all over the St. Germain area, before taking the Metro from Odeon to Chatelet, which is a hub for numerous lines. We picked up the yellow line to Champs-Elysees/Clemenceau. Depending on your game plan, this isn't the best stop to fully experience the Champs Elysees (you could start from the Place de la Concord, where many of the French Revolution guillotine executions took place), but we took it based on the name and it's proximity to the Arc de Triomphe. From this station, you can easily stroll the glitzy avenue with its high-end stores, before reaching the Arc de Triomphe.
The Metro is hectic and can be a bit overwhelming, but we got the hang of it quickly. There are maps everywhere and part of the Paris adventure is in the Metro!
Beware the panhandlers and scam artists, though! This is true throughout the city, but I saw the most theatrical scammers around here. They have more tricks up their sleeve than I could imagine, so be alert. The most common were women, typically foreign, who would throw themselves on the ground in front of pedestrians and either beg for help, or cry out as if injured. Others use children as distractions, or to strike pity. I don't want to sound calloused, but all you need do is observe, and you'll see the 'act', and the co-conspirators moving to take advantage.
We reached the Arc de Triomphe in the evening, on November 12- the day after Armistice Day. At the base of the arch lies the Tomb of the Unknown Soldier. The flame is always lit, but that night there was special tribute gathering in recognition of the armistice, which ended World War I on the eleventh day, in the eleventh month, at the eleventh hour 1918. In the States, it's recognized as Veterans Day, but in Europe it truly is a WWI memorial. We witnessed this in Ireland at Kilkenny Castle also.
After that, we called it a night, really feeling our 4am wake up in Dublin earlier that morning!
Day 2
One of the greatest Parisian pleasures is simply to wander. Explore the streets, savor the sights and sounds, and pretend you're a local. We spent a couple hours the morning of day 2 doing this, until we found ourselves decidedly lost. Once again, with no working Smartphone, we had no directions. But, thankfully, the taxi drivers know the city better than we did and had us to Notre Dame within minutes.
We grabbed lunch at a brasserie next door to Shakespeare & Company- Cafe le Petit Pont. It was fine, nothing to write home about, but could've been alot worse sitting in such a tourist hot spot.
I got my bibliomania on at Shakespeare & Co., the famous English bookstore founded by George Whitman. Peruse the tight aisles and you'll imagine yourself a literary member of the Lost Generation. As an aside, the bookstore also has podcast worth checking out.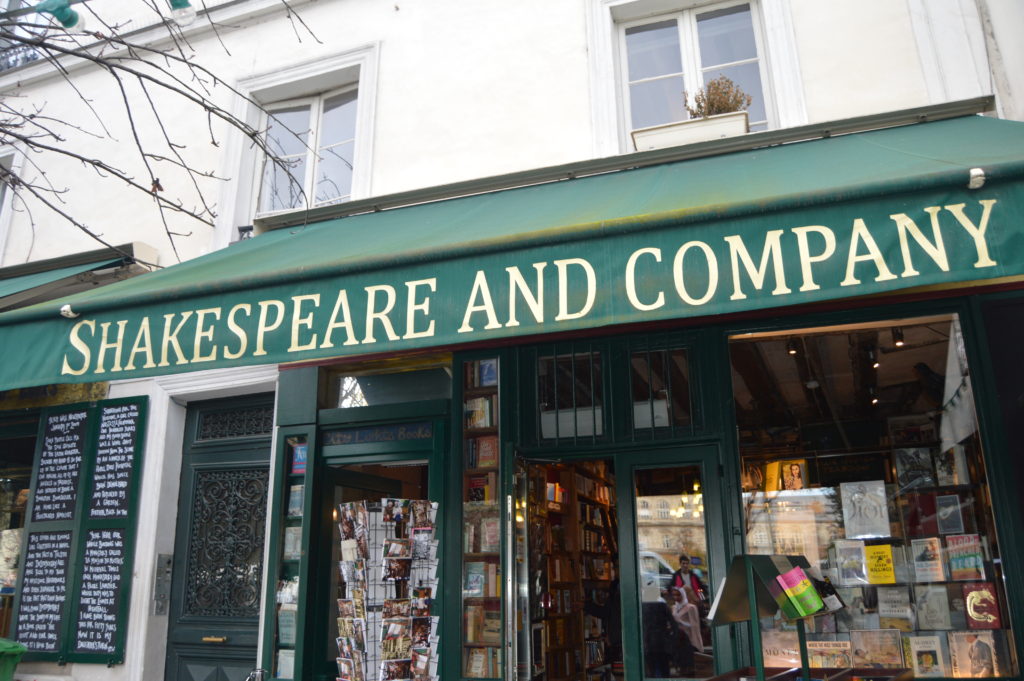 Here is where I used to describe the best ways to visit Notre Dame. Sadly, as of 2019, that's no longer viable. It seems overly dramatic to say the Notre Dame fire broke my heart, but it certainly put a crack in it. Notre Dame is a symbol of Paris, even now, and visiting it on my first Parisian trip was something I'll remember for the rest of my life. So, while we can't visit the cathedral right now, I've left my photos as a tribute to the iconic landmark.
That evening, my dad and I headed back to the Arc de Triomphe to go inside and climb it. The spiral staircase to the top seems to go on forever, but the views from the top are amazing! Sure, the top of the Eiffel Tower is great, but from the arch, you can see all of Paris, including the Eiffel Tower!
The Arc de Triomphe is largely a military memorial, and has a few exhibits before you reach the top level, and of course a gift shop (complete with Arc de Triomphe shaped pasta!).
My dad and I took the metro back to our apartment later in the evening. No sooner did we arrive, then countless police sirens began to go off. We didn't think too much about it, until my boyfriend called over WiFi demanding to know where we were, if we were ok. My Facebook also started to go crazy with messages and posts asking the same thing. Why the worry? Numerous bombings were reported in Paris, dozens dead. The morning revealed further information, showing the bombed and shot up restaurant, bar and theater. It was Friday, November 13, a truly dark Friday the 13th.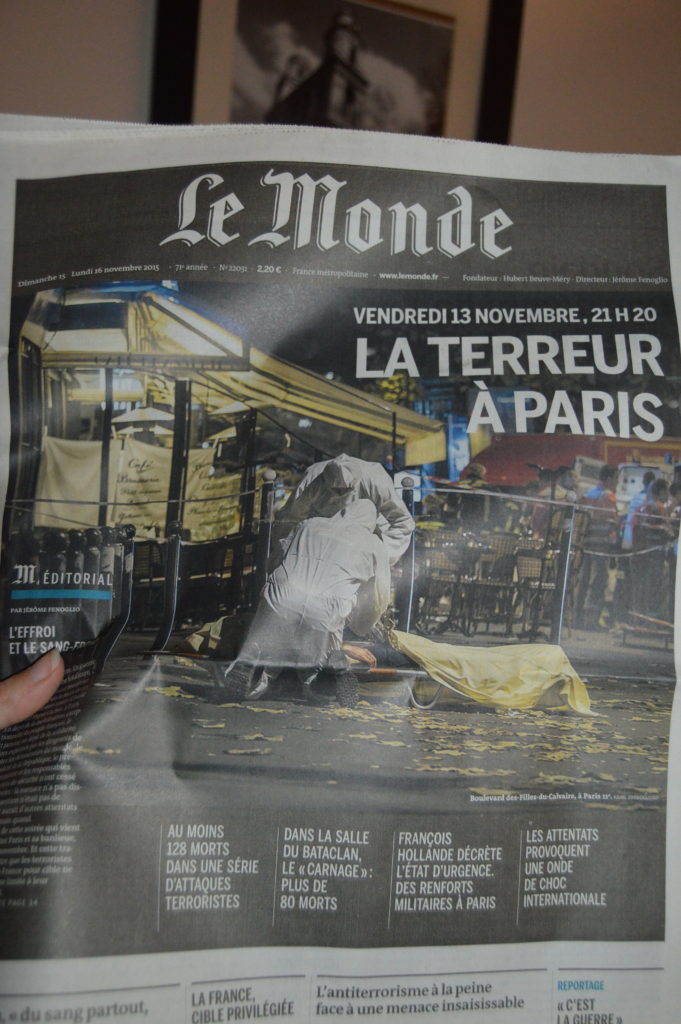 Day 3
We left the apartment the next morning, finding a still Paris. Having prebooked a tour at the Opera Garnier, and receiving no cancellation emails, we took the metro to the opera. The trains were quiet, with little activity, but armed military personnel patrolled the system. Arriving at our stop, we emerged to find the Opera blockaded by more armed military, and snipers on the rooftop. Unsurprisingly, the Opera was shut down. However, we weren't the only foolhardy tourists hoping for a tour. We encountered a French couple, also looking for the entrance. While neither party spoke much of the other language, we communicated enough that they gestured to the Opera and asked "Terroriste?". When we replied affirmatively, they looked disgusted and apologized to us.
Now, I would be remiss to say the streets were empty. As mid-morning wore on, restaurants opened and people did appear. Yet there was an eerie calm and decided lack of activity. Leaving the opera behind us, we grabbed a train to the Louvre. There was literally no one but us and an older Asian gentleman in the metro station. The five of us read the line map and he approached us timidly. "Louvre?" he asked and gestured to our group and himself. We nodded, and he smiled, pointed to himself and said "China", pointed to us and said "American?". So began an odd fellowship and one of my most vivid Paris memories. We rode the empty metro together and then walked to the Louvre.
It too, was closed, and had its own military force. The five of us took turns taking each others' photos in front of the glass pyramids. I doubt we would have ever gotten the below photos, in an empty Louvre courtyard, on any other day. Once again, through basic words and gestures, he took my email with, we thought, the agreement to send the photos he had taken. The exchange completed, our new friend bowed and then took off on his own. A month later, I did in fact receive the photos from him, but never heard from him after that. To this day, I wonder what his story was. It might seem a small occurrence, but given the circumstances, and the feeling we were the only people left in Paris, it stood out to me. In a way, it was also the stark contrast between the violent, hateful terrorist crimes and the simple, decent interaction across a cultural divide.
After the Louvre, we joyfully discovered Angelina's was open! An iconic Paris spot, it was on my sister's 'must see' list, as she followed in the footsteps of Audrey Hepburn. With all the hype, I expected a tourist trap. While it is startlingly expensive, everything was absolutely delicious, and the hot chocolate bordered on divine! There are Angelina's throughout Paris, but we visited the Rivoli location. If you enjoy sweets, the best chocolate drinks you'll ever have, or just Parisian ambiance, be sure to stop here! The wait can be extensive, so plan ahead. Even on this day, when we left in early afternoon a line had formed out the front door.
Our journey continued to the Eiffel Tower- closed. Again, armed military everywhere. In a sense, it was equally comforting and disconcerting. We stayed until dark to see the lights, but on this night the Tower stayed dark to honor the 130 people killed in the attacks.
The Rue Cler is a few blocks from the Eiffel Tower, and is a picture perfect market street. Even in November, flowers and fresh produce lined the street, which has more patisseries, boulangeries, fromageries and creperies than visitable! On a nice day, it would be a great place to visit for a picnic lunch to take to one of any Parisian parks. We had dinner (eating= a main activity in Paris for us!) at Cafe du Marche on recommendation from Rick Steves. It was good, but there are plenty of spots to explore on the Rue Cler.
When we returned to the apartment, our 'landlord' had left several messages. We called her back and she demanded to know if we were alright. She had called us multiple times, knowing we knew no French, to warn us the news had advised people to remain inside that day. Well, we along with our Chinese friend missed that memo… The property owner and her family had been at the Stade de France the night prior, where one of the attacks took place. She told a chilling tale of the stampede to exit the stadium, the chaos when the bomb actually detonated outside, and worst yet, losing sight of her young son in the rush. Fortunately, her husband quickly found him, and none of them were injured.
While this may be an abnormal 3 day guide to Paris, in the midst of the crisis, but, I hope it sheds some light on a quick trip. Despite everything that happened, I fell in the love with the city and experienced a trip to remember!