Quintessential summer means trips to Michigan! There's something magical about the sandy shoreline and small towns which come to life with flowers, festivals, music and boating during the summer months. One of my favorite getaways? Spending summer in Traverse City. Can you hear that Kid Rock song, 'All Summer Long'? You got it!
Traverse City is the perfect starting point to explore Sleeping Bear Dunes National Lakeshore and the Leelanau Peninsula. Meanwhile, the city itself will pull you in with its small town charm and Lake Michigan shoreline.
When to Visit & Where to Stay
Summer time of course! Ok, but seriously, I love it in July, especially during the 4th! From the parade to the cherry festival, it's like a Hallmark movie come to life. It's also the busiest time, so be sure to book your accommodations and tours in advance.
There are a number of waterfront hotels, from chains to boutique lodging, plus a lot of AirBnB options. My favorite is the Whispering Waters Bed and Breakfast. It's located about 15 minutes from downtown Traverse City, on 42 acres of natural serenity. They don't have a website, but you can call or book a room through AirBnB. Soak in the hot tub by the creek, hike the trails, pet the resident alpaca or horse, or relax on the river dock.
What to Do
There's no shortage of things to around Traverse City, it's just a matter of squeezing in as much as possible! That said, some of the best moments are the quiet ones along a deserted beach, or just taking in the beauty on the M-22.
Explore Downtown
Don't skip Traverse City itself in the rush to see all the surroundings! The town is home to some delicious dining options, boutique shops, a classic theater, and more.
During the 4th of July, they hold a parade through town, and the Cherry Festival runs through mid-July with various events. One thing you can't miss- cherry tastings! Whether it's cherry pie at the Grand Traverse Pie Company or cherry everything else at the Cherry Republic, you can't visit Traverse City without eat cherries. Cherry salsa was my personal favorite! Still not convinced how seriously Traverse City takes its cherries? Stop by the World's Largest Cherry Pie Pan just outside of downtown. It won the recognition from the Guinness Book of World Records with a 28,350 pound pie!
So, in case you're hungry now, I'll mention two great, unique spots to eat in downtown. First, Taproot Cider House offers a full farm to table menu, alongside dozens of ciders, many from Michigan. The food is healthy and delicious, and the cider is a great way to kickoff vacation!
Down the street, The Little Fleet is not to be missed! A permanent collection of food trucks encircles outdoor dining and a bar. Often, there are live musicians as well. It gets packed on the weekends, so be prepared to wait for a table.
Tallship Manitou
Sail Lake Michigan aboard a replica 1800s schooner! Brunch, afternoon trips, sunset tours and more are available aboard the 114 foot long ship. She's a beauty! An onboard bar is available, and depending on your tour, you'll enjoy a meal on deck. Built to replicate the ships that sailed the Great Lakes centuries ago, the Tallship Manitou is a bit like stepping back in time. The crew might ask for assistance in hoisting the massive sails, and then the ship will dance across the water.
Sleeping Bear Dunes National Lakeshore
I love all the dunes in Michigan, but Sleeping Bear Dunes National Lakeshore is something extra special. The gargantuan dunes will take your breath away!
First, stop at the National Park's Visitor Center to pay the small usage fee, then start exploring. There is so much to see in the park, but here are my top suggestions.
Pierre Stocking Scenic Drive
The drive is a 7.4 mile loop- the park in a nutshell. If you only have a couple hours for the park, make this drive! You'll pass through verdant forests and a covered bridge before coming to your first dunes. The Dune Overlook showcases the amazing diversity of the park- one side appearing green and fresh, the other a stark, sandy landscape. The Lake Michigan Overlook is also a highlight of the drive! The dunes descend sharply into Lake Michigan, and you can see far along the shoreline. The park service warns people not to climb down, as they often can't get back up, underestimating the incline. We stopped at the blacksmith shop in another part of the park, and he told us he is a part time search and rescuer, and he had already bailed out 9 visitors stuck at the bottom of the dunes that week!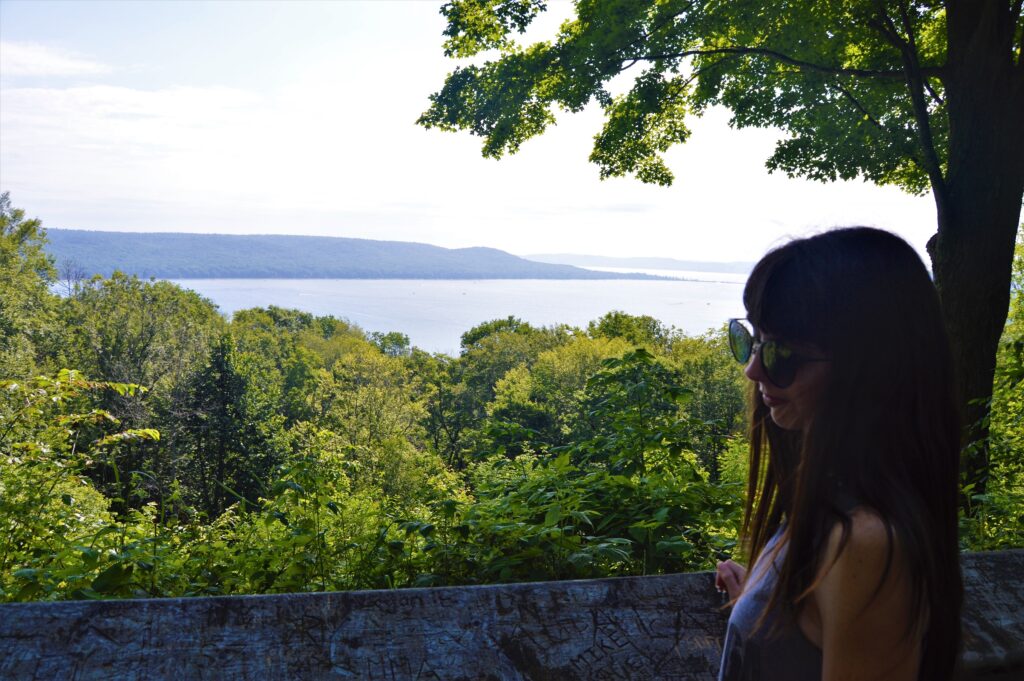 Dunes Climb
Climbing the dunes is a must! It's exhilarating, exhausting and absolutely delightful! The only place you're encouraged to climb directly on them is near the town of Empire, off M-109. From a distance, all the climbers look like little ants on a anthill, but up close you'll be impressed with the sheer size of the dune. Once you've made it to the top and enjoyed the view, running down the incline is the icing on the cake.
Glen Haven Village & Beach
Originally, Glen Haven was a port town for the ships on Lake Michigan. Today it is home to a small general store, a blacksmith studio and the Cannery Boathouse, a former factory turned maritime museum. The history behind the town is quite interesting, but for me, the draw is the beach at the end of town. It's lovely beach, right on Lake Michigan, with plenty of space to escape crowds. Now, if you know anything about the area, you've probably heard of Petoskey Stones. They're found all around this area, and this beach is a great place to hunt. Of course, you can't take anything out of a National Park, but it's still fun looking for them. We stayed through a rain shower, as it's easier to find Petoskey Stones when they're wet! The park has a number of other sandy beaches, but if rocks and peace & quiet are your thing, head here!
Manitou Islands
The islands are a trip unto themselves, offering unique camping and hiking options. You can actually see a shipwreck from the beach on South Manitou Island. The Francisco Morazan was wrecked during a storm in 1960 and still sits above the waterline.
South Manitou is also home to a lighthouse, ghost town, and plenty of trails. Manitou Transit is the NPS authorized tour service and offers a few different options on the island. North Manitou is more about solitude and nature, with over 15,000 acres to explore.
Driving the M-22
Driving around the upper midwest, you'll see bumper stickers for the M-22, and for good reason! It's 116-miles of beauty along the shoreline of the Leelanau Peninsula. Honestly, spending a day driving the M-22 is one of my favorite things to do in the area. It's pristine, dotted with small towns and plenty of wineries. Here are just a few of the noteworthy stops!
Fishtown
Located in Leland, Fishtown sits on the Leland River and Lake Michigan. It was a commercial fishing hub during the early 1900s, and is on the National Register of Historic Places. A purposeful shanty town lines the river, former homes turned into cute shops, fishing charters, and restaurants. Along the boardwalk, behind the shanties, you'll see fishermen displaying their catches and boat charters offering the 'best fishing locations' . It's a hopping place, packed with fishermen, tourists, and crowds of backpackers heading to the Manitou Islands.
It's a great place to stop off for lunch along the M-22. The Cove is a riverfront restaurant with fresh, tasty fish sandwiches. There are small, local eateries scattered along the river and in Leland itself. Leland is also home to Grand Traverse Distillery and Verterra Winery.
Omena
On the opposite side of the peninsula, the small town of Omena has some great spots to check out! Tamarack Art Gallery offers local pieces, and is just up the road from Omena Beach. This small, rocky beach is a rock hunter's paradise! The water is crystal clear and a protected harbor, so it's calm, easy to search for rocks below the surface. We found several Petoskey stones, Charlevoix stones and even a few fossils! So what are Petoskey stones? They're technically fossils too, fossilized coral to be precise, and they're only found in Lake Michigan. They're the state rock of Michigan.
Another restaurant recommendation- Knot Just a Bar. Grab a waterfront seat on the deck and kickback after rock hunting!
Omena U-Pick
About a mile and half outside of town, discover Omena Cut Flowers and U-Pick, a beautiful flower garden for the picking. It's picture perfect, with rows of colorful flowers and Lake Michigan just across the street. It's quite informal, just grab a container and a pair of scissors or clippers, and try your hand at creating a bouquet. Stems are priced from 10 cents to $3, and you can leave cash or check, or Venmo the owner.
They also offer a wedding service- full bouquet creation, DIY, or a combination of the two. After my bouquet building, I realized I'm no florist, but had a blast anyway. If I'd gotten married up here, this would definitely have been on my bridal party activity list!
Sutton Bay Ciders
Whether you're a cider drinker like me, or just love a bar with a great view, check out Sutton Bay Ciders! The cidery sits far up on a hill, the tasting room and deck offering sweeping views of the lake and surrounding area below. Try a flight of the locally made cider and enjoy the view!
Just down the street, there are two wineries as well, so the detour will be worth your awhile! Speaking of, there are 25- yep, you read that right- wineries on the Leelanau Peninsula Wine Trail. Take your pick!
---
Can't get enough of Michigan summers? Check out the Warren Dunes and Holland!
---
Pin It For Later!