Michigan's shoreline, along Lake Michigan, is lined with sand dunes. Some small, some gargantuan, but all lovely. When I moved to Chicago from Florida, one of my first camping trips was to Warren Dunes State Park in Sawyer, Michigan. I had never seen anything like those dunes and I instantly fell in love with the state park, and the whole area. Over the past seven years, I've made countless trips to the park with my boyfriend, now husband, and eventually taken my parents and sister too. My weekend bachelorette trip even included an afternoon there! There are many dunes parks along the Michigan coast, but I'm going to focus on Warren Dunes State Park and the surrounding area for this post.
Warren Dunes State Park
With over 3 miles of Lake Michigan beachfront, it's no wonder the park can get insanely crowded on summer weekends. Get to the beach early, if you want a spot near the bathhouse and food trucks. But if not, don't worry, there is ample beach for those willing to walk a bit. There is also a designated dog friendly area.
The line to enter the park can often extend onto the Red Arrow Highway, if you arrive on a Saturday morning. For us though, we always arrive Friday to camp through the weekend and never have an issue. Park entry, without a Michigan Recreation Passport, is $9 a day (cash only).
It's a few minutes drive down to the beach, where you will find the shoreline, and looming behind it, Tower Hill. This showcase dune is over 200 feet tall, and offers amazing views of the surrounding areas. Climbing it is a workout, but well worth it, and the run or roll down it is the highlight of every dunes trip for me! During my bachelorette weekend, my girls were imagining baby dunes and when they saw Tower Hill, realized I had every intention we all climb it, the weekend mantra became 'Shannon wants us to do what?!'.
The sandy beach is one of the nicest in the area, and further along you'll find plenty of rocks if you're the rock hounding type. Don't miss a sunset from the beach either, they are spectacular!
A couple ice cream huts sit by the bathrooms, and in the parking lot two food trucks (as of summer 2019). The tacos and burgers are quite good, and save the trouble of packing a picnic! A beach shop also sells towels, sunscreen, and other beach essentials.
Hiking
Beyond the beautiful beach, explore the trails. There are woodland hikes, but also unique dunes trails too. My personal favorite picks up at the back of the semi-modern campground. Depending which trail you divert on, you'll either climb a monster dune on your hands and knees, coming to the top for amazing views and trails leading onward, or take a more gentle climb up another dune with a sloping descent to a rainwater pond, and eventually the beach. The latter ends on a remote stretch of the beach, with quite a walk back to the bathhouse area. It's peaceful and quiet, the dunes dotted with wild flowers (depending on the season of course).
Camping
Book your site in advance! If you have a particular weekend in mind, Michigan DNR allows site booking six months in advance. I set a calendar reminder, to the day, six months before my desired weekend to insure we get a space. There are two campgrounds, a modern and semi-modern. If you're tent camping, go for the semi-modern. The sites are more spacious, woodsy and peaceful. The modern campground sites are tight, with no privacy. You may end up with a camper arms length from your tent.
It's about 1/2 mile between the two campgrounds, and semi-modern occupants can still use the showers and bathrooms in the modern campground. The semi-modern location only has pit toilets, and no showers.
Red Arrow Highway does run along the park's boundary, so you'll often hear road noise at either campground. It's not bad, but just keep in mind this is not a remote site, immersed in natural solitude.
Beyond the Park
Whether you're camping or just day tripping to the park, there is plenty to do in the area. Warren Dunes sits smack in the middle of Michigan wine country, but that deserves its own post. With dozens of wineries, it's impossible to cover them in this brief area overview, but I will call out one of my favorites shortly.
The Beach Bucket
Directly across from the park entrance sit The Beach Bucket. The cutest ice cream shop, they serve local creamery ice cream, pizza, burgers and other snacks. They offer discounts to military active duty and veterans, their patriotism clear by all the American flags waving. Outdoor covered seating has string lights overhead. The place seems like it stepped off the page of some all American throwback, the perfect summer stop.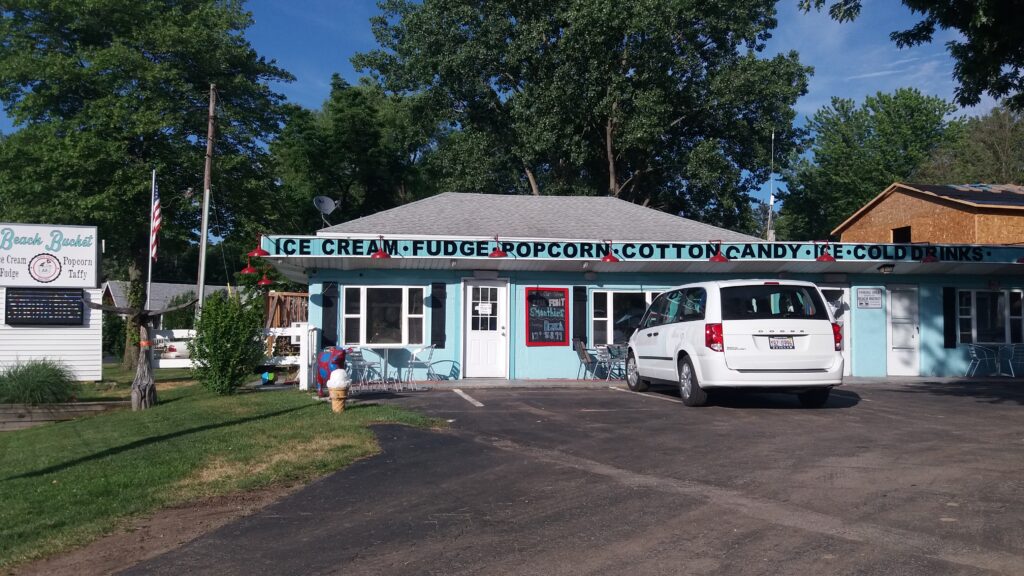 The Blueberry Patch
I plan a July trip to the Dunes every year to spend a couple hours at The Blueberry Patch, a u-pick berry farm. It's just down the street from the dunes, and offers both u-pick and pre-picked blueberries. Their berries are always so tasty and fresh- it's amazing when you see (taste!) the difference between store bought and fresh produce!
Their opening weekend is usually around July 15, closing the end of August. If going later in the season, call them to be sure they're still open. It's a small, family run farm, and is so cute! Don't miss a stop here.
Lavender Hill Farms
Located in Niles, this flower farm is about 30 minutes from the dunes. Owner Martha and her husband run the farm and the lavender shop which sells homemade lavender soaps and other items, plus local honey. During summer, u-pick lavender is available, and is so much fun! Call the farm to confirm, but it's generally open Monday-Saturday in the height of summer. During my weekend bachelorette, Martha was kind enough to host our group on Sunday. She also made the flower wreath I wore during my wedding!
Gravity Winery
After you've had your fill of u-pick options, head over to Gravity Winery & Vineyards in Baroda. The tasting room reminds me of a stylish airplane hangar, complete with an outdoor patio overlooking a pond. During one of my visits sitting outside, a family of deer came down to the pond to drink! They also have a tasting room in South Haven.
Gravity has a variety of wines, but I have to admit, my favorite item is actually their hard cider! It varies by season, but look for the Mango or Green Apple! One is very sweet, the other quite tart. The staff recommended combining the two, which produces an absolutely perfect cider!
While there, you might encounter Ollie, the resident yellow lab who makes his rounds greeting the visitors.