Everyone's heard about Norway's fjords, but to be honest, the country hadn't made it onto my must see list. My husband suggested it, as an alternative to overly visited and insanely expensive Iceland, when we planned a trip for our anniversary. Once we started the research, I was sold!
Norway in a Nutshell
So, I put together a 10 day itinerary using Norway in a Nutshell. This tourism service is great for planning, but it's not binding like a traditional tour. I used it to gather a route and book our transportation, but booked our accommodations and activities on my own.
Norway in a Nutshell compiles train itineraries, lists all possible stops, suggests hotels and more. It's a useful resource, especially for those new to Norway. You can book your entire trip through it, but there are a few limitations. For example, it only shows basic rooms at the hotels, not any upgrades.
There are no booking fees or additional costs to use the service, and in some cases it may actually save you money.
Norway in a Nutshell offers numerous itineraries, but we booked ours around the Oslo to Bergen train route. We picked our departure time from Oslo, plotted how many days we would stay in each stop along the way, and Norway in a Nutshell did the rest. They handled our transfer times, reserved our fjord cruise and our bus journey. I liked it because I just entered where and when I wanted to go, and the system figured out the rest!
Oslo Arrivals
We began our Norway journey in Oslo, arriving about 7:30 am. It allowed us a full day to explore, with an easy trip through customs. The Flytoget Express train departs every 10 minutes for Oslo Central Station, making the journey in about 19 minutes. Purchase a ticket in advance, or just swipe your credit card as you enter the gates. That's what we did, and upon arrival in Oslo, there's no need to swipe at exit.
Two Days in Oslo
Accommodations
We stayed at the Comfort Hotel Grand Central Oslo. It's actually in the train station, which was perfect for our 6am departure a couple days later. We had a bit of trouble finding it, and ended up at the Comfort Hotel across the street. They kindly directed us back to the station, where the hotel entrance is hidden behind restaurant seating. It's actually a great location inside the Østbanehallen. The Østbanehallen is the food court attached to the train station, although it's much nicer than a food court you might imagine in an American mall. It's also home to the Oslo Visitor Center, which was conveniently right across from the hotel entrance.
The Comfort Hotel Grand Central Oslo is reasonable (for Norway anyway), clean, centrally located and offers a great breakfast! On our early morning, they even packed us a to-go meal, ready for pickup as we exited!
Viking Ship Museum
Our whole reason for staying in Oslo was to see the Viking Ship Museum. During our visit, it was business as usual. However, they are preparing to open a new, larger museum by 2025, and have currently begun moving some displays and dismantling part of one ship.
Until then though, the museum is home to three Viking ships, numerous artifacts, and a multimedia presentation. The ships date from roughly 820-900 AD. They were all sea going vessels before serving as burials for influential Vikings, and contained many of the items on display at the museum. A fourth ship was also excavated, but had been largely destroyed and its contents raided. However, the museum does house intricate animal head carvings which did survive at this site. Thanks to the climate and surrounding soil, the three ships and many artifacts were amazingly preserved for over a thousand years!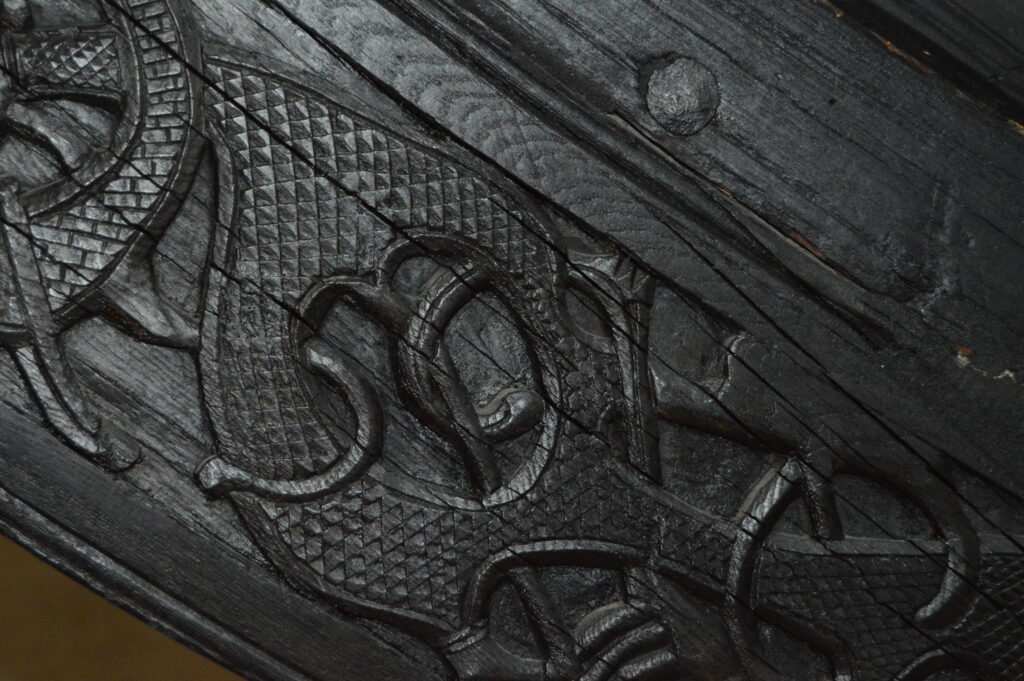 The museum is accessible by bus or car, but the Bygdøyfergene is the museum ferry from Oslo harbor. It runs March-October every 20 minutes. We arrived early to insure a spot on the first boat, and then walked a couple blocks from the docks to the museum. It's a lovely stroll past elegant houses and manicured gardens. The museum can get very crowded but we had it almost to ourselves when we arrived at opening time. Plan to spend 1-2 hours here. As we left, tour buses were rolling up, making us especially glad we planned an early visit.
Several other museums are within walking distance, including Kon-Tiki, the Norwegian Maritime Museum, and the The Norwegian Museum of Cultural History. There's also a couple beaches nearby. I wish we had spent more time in this area, but we rushed back to the ferry to have a full day exploring downtown.
Akershus Fortress
The ferry dock is very close to Akershus Fortress, Oslo's medieval castle. Spend some time exploring it. It's been lovingly restored inside, and the grounds are open even when the castle is not. The park is free to access, with a small cost to enter the fortress. The castle is 700 years old, although it's unclear exactly when it was built. Interestingly, through countless conflicts, Akershus' defenses have never been breached. The only time it's been taken was during World War II, when it was surrendered.
On the castle grounds, you'll find a visitor center, the Norwegian Resistance Museum, and at times, live events in the park.
Aker Brygge
A neighborhood in Oslo, Aker Brygge is best known for its pier. Its lined with upscale restaurants with outdoor seating, and at the far end you'll find locals diving into the fjord. It's a lovely area and worth a stroll, even if you don't plan to dine here. During our visit, there was a public dance event on the pier.
Oslo Opera House
The opera house is a modern marvel, and one of Oslo's most iconic spots. It's exterior is a playground, climb up its roof, or descend to its lowest point and get your feet wet. It slopes right into the water! The onsite restaurant, Sanguine Brasserie, is open all the time and offers outdoor, fjordside seating.
During the summer, the opera house offers some discounted tickets, with some outdoor performances. Check their site before your trip!
Karl Johans Gate
It's the central street in downtown Oslo, full of shops and restaurants. It's quite lovely in summer, with the flower-filled Studenterlunden Park on one side. Stroll along from the Norwegian Parliament at one end, to the National Theater, and finally onto the Royal Palace.
During our visit, the street was blocked one afternoon and guarded by armed military! Go figure, the ATM I was looking for sat right behind the barricades. I watched a couple others speak to the soldiers and be let in to access it, so we tried the same. They were so friendly, gladly let me access the ATM, and told us several of them had just visited Florida- my home! As it turns out, we later discovered members of the Norwegian Royal Family were dining at a restaurant on Karl Johans Gate, hence the uproar! They do, after all, live right up the street!
Royal Palace
The Royal Palace, home to the Norwegian Royal Family, is a short walk away and offers lovely gardens to stroll. Palace tours are also available in the summer. Catch the changing of the guard any day at 1:30pm. Its great, and nothing like the chaos surrounding Buckingham Palace's changing of the guard in London.
Dining
I previously mentioned how expensive Iceland is, but Norway isn't much better. Be prepared to spend $40-60 USD a person for dinner at a median range restaurant. Oslo was our first introduction to this, and I chalked it up being the big city. Well, it was true everywhere we visited.
Here are two recommendations for quality Norwegian style restaurants in Oslo, plus a touristy bar!
Café de la Cathédrale
It's near the train station, set within the old cathedral. I admit, I picked it for its ambiance, but the food was good too. It was our first dinner and I was anxious to try something Norwegian. Enter moose stew and reindeer steak, both accompanied by lingonberry jam, a staple in Norway!
Stortorvets Gjæstgiveri
A traditional Norwegian restaurant, it also has a nice outdoor courtyard during the summer. It's just off Karl Johans Gate. They had a lunch special, so we stopped in. The service was great, as was the food. While I went light with a green salad, my husband ordered shrimp. It was the biggest bowl of shrimp I've ever seen! They came whole, and in the shell, which was a bit of a shock to us, but just the way they do it in Norway evidently.
Magic Ice Bar
Ok, yes it's a bit of a gimmick and there are ice bar iterations across the world. Getting past that, it seemed like a fun distraction from the uncommonly hot July day. Oslo's Ice Bar is actually themed to Norwegian artists, particularly Edward Munch. You'll find a Scream rendition and quite a few topless ice ladies! If you aren't already bundled for winter, the bar provides fur parkas and gloves, which you'll need for the ice glasses, ice bar and ice throne!
Souvenirs? Yep!
I'm not a shopper, but I do like to pick up a few memorable items on my travels. Norway is full of touristy shops, and I have to say these few items stood out the most.
Reindeer Pelts
Not for everyone, I know. We have a rustic themed log cabin though, so this is just the sort of thing to catch my eye. Surprisingly, the pelts were cheapest in Oslo. You'll find them from Oslo to Bergen and every town in between, but the best prices were here.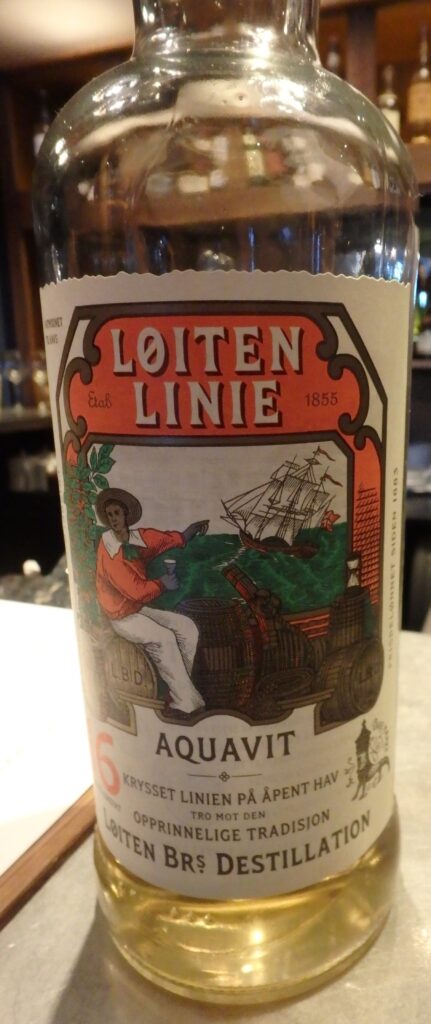 Aquavit
When I thought of drinking in Norway, before I went, I imagined mugs of mead. Actually, the national beverage is aquavit. It's a clear, distilled liquor made from potatoes. It has a bit of a licorice flavor, and can be drank straight or in a cocktail. Linie claims to the oldest Norwegian brand of aquavit, and is sort of the go to traditional label, although the beverage has been produced since the 15th century. If you're really devoted, there's an Aquavit Trail to various distillery, but for me, the Duty Free section of the Oslo or Bergen airports will do just fine!
Kvikk Lunsj
Norway's iconic chocolate bar, a bit like a KitKat. They're a great, small and tasty gift to bring back.
The manufacturer, Freia, is based in downtown Oslo. You can't miss the huge sign atop it's building when you're strolling the streets, and can actually visit Freialand for tours and chocolate making demonstrations.
That's a 2 day itinerary for Oslo, and the main highlights of the city. We continued on by train to Flåm- guide to follow shortly!
Pin it for Later!