We spent our first anniversary in Norway and the fjords were definitely the trip highlight! At the risk of sounding like a paperback novel, how about four days of adventure and romance from scenic train journeys, to waterfall hikes, private photo shoots and a Viking invasion?
Traveling to Flåm
Our trip began with two days in Oslo, but it centered on the Oslo to Bergen train route. This route has been ranked among the best rail journeys in Europe. For about 4.5 hours, sit back and enjoy the view. Sweep by mountains, lakes, a glacier, and otherworldly landscape. One perk of booking through Norway in a Nutshell is the guide booklet you receive with your tickets. I enjoyed reading it along the route, discovering details about the towns and sites we passed. If I return for another train journey, I am definitely stopping at Finse! It's the highest point on the Oslo to Bergen route, and many hikers disembarked at this station. It's the best spot for hiking to the Hardangerjøkulen Glacier, which can be seen in the distance from the train.
We disembarked at Myrdal, where I felt like I'd arrived on the Hogwarts Express. Myrdal is a mountaintop station, and the starting point of the Flåmsbana. The Flåm railway has also been ranked among the world's best train rides. Of course, you can hike from Myrdal to Flåm, down the mountain into the valley, but pulling two enormous suitcases that would, again, do Hogwarts justice, just didn't seem ideal! I would love to do it some other time, perhaps send the baggage on the train or pack less! The Flåm railway has historic 1940s cars, and if you want the best view, grab seats on the left side, in the front or back few rows as these windows open in most cars. There are no assigned seats on this route and it can get pretty crowded.
Descend past countless waterfalls, breathtaking scenery and unspoiled nature. The train stops at Kjosfossen waterfall, where you can disembark for photos. The conductor will sound the horn when it's time to board again. After that, it's a short trip onto Flåm.
Flåm
It's a small town, but there's plenty to do. Sitting right on the fjord, there are amazing views from pretty much anywhere in Flåm. It's a great place for exploring the surrounding area.
Fretheim Hotel
We spent two nights here, easily the nicest hotel in town. There are several accommodation options, including a campground, but we sprung for the Fretheim since it was our anniversary. The hotel has standard and historic rooms. The latter are in the original part of the hotel, complete with furniture and decor from the late 1800s, early 1900s. Each room is unique and absolutely beautiful! They also brought us a gorgeous bouquet of fresh flowers from the hotel garden for our anniversary! I felt like a royal traveler, a fancy lady on one of those extended honeymoons of the last century.
The Fretheim does everything to perfection, from a wonderful breakfast spread to delicious dinners, fancy cocktails, beautiful gardens, and of course, fjord views. It isn't cheap, but if you're looking for an upscale experience, I can't recommend the hotel enough.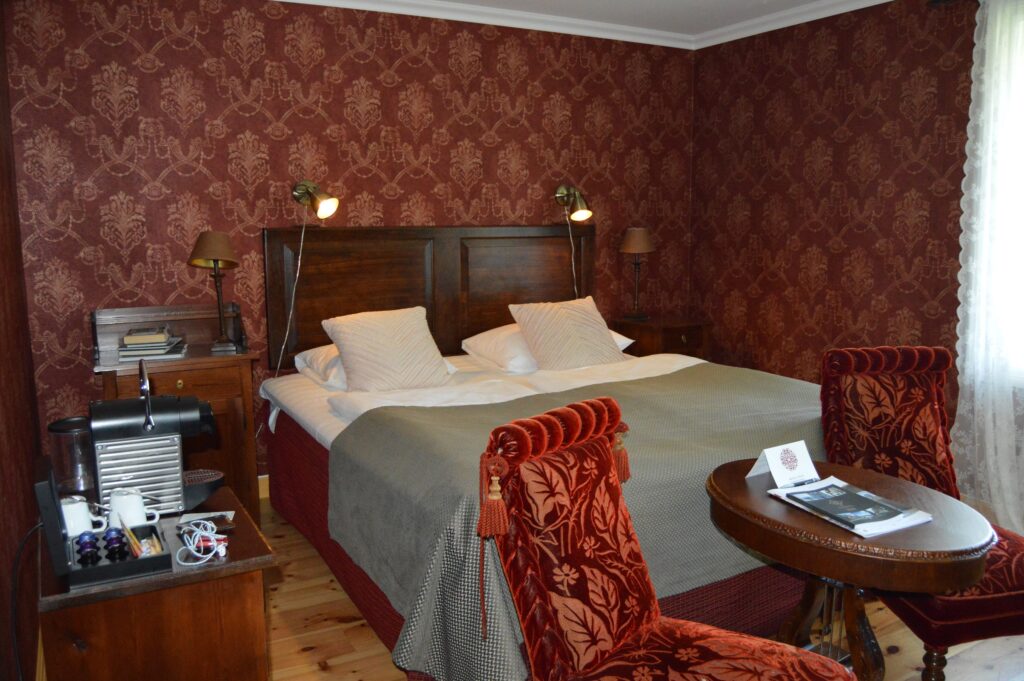 Flåm Dining
The Fretheim's restaurant, Arven, serves a scrumptious dinner buffet where we had the chance to try specialties like whale salami, goat ribs and Norwegian brown cheese. Outside the hotel, Flåm has quite a few dining options for such a small place. In the center of town food trucks serve lunch, and offer a reasonable selection. How about some reindeer meatballs and locally made raspberry lemonade?
The Toget Cafe offers tasty pizza and outdoor seating in train cars. For great views, the Flåm Marina restaurant has fjord side seating, a nice selection of beers and cider, and good food. I was excited to try the Viking themed bar, Ægir Brewpub. It's got all the decor and thematics of a Viking long hall. However, we were astounded by the service. It was the only place in all of Norway anyone was rude, and stands out for that reason. After two tries with no service or orders taken, we wrote the place off.
Things to See & Do
There are some amazing hiking opportunities in the area! Check out part of the trail back to Myrdal, explore the hanging bridges over the river (salmon fishing spots), or hike to Brekkefossen Waterfall. I didn't find much information in advance, so I snapped a photo of these hiking signs at the visitor center! Hopefully it will help some of the obsessive planners, like me, out there!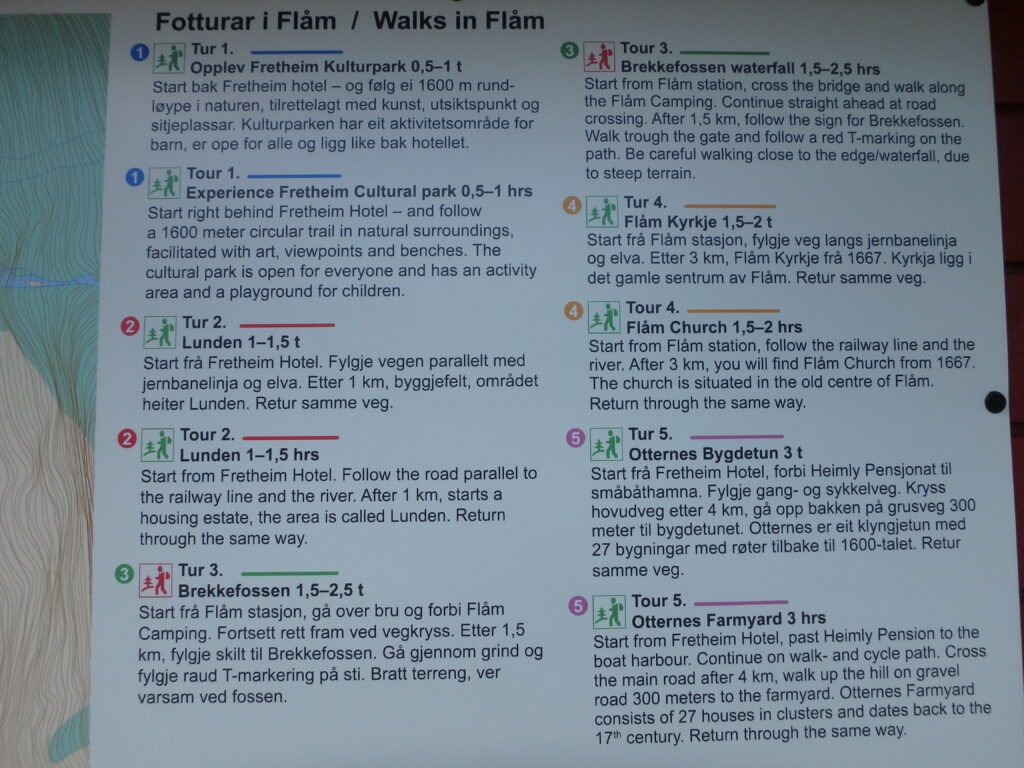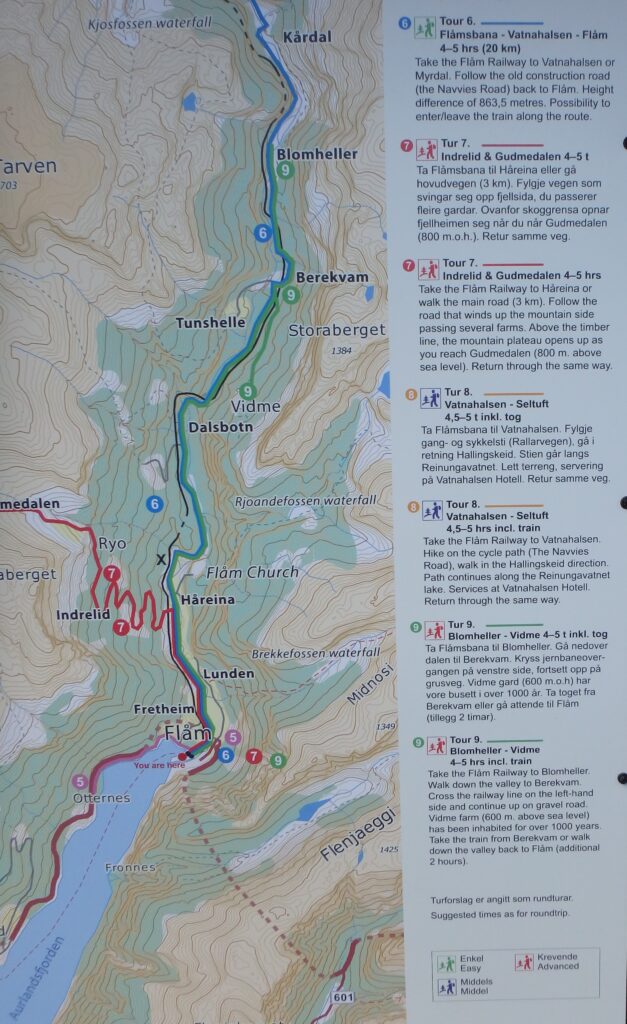 Brekkefossen Waterfall
So, to be candid, this was a hiking fail, but a funny story nonetheless. The waterfall is visible from town, cascading down the mountain. From the Fretheim, just follow the road out of town, past the campground. You'll pass a residential area and when you think you must've gone too far, you're almost there.
The trail entrance is clearly marked and begins through a gate into a cow field. Be sure to securely close the gates into and out of the field! The fluffy cows watched us pass, as if waiting to see if we would be the foolish humans who enabled their escape.
When we arrived in July, a sign announced the trail was closed for work. We brushed it off and decided to try it anyway. About 3/4 a mile in, up a steep incline, the trail disappeared. Literally. It had been washed out and was being rebuilt. It was quite inaccessible, a washed out ruin up the side of the mountain, not something even we were willing to try. As we turned back, we encountered another American couple who had ignored the sign and climbed up. They didn't take our word on the trail, and kept going. I wonder if they made it! As of my writing this, the trail has been restored, so check it out!
Exploring Further Afield
We were celebrating our first wedding anniversary, and hired Paul Edmonson for a photo shoot. He is absolutely amazing, one of the most awarded photographers in Norway! Many of the magnets and postcards in the area are actually his work. Our photo session turned into an area tour. He picked us at the hotel, and drove us around for 7 hours. We hit iconic spots, and got some stunning images. It was an experience of a lifetime and I can't recommend him enough. So, my photos of the destinations are bit unusual, but you get the idea! You'll need a car to reach these spots from Flåm.
Otternes Bygdetun
This 17th century farm is hikable from Flåm, but a very quick drive. The wooden buildings are pretty neat, and the farm offers lovely views. During our visit, it wasn't open, but if you catch it at the right time, evidently you can tour the buildings and learn a bit more about the history.
As you continue away from the farm, there are plenty of views! You'll want to stop every five minutes for photos. It's just a two lane road and at one point there was a traffic jam of RVs (too big for the road) attempting to pull off for pictures.
Stegastein Viewpoint
If you have a height phobia, this will scare and thrill you! Lean out over the edge to take your breath away, and just enjoy the amazing fjord views. It's free to access the viewpoint, and there are bathrooms too. The viewpoint is open year round.
Drive the Snow Road- Norwegian Scenic Route Aurlandsfjellet
Its wild, untouched and inaccessible for much of the year, hence its name. Even in summer, its still cold and you'll spot blankets of snow along the way.
The scenery is otherworldly! From rolling hills dotted with sheep, to pure rock landscapes, the topography changes drastically from the bottom to the mountain top. Near the summit, take time to savor the glacial pools that are so pure, so cold. They're surrounded by brilliant green moss, as soft as fleece, that almost seems to glow. Even in July, we only saw a few other people, and I could've stayed forever, apart from the world, a permanent visitor in a fairyland. Well, at least until the next snow came!
On the way down, we stopped for photos at a waterfall. Being so remote, we surprised some older skinny dippers who laughed and apologized for crashing what they thought were our wedding photos.
We had to work for these photos- you try climbing a wooden fence, running through waist high grass and jumping along wet rocks in a wedding dress! I look a little stiff because I was terrified I would fall backwards, and Paul kept calling over the roar of the falls to lean back further for that perfect shot. What memories though!
Borgund Stave Church
When in Norway, don't miss one of these iconic wooden churches! Borgund was built in 1180, decorated with dragon carvings, runes and other Nordic details. There are only 28 original stave churches in Norway, and Borgund is the most unaltered. Its gorgeous! It was a fitting last stop for our anniversary photos. The visitor center has a nice gift shop and cafe, and offers guided tours on a limited basis.
On a personal note, the dancing photo is one of my favorite. Not only are we in a 12th century church, but we didn't have a first dance on our wedding day. This is a fine substitute! I can't thank Paul enough for the wonderful adventure and stunning photos!
Fjord Cruise to Gudvangen
No trip to Norway is complete without a cruise through the fjords! Flåm has plenty of options- kayaking trips, the Fjord Safari (which looked thrilling!), and the traditional large vessel cruises. Our Norway in a Nutshell itinerary included the Nærøyfjord Cruise as our mode of transportation to Gudvangen, so we didn't book anything additional.
This trip can be reserved outside of Norway in a Nutshell as a round trip itinerary, with a return by bus. We were staying in Gudvangen, so it was a one way for us. The Nærøyfjord Cruise offers classic or premium boats. We took the former, but I would recommend the premium. The classic has limited outdoor space, with most seats inside. On our sunny July day, everyone wanted to be outside! We lined up at the dock about 45 minutes early, putting us ahead of of most. However, when the boarding began, it was a free-for-all mad dash, ala Walmart on Black Friday. Not particularly how I envisioned my fjord cruise beginning, but oh well, we got a floor seat on the outer deck.
The cruise lasts about 2 hours, sailing past gorgeous mountains, cliffside waterfalls, and small farmsteads. The fjords deserve as much fame as they've earned. Simply stunning, another case where photos just don't do justice.
Gudvangen- Viking Valley
Most people will pass on through Gudvangen, but when I found Viking Valley and then realized our dates coincided with the annual Viking Market, I was sold! The hotel, Gudvangen Fjordtell, also serves as the town's restaurant, cafe and shop. Best part? Sure, they have single rooms and apartments, but they also have Viking Rooms! They are pretty cool, with Viking decor (modern bathrooms!), grass roofs and ceiling windows. You can lay in bed and look up at the mountains and surrounding waterfalls. Keep in mind, there are no shades, so in summer this means sunlight most of the night. We brought sleeping masks.
Aside from the Fjordtell and Viking Valley, there's a small hostel like hotel, an art gallery, gas station, a kayak company, and that's pretty much it. Gudvangen is only home to 90 residents! Plan to spend your time enjoying nature and Vikings. I should also mention there is an anorthosite mineral mine right outside town. You'll see it as you're pulling in on the cruise, it's hard to miss. It's a bit jolting in comparison to the surrounding nature, but it's easily ignored from the hotel and Viking Village. It's a relatively small operation and doesn't create any noticeable disturbance.
Viking Valley
Viking Valley is fully functional Viking village recreation. Gudvangen was home to Vikings a thousand or more years ago, who named it 'the place of the gods'. The village today is small but amazing! It's been built by hand, with local materials, with every effort to be historically accurate. Down to the smallest details, from ox blood paint to hand forged door hinges, this Viking village is likely the closest you'll get to the real thing.
The village is full of historical reenactors, some of whom live here year round. The Viking Experience tour is led by one of these locals, who will present their 'story', while also providing insight into the village. For different perspectives, try the tour more than once. Our first tour guide was a lovely French lady who had been kidnapped during a raid, and made to marry a Viking man. Luckily, she was no wilting violet and quickly put him and his house in order!
After the tour, try some ax throwing or archery, visit the blacksmith for a demonstration, and enjoy a tasty lunch at the food hall. We ate here twice, and honestly, it was better than the hotel's restaurant! Enjoy a fresh meal outside on the town green, or in the longhall, seated on goatskin blankets.
As you wander the village, talk to the locals! The houses are almost all open to visitors, be sure to stop by the chieftain's home. You might encounter the village storyteller, who will invite you to sit for a Norse myth retelling.
Viking Market
Every July, the village hosts the Viking Market. Vendors setup tents, many events are scheduled, and at least the year we visited, an authentic Viking ship sailed into dock. You'll find all sorts of unique items for purchase, from hand forged metal jewelry, to woven baskets, weapons, and animal pelts.
Events include live music, historical lectures, rowing competitions, and a wild little thing called the Loke Run. Brave (?) Viking men race with wooden planks hung from their balls! One of the most unusual races you're likely to see. Some events aren't open to the general public, such as night time sacrifices to the gods or other ceremonies. These folks aren't playing at being Viking!
During our visit, a crew sailed their handcrafted Viking ship from Vik, Norway. It's a short sail, but they have also sailed from Norway to Scotland, to recreate a path the Vikings might have taken centuries ago. The ship is amazing, but I still wouldn't want to sail it across the open ocean! We went out with them into the fjord, and they showed us the rowing methods and had us sing a cadence and row back to shore!
Enjoy the Outdoors
There are some beautiful hikes around Gudvangen! Before we arrived, I found very little information or details. This holds true for many things I tried to research in Norway, it was a wait and see until you get there situation. That's one reason Norway in A Nutshell was beneficial.
Hike to Bakka
Bakka is a tiny town of 10 inhabitants, 5 km from Gudvangen. Until the 1970s, the village was only accessible by boat, but even once the road was built it was a hazardous journey prone to rock and snowslides. In 2001, a tunnel was built connecting Bakka to Gudvangen. Now, there's also a trail between the two. To reach the trailhead, pass the anorthosite mine and follow the road. The trailhead begins to the right of the tunnel entrance. From this point, it's about 4 km, or 2.5 miles, to Bakka.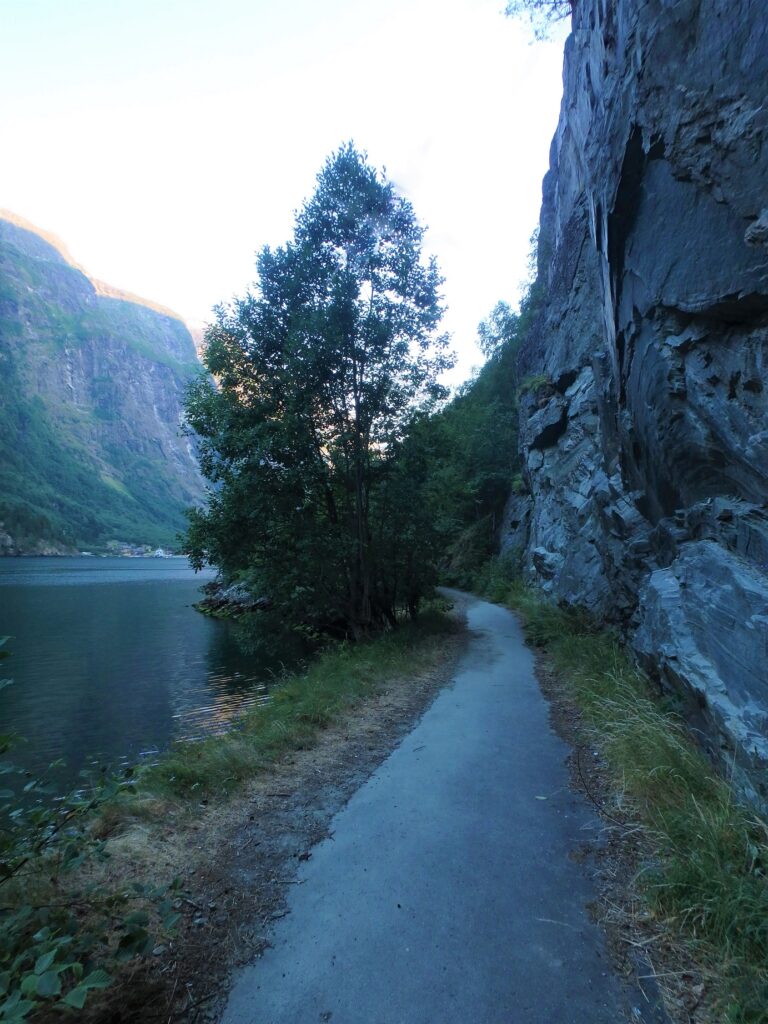 Even if you don't want to hike the 5 miles round trip, I definitely recommend a partial hike. From the trailhead, the narrow path snakes along the fjord, offering beautiful view. Not too far along, you'll come to a waterfall cascading down the cliffs, under the path and into the fjord. It looked like the path may occasionally wash out if the waterfall is particularly heavy, but we had no issue. We climbed right up into the falls! When we took these photos it was 10pm! I love the summer sun!
On our first hike, we planned to go all the way to Bakka. Sometime after the falls, the path dumps onto the road, Fv241, for the remainder of the hike. It's certainly not a busy place, but there's really no shoulder to walk on. We decided to head back, so I can't tell you if Bakka is worth it.
Chasing Waterfalls
From Gudvangen, you can see numerous waterfalls cascading down the surrounding mountains, it's really quite impressive! Kjelfossen is the most famous and is actually one of the tallest falls in Europe. We set out to find a path or access point to any of the falls. From the gas station, cross the E16 towards the houses. From there, it's easy to spot the dirt road that meanders out of town.
We hiked for sometime, following the river. We passed a couple campers in the woods, what a lovely spot to stop! Right along the crystal clear, albeit freezing, river. One of the lovely things about the Norway is the Right to Roam. This law allows campers to setup pretty much anywhere in nature- fields, mountains, forests…any uncultivated and unfenced land is mostly free game. Check out Norway's Right to Roam guide for more details.
We never did reach the falls, but it was still a beautiful hike!
Swim in the Fjord
Sure, the average temperature of the fjord in July is about 55° Fahrenheit, but how many people can say they swam in the fjords? Well, I probably wouldn't be able to, but it was bizarrely hot during out visit- the mid 80s- and I had packed for the forecasted 60s. Plus, the hotel does not have A/C. I didn't bring a swimsuit to Norway, but the Viking folks were going all natural. So, what the heck, I jumped in in my undies!
All in all, we loved the 3 days we spent in Gudvangen. Honestly, I wished we had spent more time in the fjords versus the cities, but now I know for next time. From Gudvangen, we boarded the Norway in a Nutshell chartered bus and set off for Bergen. It's an interesting route itself, and I'll cover it in more detail in my Bergen post. Happy travels!