Venice, Italy is a city known for its aura of mystery, romance and, cha-ching, it's high prices. Yet, there is plenty to do without breaking the bank. Whether you're dropping in before a cruise, or allotting several days, this list of inexpensive or free things to do in Venice includes some of the must-sees, and a few off the beaten path. Despite its reputation as a walkable city, Venice is actually quite expansive, so I haven't covered everything. Feel free to add your own favorites in the comments below!
St. Mark's Basilica and Square
If in Venice, you cannot miss St. Mark's- the basilica or the square! The basilica is an amazing display of Byzantine design and décor. It is wholly unique from many other famous European cathedrals, such as Notre Dame and St. Peter's. Beautiful mosaics cover the floors and ceilings! The historical link between Venice and the East is far too lengthy for this blog post, but suffice to say there was heavy trade, eventually leading to Venice's deep involvement in the 4th Crusade. During this time, the Venetians obtained many of the treasures housed within St. Mark's, including the famous bronze (actually copper) horses that sit in the loggia. For years, they were thought to be from ancient antiquity, but more likely have come to be accepted as 2nd or 3rd century Roman. Today, those outside are replicas, while the originals sit within St. Mark's Museum.
The history of the basilica begins in 9th century, when relics of St. Mark were transported to Venice. The church was consecrated in 1094 and has continued to be a political and religious center for centuries.
Entry to the basilica is free, although for € 3 you can purchase a skip the line ticket, available April-November. Entry without the ticket can be lengthy, although when we visited in late May, we walked right in. During our week in Venice, I never saw a lengthy line. Large bags cannot be taken in, plan ahead. Interior photography is forbidden, so soak in the sites while you're there.
For an additional € 3, visit the Treasury, where many of the precious items are displayed. Another  € 5 will give you access to St. Mark's Museum and Loggia. I highly recommend the latter. The museum houses the original four horses, mosaics and much more, plus it's the only way to access the loggia, the outdoor terrace. The terrace offers great views of St. Mark's Square and Clock. These additional tickets are only available onsite, not in advance.
Rialto Bridge
This is a no brainer, but I had to include it, since it's free! The bridge is the busiest area of Venice, and crossing it takes patience. After dark, it's bit less crowded, but I never saw it deserted. Beware the pickpockets, and the pesty rose peddlers. The shops along the bridge have the highest priced souvenirs, so shop with caution. However, photos from atop the bridge were quite beautiful.
Venice Fish Market
A world away, but only actual steps, sits the Rialto Fish Market. Thursday morning broke sunny and clear, day four of my Venetian visit, but just another day for dozens of fishermen setting up shop at the Rialto pescheria. Set among colonnades beside the Grand Canal, there has been a market in the area for nearly a thousand years, with the current structure dating to the 16th century.
The market opens at 7:30 am every day but Sunday. I arrived while the vendors were still setting up, shouting buongiorno, whilst throwing crates and laying out live crabs, fresh tuna and more. The seafood is as fresh as it comes, caught the same morning, much of it still crawling or swimming. The market also has some produce stalls, zucchini with fresh flowers still attached and garlic still on the green stem. It's a great way to experience a piece of real Venice, away from (most) tourists and crowds.
We purchased fresh fish and produce, enough for five people, all for under €30. My dad and husband cooked dinner that evening while us ladies sipped wine in our AirBnB. After several days of restaurant sticker shock, it was a nice change to have a fancy, inexpensive, dinner.
Conservatorio di Musica Bendetti Marcello
Sestiere di S. Marco, 2810, 30124 Venezia
Yes, it's a music school, but visitors are welcome. The building has some pretty cool architecture, including several modern art installations during my visit. In addition, they offer a number of free concerts. Check their website for scheduling.
Basilica Santa Maria della Salute
Dorsoduro, 1, 30123 Venezia
Sitting on the Grand Canal, this church was founded in the mid-1600s. It has a high domed ceiling and some beautiful artwork. Several churches in Venice have entry fees and many do not allow photos. Santa Maria della Salute is free, and photos are welcomed.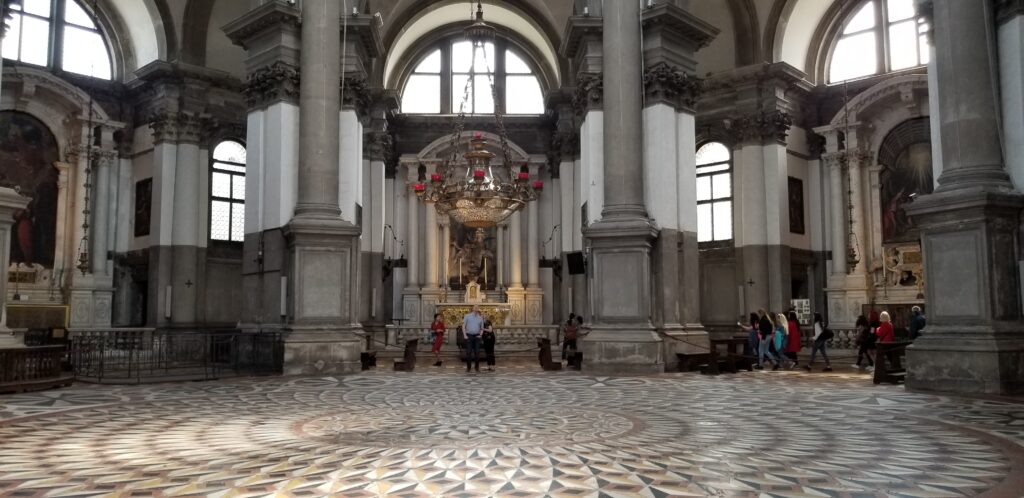 During the summer, they offer free organ concerts. The organ, from 1783, is huge! The music reverberates through the church, beautiful and moving. The Vespers concerts are at 3:30pm, everyday but Saturday.
Afterwards, sit on the church steps and watch the Grand Canal traffic go by, often hearing the singing gondoliers.
Basilica di Santa Maria Gloriosa dei Frari
Calle del Scaleter, 3072, 30125 Venezia
Commonly just called dei Frari, the current basilica was completed in the 15th century. Adult entry is €3, and an additional €2 for the audio guide. The works of art are outstanding! From the paintings, the sculptures and the beautiful choir septo, to the nifty 16th century clocktower gearwork on display, it's a worthwhile visit. My particular favorite was the Canova monument, with it's marble mourners and angels. 
Liberia Acqua Alta
Calle Lunga Santa Maria Formosa, 5176b, 30122 Venezia
Only the coolest bookstore I've ever visited! Bibliophiles beware- books were harmed in the making of this attraction. The book walls are awesome, but these books have seen better days. Climb to the top of the book stairs for a view of the canal below, or admire the book walls in the book courtyard.
This is a real bookstore though, and despite the disheveled appearance, the staff know exactly where everything is. Books line the walls, spill out of the indoor gondola and may fall on you if you're not careful. However, the staff are helpful, the cats are friendly and it really is one of the most unique places I visited in Venice. Buy a book, or one of the store's commemorative postcards, many featuring the cats.
Window Shopping & Strolling the Lanes- Anywhere in Venice!
One of the joys of Venice is simply being there, walking the narrow lanes and beside the canals. With that, you'll pass more stores than you can count. I'm not a shopper, but it's still fun to peruse the many unique storefronts.
Mask shops abound, but look for those with their owners actually making the masks onsite. Masks are made from papermache, cloth, or even leather. Venetian masks range from the traditional to the bizarre. Most shop owners don't allow pictures, so be polite and don't snap photos of their unique designs.
A number of costume stores dot the Venetian store landscape. Many costumes cost over €1,000, but others ae available for rent. Starting at €50, rent a costume and take memorable photos in Venice, whether it's Carnevale season or not!
Designer stores are not hard to find- it's Italy after all. Strolling along, we sited this beautiful window, or shall we say, canal, display. Loving the vintage look I had to look inside, however, when a simple coat cost €1200, I quickly discovered this was a browsing experience only!
Murano glass is everywhere, but avoid these stops if you can. Many sell 'fake' Murano glass, and even if it is the real deal, the glass is significantly cheaper in Murano itself. Read about my trip to Murano here.
Where to Eat
Eating was my greatest expense in Venice, and almost all restaurants have a cover charge, or il coperto.
Cicchetti shops are throughout Venice, offering window service snacks. Some of the items are a mystery, like this black ball. But, I tried it for €1 and it was delicious! Yellow rice surrounded grilled fish.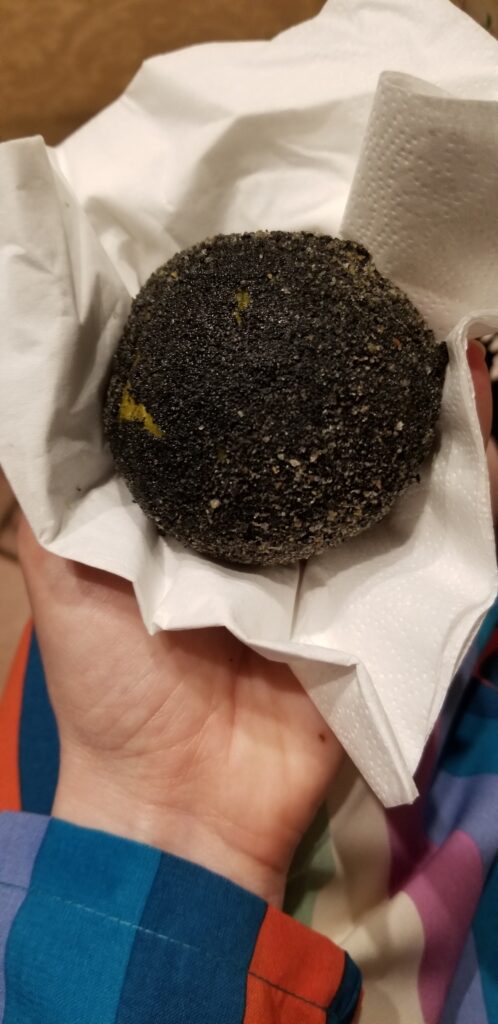 Bigoi- Past Food
Calle dei Meloni, 1472, 30125 Venezia
There are two locations in Venice, both offering cheap, fast and tasty pasta. There are a handful of locations throughout northern Italy, so yes it's a chain. Honestly though, this was one of my best meals in Venice.
Sommariva
4515 Castello, Venezia
A small place with a few outdoor tables, they serve sandwiches, pasta and gelato. For €10, you get pasta and a drink. For €4, I got a huge veggie & cheese sandwich that was great! The staff are nice, and there are clean bathrooms.
So that's my summary of Venice on the cheap. For more options, read about my full Venice experience.
Ciao!