I've just come back from four days in Iowa at Geode Fest 2019. As I sit here writing, I'm eyeing my finds like Smaug the Dragon guarded his gold and treasures. I guess it's official- I've become a rockhound! So, what is Geode Fest? It's Keokuk, Iowa's annual festival celebrating geodes- the state rock of Iowa. Six months ago, I couldn't have told you what a geode was, and now I'm zealously counting the ones I found. A geode is a rock filled with crystals, and the Keokuk region is famous for them! Sitting at the confluence of the Mississippi and Des Moines Rivers, Keokuk is at the border of Illinois, Iowa and Missouri. Within a 70 or so mile radius, geodes abound.
Geode Fest 2019
We discovered Geode Fest over the summer and decided it would be an adventure. About 4 hours southwest of Chicago, the fest is held the last full weekend of September every year. Register in advance, $15 a person, or pay onsite. I wasn't sure if registration spots filled up, so I registered well in advance. Having now been, I recommend advance registration to save time onsite, plus the fest had a prize drawing in advance for pre-registrants.
The fest opened Friday at 6:45am, and when we rolled in at 7am, the parking lot was already full! Held at Chaney Creek Boat Access, just across the bridge from Keokuk in Hamilton, Illinois the fest has a number of vendors, with one or two providing food. Lucky for us, the foodtruck was serving biscuits and coffee!
The fest is comprised of multiple dig sites, 10 this year, with the opportunity for two on both Friday and Saturday, and one Sunday morning. Attendees have an hour or so before each dig to sign up for their preferred site. Sites will fill up, so don't wait until the last minute. All the sites are on private property, inaccessible outside of the fest.
Sites are assigned a number and color, to assist with caravan departures. It was well organized and easy to follow, especially when you can tune to the fest radio station for site departure announcements. The caravans look a bit like a funeral procession, a long line of vehicles with their flashers on, and the locals were kind enough to yield to us.
On Friday, we visited Renard's and Railroad Creek, both ranking as easy on the site listing.  We found buckets full at both sites. The morning dig saw us knee deep in the creek, lightning flashing overhead and thunder reverberating so close we could feel it, and despite common sense, dozens of us continued to hunt for geodes- the fever had taken hold!
After a change of clothes, we signed up for the afternoon dig at Railroad Creek. With the heavy storms earlier, several sites were closed or only open to attendees with all wheel drive. Getting into Railroad Creek was very muddy, and even our 4×4 SUV slid through the mud. It turned into a sunny and hot afternoon, though, and we were glad to be back in a creek.
At the end of each day, return to the fest site for the geode competitions, including  children and adult categories, anything from ugliest, to most beautiful, or largest geode. Fest headquarters is the spot to crack your finds and see what's actually in those rocks. I half expected them to all be plain, old ugly rocks, so I was delighted to find out of 3 bucket fulls, only one rock wasn't a geode! I don't attribute this to any talent of ours in finding the geodes, but rather to the incredible amount that proliferate the Keokuk area. Various vendors will crack the geodes for $1-5 each, but the guide tent does it on a donations basis.
So what did we find? Geodes can be solid or hollow, the later being the prize, and we found plenty of both. The Keokuk geodes can contain several different crystals, but all of ours were various types of quartz.
Friday night into Saturday morning, the area received torrential rain with flash floods throughout. Sadly, most of the fest dig sites were closed on Saturday morning. The rivers were flooded and the dirt roads into many of the sites were inaccessible.
Other Options
With the sites closed indefinitely, we headed about an hour due west, further into Iowa. Our AirBnB landlord had kindly invited us to dig on his property, which hadn't received as much rain. I'm always amazed at the wonderful people you encounter while traveling, and this has to be the highlight yet.  Upon arrival at his farm, he urged us to use his ATV to access the creek for geode hunting, and told us to help ourselves to any we found. He wouldn't take any cash for the geodes, or even gas money for the ATV. This unexpected adventure to his farm was the most fun we had, racing down muddy trails on the ATV, bouncing along, and hunting in the creek. It was absolute solitude, peaceful nature without another person around. His creek was high too, but we managed to wade through and find some amazing geodes and other rocks, including a wonderful 12 inch chunk of purple fluorite.
In no way did this detract from the fest, but is just an example of finding geodes through the region, plus it just goes to show how friendly the locals are!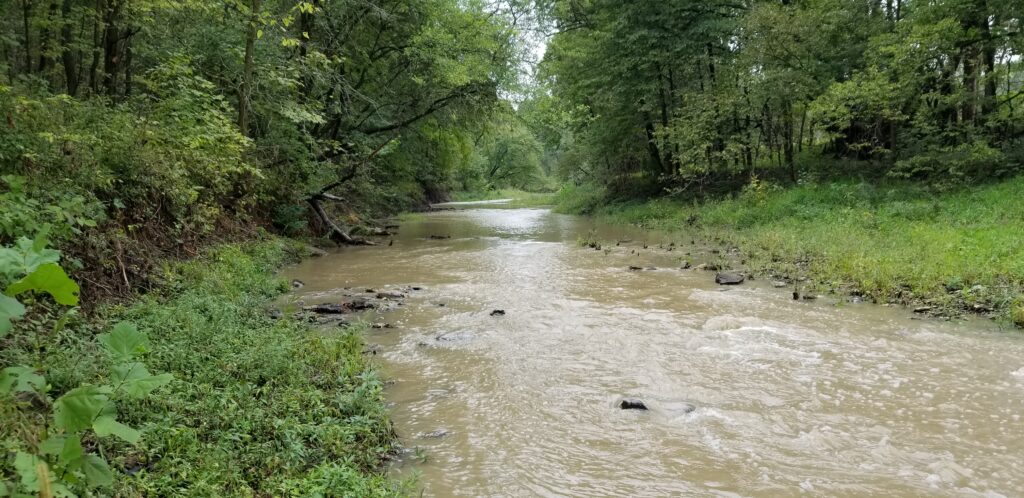 Exploring the Area Beyond Geodes
Beyond rock hunting, there is plenty to do and see in the area. History, check. Good food, check. Beautiful country drives, check. Over four days we a did bit of exploring, and just relaxing at our rental property which sat overlooking the Mississippi River.
Nauvoo, IL
This tiny town sitting alongside the Mississippi is steeped in history. During the 1840s, the town was a haven for Mormons feeling persecution and is today a pilgrimage destination for many of their faith.
The Nauvoo Temple of the Church of the Latter Day Saints sits as the backdrop to Nauvoo, a massive building that is hard to miss in the quaint town. It's not open to the public, but interesting to see nonetheless.
The Flood Museum is another point of reference, with a giant t-rex out front! A creation museum, it discusses the Biblical flood and has a number of fossil displays. The museum also offers creation related classes.
Along Mulholland Street, the main drag through town, sits Hotel Nauvoo. Built in 1840 as a private residence, it now has 8 guestrooms and a restaurant. We had dinner here one evening, and I enjoyed the historical ambiance. Just outside the hotel entrance, the street is lined with gift shops and a few eateries, including an old style ice cream shop.
Nauvoo is also home to Illinois' oldest winery, Baxter Vineyards. Established in 1857, their tasting room is open 7 days a week until 5pm.
Fort Madison, IA
Our rental was actually closest to Fort Madison, Iowa, which was less than 10 minutes away across the river. Be aware, if crossing the river here, it is a cash only toll when entering Illinois (no toll entering Iowa).
History, history, history! The town began as an Army outpost, one of three established to control the land acquired in the Louisiana Purchase. The fort, acting as a trading post with the local tribes, operated from 1808-1813. The area became increasingly unsafe as hostilities increased with the tribes, and finally, after failing to receive rations shipments, the Army retreated, burning the fort.
Today, a replica of the fort stands by the river, open to visitors. During the summer, the fort runs Wednesday-Sunday, but after Labor Day it's only open on the weekends. Costumed reenactors will tell you about life as a soldier in the 1800s. They provided interesting insights, from medical procedures to demonstrating the use of a black powder rifle. The quartermaster has a store room full of items they would have traded, and even has the historical records detailing the original quarter masters notes- send more bells but less beads, and so on. The reenactors were enthusiastic and informative, really making the visit a noteworthy experience!
Next to the fort sits the Sante Fe Depot Museum, the historic train station which now serves as a museum and the city's visitor center.
From there, wander a couple blocks into the historic downtown for a healthy meal at Simple Table. It's a rustic yet trendy spot with Asian inspired dishes, and plenty of health conscious, seasonal items.
Keokuk, IA
Last but not least, the Geode Fest host city! From the fest, it's just a couple minutes across the bridge to Keokuk. By far the busiest town in the area, it also has the most dining and lodging options.
Angelini's Ristorante Italiano has great pizza, and was our last dinner of the trip. Otherwise, Main Street has your choice of brewpubs, BBQ, a sports bar, and more.
A Rockin' Good Time
Sorry, I had to make the corny pun, but it was a great time. Geode Fest opened a whole new hobby to me, and my office and home are now covered in glittering geodes. It's a bit like Christmas every time you crack a geode- what's waiting inside??
Aside from the geode adventure, I loved relaxing in the small towns and discovering a part of America I hadn't yet visited. There was something magical about driving down dirt roads without another car in sight, tearing through the mud on an ATV, and sitting beside the Mississippi watching it drift by… A slower pace, a lifestyle often left behind in today's hectic world.