Everyone has heard of Yellowstone, the Grand Canyon and other famous national parks. State parks rarely get as much attention or love, and that's with reason. However, Custer State Park is unlike any state park you've ever visited. It's grand on a national park level, from its trails, to its wildlife, to its history. Discover Custer State Park, and you'll never forget it! We've shared some of our favorite experiences within the park and hope it inspires you to discover this amazing place.
Where to Stay
Custer State Park has multiple campgrounds and lodges, so take your pick, but be prepared to book a year in advance. If you're like us and didn't manage that, don't worry!
Fort Welikit Family Campground is one of my favorite RV parks we've visited, but they also offer tent camping and cabin, tipi, and covered wagons rentals. It's a beautiful park with great bathroom facilities, laundry and friendly staff. It's also only 4 miles to the park's West Entrance, and less than 2 miles to to the town of Custer, with its shops, restaurants and grocery stores.
Custer State Park
Custer State Park began as a game reserve in 1913, before becoming South Dakota's first state park in 1919. Located in the Black Hills, it's scenery is quite unlike the rest of South Dakota. The park is bordered by the Black Hills National Forest, with shared trails.
I'm surprised how many people visit neighboring Mount Rushmore, but have never heard of Custer State Park. If you're visiting the Black Hills for any of its many other attractions, don't overlook this gem.
Trails
Custer State Park has a variety of trails for all skill levels, but don't underestimate the trails labeled 'difficult'. The Black Hills are over 7,000 feet in elevation, and some of our most challenging hiking adventures happened here!
Sunday Gulch- 4 mile loop
Rated difficult, this was the first trail we hiked in the park. It's closed in winter and spring, with good reason. The trail is accessible from its main trailhead behind Sylvan Lake, but it also picks up at a second point a bit before, or after, that. We picked it up at that second point and enjoyed the great views and unique rock formations. From there, its a leisurely trail through the woods. The last mile or so begins with stairs to a creek, after which you'll likely get wet as you traverse through the multiple waterfalls.
From the video below, you can get a slight taste of this. For us, after that point, the trail turned treacherous. It was mid-May, and what would normally be a series of concrete stairs were instead ice walls. I've never been so challenged on a hike! We scraped, clawed and climbed our way over and up. When we finally reached the trailhead, we discovered it was closed!
So, lesson learned, pay attention and if a trail is closed, it's for good reason! I wish I had run the GoPro for the climb, because describing it just doesn't do it justice. However, I was too petrified to even think of recording!
Sylvan Lakeshore- 1 mile loop
Perhaps the most iconic trail in the park, Sylvan Lakeshore Loop is beautiful. It's also a filming location within National Treasure 2. It's a relatively easy trail, although there is short span of high stairs, or boulder scrambling, on the back of the lake.
The lakes in Custer State Park allow swimming and various forms of boating during the summer, so you might want to bring your swimsuit for some of these hikes!
Legion Lake- 1 mile loop
Similar to Sylvan, Legion Lake Trail loops the lake. It's easier than Sylvan, but just as beautiful. The lake is crystal clear and perfect for a hot day's swim. It's also likely to be less busy than Sylvan.
Grace Coolidge Creekside Trail- 6 miles roundtrip
Although one of the longer trails, Grace Coolidge is almost entirely flat, following the course of the creek. It's popular with fishermen, but otherwise tends to be very quiet. It passes six dams constructed by the Civilian Conservation Corps, and crosses the creek multiple times. Be prepared to get your feet wet!
Cathedral Spires- 3 miles roundtrip
The Cathedral Spires trailhead is located off the Needles Highway. It's a moderate to strenuous trail, but you'll have up close views of the rock formations called the Cathedral Spires. It's a beautiful trail- far better than the view from the parking lot, despite what some have claimed in their reviews.
The trail connects to Black Elk #4 and Little Devil's Tower Trails, so be sure to pay attention to the trail signs, or else you'll be in for a much longer hike!
Little Devil's Tower- 3 miles roundtrip
Pick up this trail at it's designated trailhead, or begin from Trail #4 near Sylvan Lake and follow the signs for Little Devil's Tower. Most of this trail is easy to moderate, but the last quarter mile is a bit steep with rock climbing and squeezing through some narrow spaces. The trail is designated by occasional arrows pained on the the rocks.
We almost reached the summit when a storm blew in with high wind, lightning and thunder, but Bobby insisted on climbing the last section for some stellar views. Meanwhile, I hunkered down under a pine tree and prayed we wouldn't be struck by lightning!
Stockade Lake- 1.5 mile loop
This trail does not actually follow the lake, but climbs the hill beside it. There are great views of the surrounding area, including Black Elk Peak and the Needles. It's not the most exciting hike in the park, but it's perfect before or after a picnic on Stockade Lake. It's also not a particularly busy trail, making it peaceful, and a better chance to see some wildlife. We encountered a family of deer along the way.
Scenic Drives
No trip to Custer State Park is complete without at least one of these scenic drives!
Needles Highway
At 14 miles long, the highway passes through forest, meadow and two tiny tunnels. There are vehicle size warnings posted all over the park and tourism materials. Pay attention! Don't try it with a RV, a dually, or anything particularly large. We drove it in our Ford F-150, with just a bit of space left in the tunnels after folding in the side mirrors. Drive it slowly, as the one lane tunnels have two-way traffic oncoming.
It's a beautiful drive, and to my relief, doesn't have nail biting cliffs or crazy drop offs. Having just come from the Rocky Mountains, this drive was a breeze.
Wildlife Loop Road
If you only have time for one drive, pick this one! It's an 18 mile loop through the meadows, and sure way to see bison herds, burros, pronghorn and more.
It was pure magic watching the herd move across the plains, a memory of the way it used to be. I imagined this is what the pioneers saw two hundred years ago, before bison were nearly hunted to extinction. There are around 1,300 bison in the Custer herd. If you're lucky, you'll get caught in a bison jam as they cross the road.
Alright, my personal favorite were the wild burros. These donkeys made my day with their antics and funny faces. Roll down your window and they'll come right up! The rangers said it was ok to feed them carrots, but don't offer them anything else that could be bad for their health. We saw a group of about 15 near dusk on my birthday, and it was the perfect ending to the day!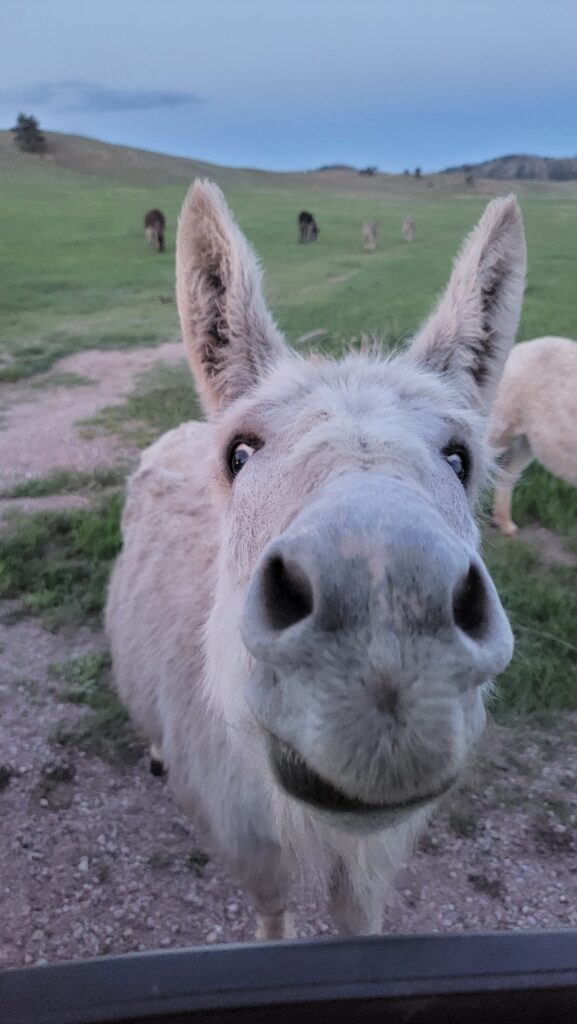 Iron Mountain Road
Iron Mountain Road is 17 miles long and famous for its Pigtail Bridges, 314 curves and 14 switchbacks. Again, don't bring your RV or overly large vehicle on this road! Like Needles, it's closed in the winter, but a beautiful drive the rest of the year!
Dining
Eating in a state park can be akin to theme park food, but not in Custer!
Legion Lake Lodge Dining Room
The Legion Lake Lodge has a lakeside dining room that offers to-go or sit down service. The restaurant has a lovely patio for warm days. This was our first meal in the park, and I was thrilled by the fresh salad and tasty flatbread.
Blue Bell Lodge Dining Room
Blue Bell Lodge has a traditional, log cabin style dining room, complete with a huge stone fireplace and western themed bar. The menu centers on local fare, such as buffalo and trout, while also offering cowboy favorites like chili and chicken pot pie.
This lodge also has a chuckwagon cookout you can book in advance.
In summary, there is no much to see and do in Custer State Park. They have events throughout the year, most notably the Bison Roundup in September or October. I would love to see that one day!
Looking for more roadtrip ideas? You might like these!
---
Save it for Later!