Maui is as beautiful as the movies and postcards portray! I had the opportunity to visit after a business trip to Oahu, and as usual, wanted to make the most out of my time. This is our itinerary for one week in Maui, and yes, it's packed, but we loved every minute of it. If you're wondering how much you can pack into a week in Maui, this is for you!
Arriving
We took a very early morning flight from Honolulu to Kahului Airport on Maui. There are other smaller airports on the island, but Kahului offers the most options, rental cars, and is a great starting for the Highway to Hana.
Car rentals can be astronomical in Hawaii. However, I booked a Jeep in advance through DiscountHawaiiCarRental.com. Their rates were so much lower, at first I thought it had to be a gimmick. Surprise, for once, something that seemed too good to be true actually wasn't! I'm talking hundreds of dollars cheaper. Their bookings actually end up with another main rental agency, such as Dollar, Hertz etc. Upon arrival, I picked up the Jeep at Thrifty. The only caveat is that they won't guarantee a hard or soft top Jeep. Break-in warnings are posted all along the Highway to Hana and other major tourist routes, and since we planned to stop along the way with our luggage in the back, I really wanted a hardtop. I got one, although I never saw anything worrisome along our routes.
What To Do- Packing It All In
Highway to Hana
If you're visiting Maui, you have to drive the Highway to Hana! There are literally dozens of stops along the route from Kahului to Hana, and this is far from a comprehensive guide. Keep in mind, we flew in, picked up a car, grabbed groceries at Walmart and made it to Hana before nightfall! If you begin early from Maui, you'll have much more time. Most people reach Hana and turn around, but I recommend spending a few nights. We did, hence the grocery run (there aren't a lot of options in Hana).
Part of the joy is getting a bit lost and finding surprise stops. One of our first was supposedly an overlook to a famous surf spot. The directions begin something like "Just past mile marker XYZ, turn onto an unmarked dirt road…". Well, there are alot of those off the Highway to Hana, and after a few minutes down a very bumpy dirt road, we came to what appeared to be a junk yard and decided it was time to give up on that adventure. We didn't want to damage the rental, which technically wasn't supposed to go off road, nor trespass on private land. There is alot of that along the route, and trust me, they get tired of lost tourists wandering into their private oceanfront property.
Paia
Paia is the start of the Highway to Hana, and it's a cute town perfect for a breakfast or lunch stop before the drive. It's also home to some beachy boutique shops. You'll find better prices in Kahului, but Paia is sort of a last ditch stop if you forgot your swimsuit or sunscreen.
Hana Picnic Lunch Company is the perfect place for a to-go meal on the Highway. Serving gelato, smoothies, sandwiches and more, their products are fresh and tasty. I particularly appreciated the made to order sandwiches- so fresh, and no confusing mine or Bobby's!
Twin Falls
Just into your drive at Mile Marker 2, stop at Twin Falls for your first waterfall and a wonderful local farm stand. We visited in September and had no issues parking at the first lot by the stand, but it can get crowded in peak season, so keep in mind there is another lot past the bridge.
It's a very easy hike to lower Twin Falls, one of the most accessible on the Highway. You can actually swim in the lower falls! For a bit more adventure, hike onto the upper falls. We didn't, since we got a late start.
After, grab a coconut drink or fresh fruit at the farm stand. You can also tour the farm, where you'll sample various tropical fruits.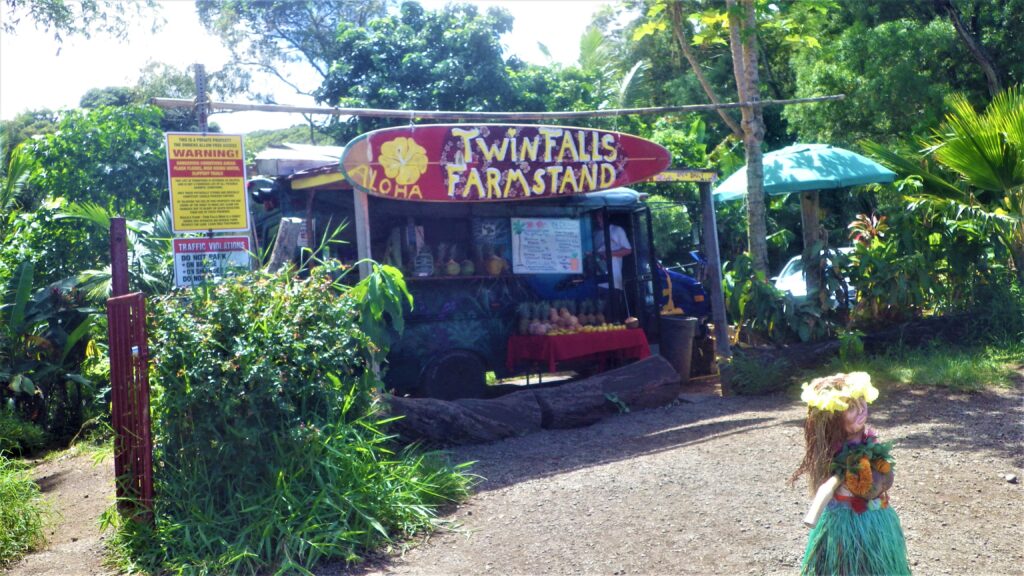 Painted Eucalyptus Grove
Before Maui, I'd never seen painted eucalyptus and didn't know what a treat I was in for. These trees are surreal, and they smell good too! Right past Mile Marker #7, pull off on the shoulder. Going towards Hana, they're on the left side and easily missed. There are several groves along the Highway, but this is the first and best opportunity to see the eucalyptus.
Haipua'ena Falls
Just past Mile Marker #10, Haipua'ena Falls is another easily accessible, and swimmable, waterfall. It was barely more than a trickle in September, but flows much harder during the wet season (or so I was told).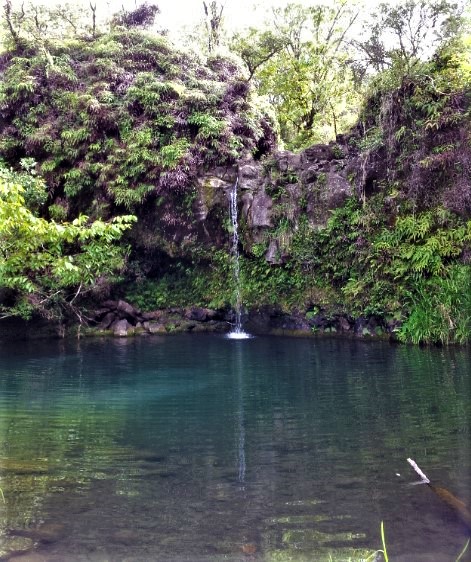 Halfway to Hana
Yes, it's another food stop but it's also the halfway point on the route to Hana. They're famous for their fresh banana bread, which we picked up as the next day's breakfast.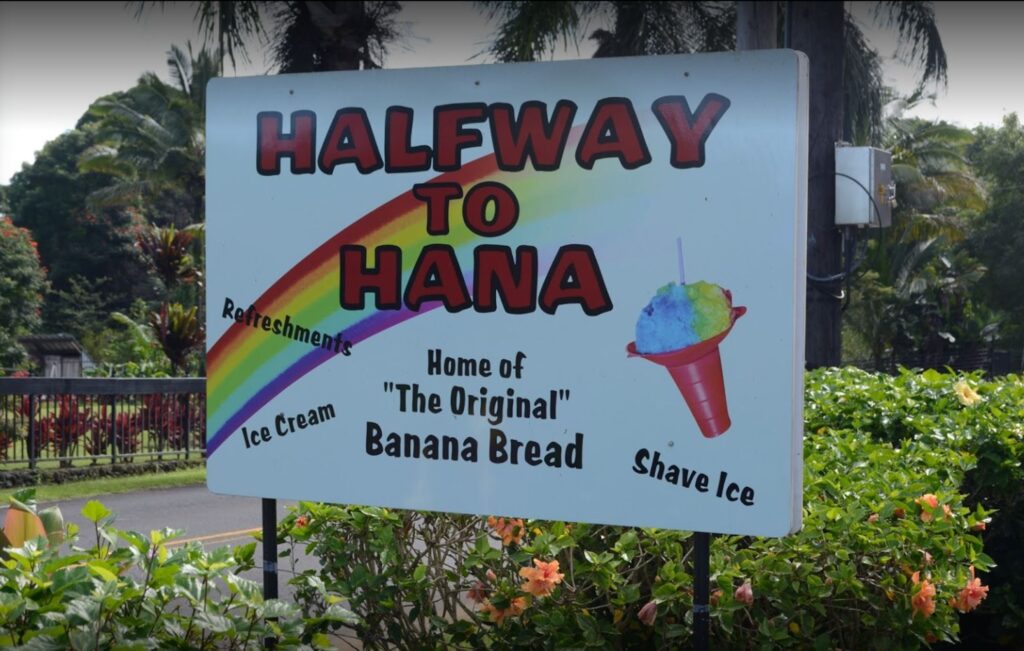 Staying in Hana
We rolled into town just before sunset, to our Hamoa Bay Bungalow rental. It's available on AirBnB, or directly through their site. I loved it- it's the perfect jungle getaway! The bungalow is a romantic spot for two, with a giant tub on the enclosed porch, and an outdoor shower downstairs amidst the foliage. It's extremely private, although there is also a rental house on the other side of the property. The bungalow is surrounded by lush tropical plants, and even has fruit trees. Robin, our host, encouraged us to pick what we wanted- jackfruits, avocadoes, papayas and more.
It's a quick drive to Hamoa Beach, but you likely won't want to walk it. While quiet, it's still down a main road. The house had body boards and other beach equipment for use.
Excursions from Hana
So, there's a lot to see around Hana, and hence my recommendation to stay several nights. Honestly, the bungalow could be a destination unto itself for a relaxing, peaceful and romantic getaway, but don't miss these amazing stops.
Hamoa Beach
Staying or just passing through, Hamoa Beach is a great stop. It's a quiet spot, enclosed by lush cliffs, with a small island offshore. We always had it to ourselves, usually heading over late afternoon. The ritzy Hana Maui Resort, in town, maintains the beach for its guests, but it's public access.
Kīpahulu District
The Kīpahulu District, part of the Haleakalā National Park, is about 30 minutes from Hana. Most famously, it's home to the Pools of 'Ohe'o, but there is much more to see. Plan to spend most of the day here. Also, if you are visiting other parts of the national park, save your receipt as it's good for entry three days from purchase.
Pīpīwai Trail
This trail is 4 miles roundtrip, through bamboo forests, up steep rocks, beside sharp cliff drop offs, and under tropical fruit trees. In September, there was an ample guava harvest! It's a varied trail, moderately strenuous, but more so in the heat and humidity of midday! It ends below Waimoku Falls, which plunge 400 feet from above. The base of the falls isn't swim worthy, but it's awe inspiring to stand below and look up the sheer rock wall the falls flow down.
We encountered just a few other hikers on the entire trail. Most visitors to the Kīpahulu District disregard the trail entirely, heading straight for the Pools of 'Ohe'o.
Pools of 'Ohe'o
Often called the Seven Sacred Pools, although they are not in fact sacred to the Hawaiians, the Pools of 'Ohe'o offer a respite from the heat. They can get crowded, so plan to arrive early in peak season or on weekends.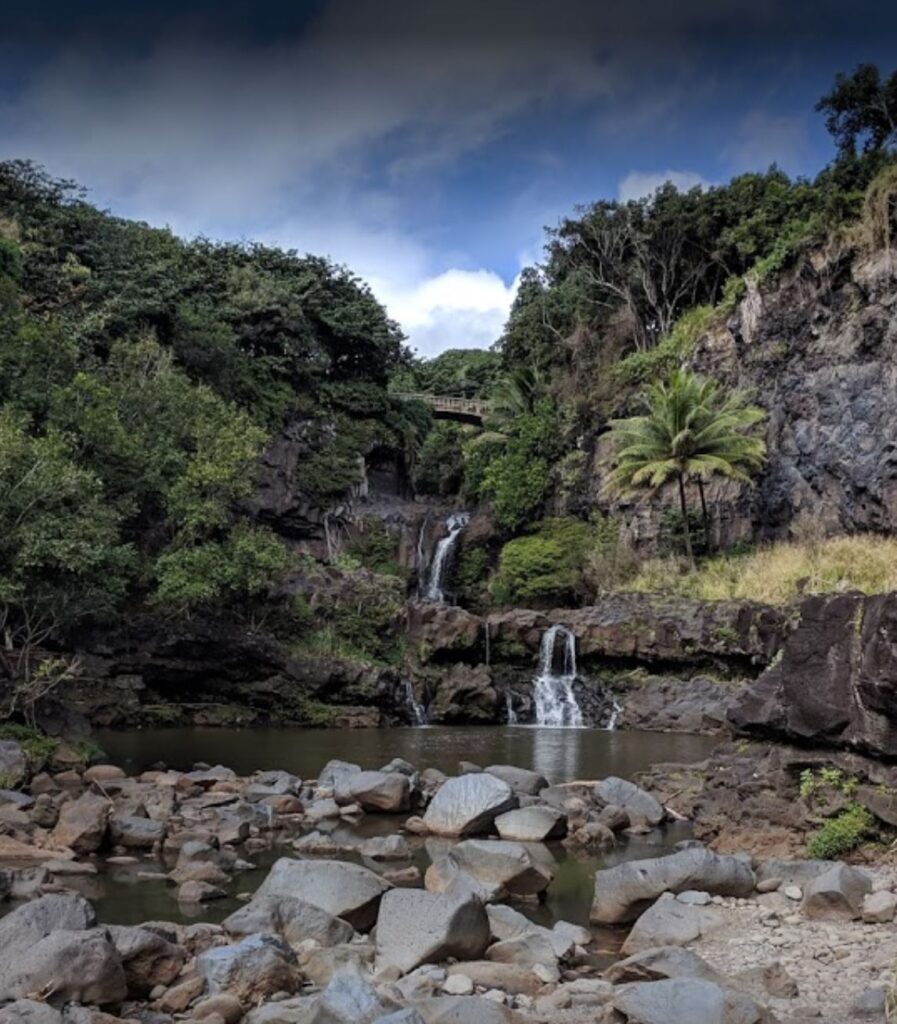 After hard rains, the pools may be closed due to flash flooding, but otherwise they are generally open for swimming. My favorite was wandering down to the oceanfront, where the pools flow out. The view from up above, on the volcanic cliffs, is quite impressive.
Waiʻānapanapa State Park
When in Hana, this is a must visit! A black sand beach surrounded by rugged volcanic rock, it's stunning. The swimming is also nice, not too many big waves. It's more sheltered than Hamoa Beach, which was great for body boarding, but questionable for a leisurely swim.
To the right of the beach, find a small sea cave. It's accessible directly from the beach, with an outlet on the opposite side to more rocks. One tip: bring water shoes to Waiʻānapanapa. Although it seems obvious, the black sand gets so hot! Plus, you'll want the protection if you climb the rocks.
The 'Back Road' to Hana
Despite the impression one might get reading about the Highway to Hana, it does not end in Hana. In fact, the road continues past the Kīpahulu District to become the Piiliani Highway. It circles the backside of Haleakalā, passing black rock beaches before the lush jungle transitions to barren lava fields.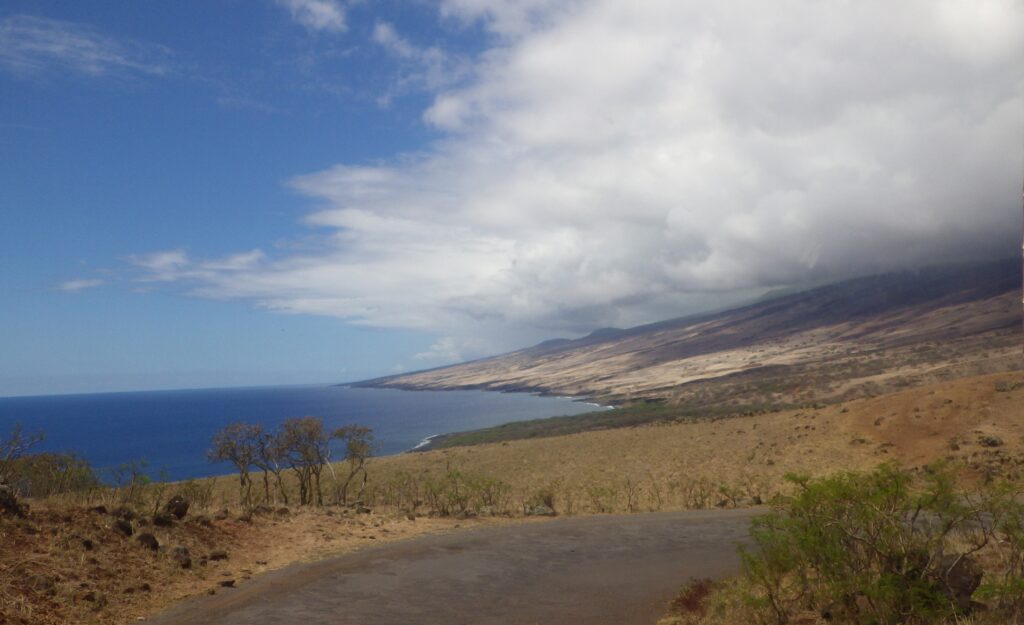 Some rental car companies ban driving on this road (ours did not), and there's alot of discussion about how treacherous the route can be. During wet season, flash floods can cover the road, and even make it impassable. However, after alot of research, we decided to go for it. Stretches of the road are unpaved, hugging sheer rock walls, with blind turns you can't see around. There are miles without any sign of life, so you if had car trouble, you would have big trouble.
However, the route passes rugged, beautiful scenery. We didn't encounter a single other car until we were almost to Ulupalakua. It was an adventure, and I admit, part of our choice to take the route was fueled by the fact people said not to! If you like remote places, unique scenery, have a 4×4 vehicle, and either check the route status before departing or travel during dry season, go for it!
Along the way, stop at Kaupo General Store for bathrooms, snacks and if you're like us, a random CD of Hawaiian music. Next up, you'll see St. Joseph's Church, a historic mission built in 1862. Enjoy the stark beauty of the lava fields, and be sure to stop for photos. Like the Highway to Hana, there's alot of random stopping points- beach inlets, dramatic cliffs, lava tubes.
You'll know you're back to civilization when you reach Ulupalakua and MauiWine. There's a unique ranch store showing a cowboy side to Hawaii I didn't know existed, and right across the street, the winery. The tasting room is open Wednesday to Sunday, offering some unique wines, such as pineapple.
Ka'anapali
We drove out to Ka'anapali, which is on the opposite side of the island from Hana. It's also as different as it is far from the town. A major tourist destination with high rise condos, nightlife, top notch beach resorts and more, it's where we spent our last two nights.
The Westin Maui Resort & Spa, Ka'anapali
Now this is a resort! Beachfront with six pools, the hotel grounds are a lush tropical paradise. From the moment you walk into the lobby, open air with waterfalls and flamingoes, you'll feel like a movie star. The rooms, ambiance, restaurants and service were all excellent.
The hotel is next to Whalers Village, a shopping district with plenty of other restaurant options. Further down the beach, grab dinner at the Sheraton Maui Resort's Cliff Dive Grill to watch the nightly torch lighting and cliff diving ceremony at Black Rock.
Molokini Crater
Our main activity while in Ka'anapali, other than sun bathing and drinking beverages with little umbrellas in them, was to visit Molokini Crater. It's a partially submerged volcanic crater about 9 miles offshore, offering great snorkeling and scuba opportunities.
There are multiple tour operators, but we took the Pride of Maui. Departing from Maalaea Harbor in Lahaina, the snorkel package includes breakfast and lunch onboard, an open bar, and two snorkel stops. The catamaran is spacious and clean, with ample room for everyone.
The first stop is at Turtle Town, where we did in fact see a couple sea turtles. The water clarity, for whatever reason, was quite poor though. After 30 minutes or so here, we reboarded and headed to Molokini. The crater is roughly 70 feet deep and home to lots of sealife! Seabirds roost on the rocks, while below thousands of tropical fish dart about. Sharks and mantas are seen here too, but we didn't get so lucky. The water is crystal clear and a delightful shade of blue. This was my first snorkeling experience outside of the Caribbean, and it was interesting to note how the water is so clear in both locations, yet completely different shades of blue.
All in all, the tour lasts about five hours. It was our last full day in Hawaii and I got so sunburned I spent the evening in our hotel room with chills and severe pain. My backend was so burned I couldn't sit down. It's funny now, but it wasn't then, nor was it a very romantic way to spend our last night in paradise!
Iao Valley State Park
The day of our flight out, we stopped at Iao Valley State Park on the way to Kahului. Sunburned or not, I wasn't going to waste my last few hours in Hawaii! I guess Jesus was watching because thankfully it was an overcast day so I didn't roast any further!
The state park is very lush, with an easy 0.6 trail to view the famous Iao Needle, a sharp peak shooting into the air. There's also a small botanical garden, and a bit off trail, a creek that begs to be jumped into! It's a short stop, but a good way to spend an hour or two before an afternoon flight.
---
All in all, that's Maui in a week! I hope it gives you a taste of how much you can see on the island. When I first put the plan together, my husband thought it was near impossible- but we did it! Looking for more on Hawaii? Check out our shark dive on the North Shore of Oahu!
---
Pin It for Later!